Noise Village & Lucas Galovan To Debut "Fullness (Live From Noise Village)" July 20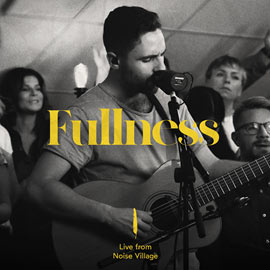 NEWS SOURCE: ART:ERY Music Group
July 6, 2023
"Fullness" is another song from Noise Village's first co-write camp. The songwriters are Lucas Galovan, Micke Fhinn, Göran Eckerfors, Jeanette Alfredsson, and Johan Åsgärde. Lucas, who's also performing the song, shared his testimony of being set free from striving after seeing that God's fullness in Jesus is in us now. A good conversation sprung over Lucas's experience and went into scriptures like Colossians 1:27-28 and Col 2:9-10. The song is acoustic, with a crescendo in the bridge towards the end. Lucas's voice is tender, beautiful, and fragile, moving everyone who hears this song.
With Lucas's words: God is always near and always close. We never need to worship our way into His presence because we are already inside His presence through Jesus. His fullness is in us. That´s our position as sons and daughters. We are not outside trying to access His presence; we are fully immersed in Him always.
Göran Eckerfors says: The song "Fullness" is an excellent reminder of the treasure inside us - the spirit of God himself. In Christ, we are brought into fullness—a new life in Him.
This is a beautiful song of the gospel that is just too great and glorious for us to wrap our minds around. We pray that it will set you on a journey to discover more of Him, who is the hope of glory inside us.
BIOGRAPHY
Noise Village is a ministry that exists to serve the church. They hope to inspire and encourage every believer to walk in their true identity in Christ. Noise Village gives out free resources in form of music, teaching, videos and testimonies but also through their live experience 'Noise Village Gathering' held weekly in Örebro. Noise Village is founded by Johan Åsgärde who had a dramatic encounter with Jesus in 2017 that changed his life.
###