The Arcadian Wild Release New Album, Welcome
Share Music Video For "Big Sky, MT"

On Extensive US Tour Now Throughout 2023, Including Grand Opry Debut on August 16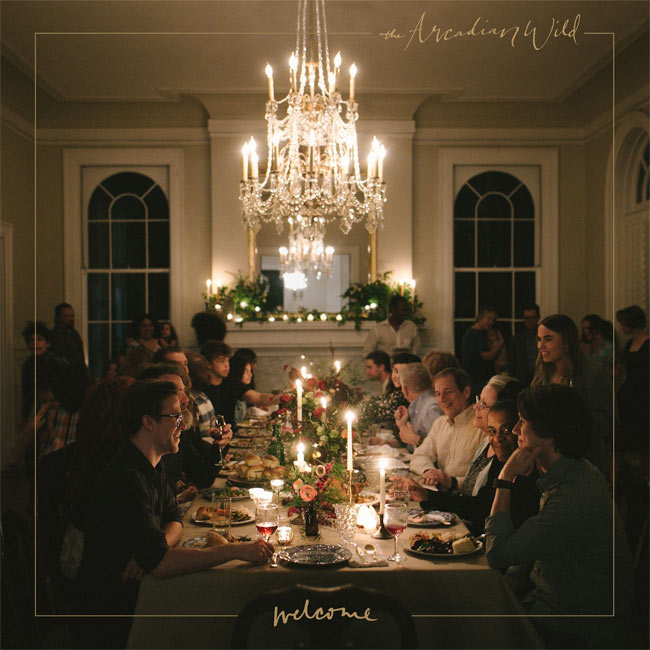 NEWS SOURCE: Missing Piece
July 21, 2023
July 21, 2023: Today, Nashville's The Arcadian Wild released their new album Welcome via Vere Music. The band also shared a music video for the dreamy track "Big Sky, MT."
"A few years ago we did a show in a little town outside of Bozeman, MT," says vocalist/guitarist Isaac Horn of "Big Sky, MT"'s origins. "While we were there, we stayed with a wonderful family who offered up their guest house to us for a few days. It was a lovely, peaceful place, yet I was most struck by the beauty and grace of the people we encountered, especially the family that invited us there. We watched them pour themselves into their community with generosity and humility. Their work was quiet, understated, but so incredibly impactful. I remember telling them how amazing and inspiring I thought they were, and they smiled, eventually (and quietly) said thank you, and shrugged it off. It was as if the heart of the land was simply a reflection of the hearts of the people living there."


Watch the "Big Sky, MT" music video
HERE
Stream/purchase Welcome
HERE
Welcome. It's a word The Arcadian Wild hold dear, an invitation to be present, to let your guard down, to share in something deep and divine and communal. "No matter who you are or where you come from, that word just makes you breathe a little easier," says Horn. "When you feel welcome somewhere, you can be yourself, you can be open to whatever the space and the moment have to offer. That's how we want people to experience these songs."

Written and recorded in The Arcadian Wild's hometown of Nashville, TN, Welcome marks the start of a captivating new chapter for the genre-bending trio, consisting of guitarist Isaac Horn, mandolinist Lincoln Mick, and fiddler Bailey Warren, who returned to the studio with renewed purpose and insight after devoting the last few years to a series of critically acclaimed singles and EPs. Like much of the band's catalog, the album blurs the lines between chamber folk and progressive bluegrass, drawing on everything from country and classical to pop and choral music with lush harmonies and dazzling fretwork, but this time around there's a rawness to the writing, an embrace of candor and simplicity that cuts straight to the heart like never before.
Working with engineer Logan Matheny (Colony House, Hiss Golden Messenger) and mixer Shani Gandhi (Sarah Jarosz, Sierra Hull), the band approached the recording sessions for the album as live as possible, embracing the organic feel of their concerts with the help of double bassist Erik Coveney (Sierra Hull, Dave Barnes), who joined them on the studio floor. The band doesn't record or perform with drums or percussion, but instead relies on their vocals and instrumentations to provide the backbeat.
"When we're working on arrangements, we try to treat our band like a drum set: who is the kick, who is the snare, who is the crash, hi hat, etc. This approach helps each of us find our specific role in any given moment or section of the song, which again leads to a much more intentional and conversational arrangement."
The Arcadian Wild cut their teeth playing house shows, where they learned to treat their audience like family, and released their self-titled debut to widespread praise in 2015, racking up nearly 50 million streams on Spotify alone. Heavy touring followed and the group returned in 2019 with a second full-length LP, Finch In The Pantry, which debuted in the Top 10 on the Billboard Bluegrass Chart. When the pandemic forced the trio off the road in 2020, they shifted their focus to composing and recording a multi-movement song cycle that resulted in the 2021 EP Principum, which reached #3 on the Billboard Bluegrass Chart and helped earn the band performances everywhere from the Woody Guthrie Center to the Ryman Auditorium.
Welcome Tracklist:
1. Lara
2. Dopamine
3. Big Sky, MT
4. Shoulders
5. Little Bird
6. Sparrow
7. Corner
8. Gàrradh Seileach
9. Lift My Head
10. Two Kinds
11. Fable Of The Times
12. The End
July 23 - Bardstown, KY @ Spalding Hall
July 25 - Lawrence, KS @ Venue 1235
July 26 - St. Paul, MN @ Turf Club
July 27 - Sioux Falls, SD @ Levitt at Sioux Falls
July 28 - Iowa City, IA @ Wildwood
July 29 - Evanston, IL @ SPACE
July 30 - Indianapolis, IN @ Hi-Fi
August 3 - Huntsville, AL @ The Common House
August 16 - Nashville, TN @ Grand Ole Opry
September 5 - Seattle, WA @ Tractor Tavern
September 6 - Portland, OR @ Alberta Rose Theatre
September 9 - Pinecrest, CA @ Bear Music Festival
September 10 - Mill Valley, CA @ Sweetwater Music Hall
September 12 - Santa Cruz, CA @ Moe's Alley
September 13 - Morro Bay, CA @ The Siren
September 14 - Los Angeles, CA @ Knitting Factory - North Hollywood
September 15 - Phoenix, AZ @ The Rebel Lounge
September 17 - Louisville, KY @ Bourbon & Beyond Festival
September 20-23 - Nashville, TN @ AMERICANAFEST
September 29 - Chattanooga, TN @ Songbirds
September 30 - Atlanta, GA @ Buckhead Theatre
October 11 - Floyd, VA @
October 12 - Newberry, SC @ Newberry Opera House
October 17 - St. Louis, MO @ City Winery St. Louis
October 18 - Davenport, IA @ Redstone Room
October 20 - Green Lake, WI @ Thrasher Opera House
October 21 - Fort Wayne, IN @ Baker Street Centre
October 22 - Kalamazoo, MI @ Bell's Eccentric Cafe
October 24 - Cleveland, OH @ Beachland Ballroom
November 1 - Birmingham, AL @ Woodlawn Theatre Bham
November 2 - Macon, GA @ Grant's Lounge
November 3 - Jacksonville, FL @ Murray Hill Theatre
November 7 - Jackson, MS @ Duling Hall
November 9 - The Woodlands, TX @ Dosey Doe Big Barn
November 10 - Austin, TX @ Saxon Pub
November 11 - Fort Worth, TX @ Tulips FTW
November 12 - Oklahoma City, OK @ Beer City Music Hall
November 13 - Tulsa, OK @ Mercury Lounge
November 14 - Fayetteville, AR @ George's Majestic Lounge
November 18 - Nashville, TN @ Exit/In
###