The Gray Havens Announce Fall Zion Caravan Tour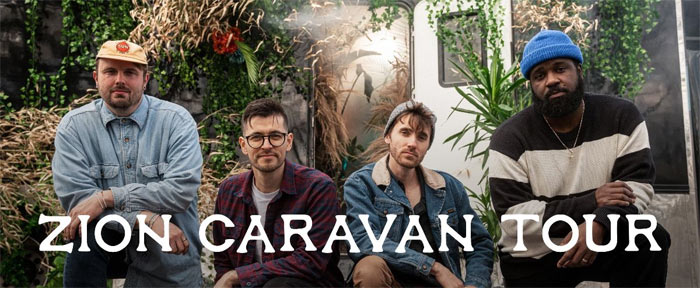 NEWS SOURCE: Artist Garden
July 21, 2023
NASHVILLE, Tenn. July 20, 2023 — The Gray Havens announce the Fall Zion Caravan Tour.
After their highly successful Spring tour through Texas and the Midwest, The Gray Havens, Antoine Bradford, John Mark Pantana and LOVKN will be taking the Zion Caravan out again, performing in 29 cities across the west and eastern US. Mark Barlow will be joining the Caravan for the east coast tour dates.

Creating a unique concert experience, the Zion Caravan Tour is done "in-the-round" style, with the artists trading off performing songs on their own and singing together. It's an evening of stories and songs resulting in comments from the audience, such as, "I was left wishing I could see it again the next night" and "I didn't want it to end."

Artist Manager Keith Stancil shares "It has been inspiring to see the artists on the Zion Caravan Tour work hard to engage their fanbase, build a new unique tour, and sell out many of the markets on the first tour run in the Spring. People loved the style of the show and the fresh take on the live music event. They've done it all without the help of radio and major record labels. These artists are making an impact with their music and their streaming numbers reveal a significant fan base hungry for this kind of tour."

The Gray Havens are happy to partner again with International Justice Mission as the tour sponsor.

Tickets for the tour are now available through Ticketswag and TheGrayHavensMusic.com.

Zion Caravan Tour Dates
October 3 - Little Rock, AR
October 4 - Oklahoma City, OK
October 5 - Albuquerque, NM
October 6 - Phoenix, AZ
October 7 - San Diego, CA
October 8 - Huntington Beach, CA
October 10 - Vacaville, CA
October 12 - Portland, OR
October 13 - Seattle, WA
October 14 - Boise, ID
October 15 - Salt Lake City, UT
October 17 - Denver, CO
October 18 - Colorado Springs, CO
October 19 - Omaha, NE
October 20 - St Louis, MO
October 21 - Indianapolis, IN
October 22 - Cincinnati, OH
November 1 - Lynchburg VA @Liberty University TBA
November 2 - Charlotte, NC
November 3 - Washington DC
November 4 - Brooklyn, NY
November 5 - Philadelphia, PA
November 7 - Richmond, VA
November 8 - Greensboro, NC
November 9 - Charleston, NC
November 10 - Jacksonville, FL
November 11 - Orlando, FL
November 13 - Chattanooga, TN


For further information, visit thegrayhavensmusic.com or contactArtist Garden Entertainment.
###
For more info on The Gray Havens, visit the JFH Indie Artists Database.