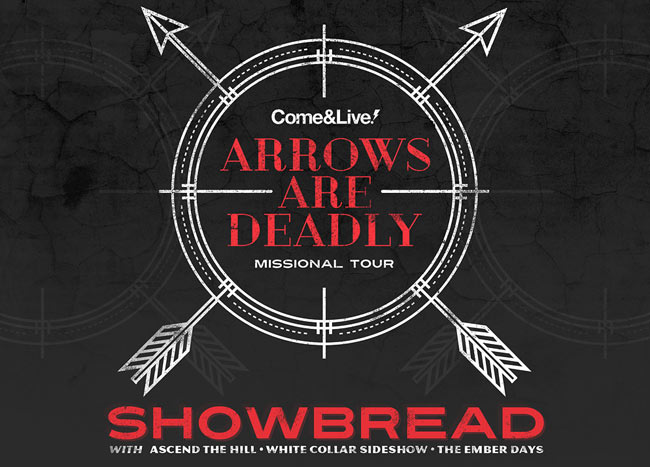 Arrows Are Deadly: Missional Tour
Showbread, The Ember Days, White Collar Sideshow, Levi the Poet, Ben Crist
7/13/11, at The Myriad House in Kansas City, MO
A few years ago, Chad Johnson was working for Tooth & Nail Records, spending his time looking for fresh new talent to sign and working with the current roster to make them the best they could be. After hearing from God about taking a leap of faith, he left T&N to form a non-profit "record label" called Come&Live! which would give away all of its music for free and focus on ministry. The first official Come&Live! tour is currently underway this summer, going by the name Arrows Are Deadly. They came through Kansas City's The Myriad House (formerly Main Street Cafe) on a warm Wednesday evening on July 13, with a special guest.
As we waited for the event to begin, the few who had arrived thus far were treated to the sound check for White Collar Sideshow. The set up was one of the most unique I had seen in a long time, with two drum sets (one in front, one in back), a keyboard, a bass guitar, a steel barrel on the floor in front of the stage, and a contraption made up of things like cowbells, table saw blades and a bicycle wheel. I had heard of their unique show, but was about to experience it for the first time. The band's frontman came up to the front with another guy after the sound check was ready, and said "Ladies and gentlemen, the man of many words, Levi the Poet." The crowd was still pretty small at this point, but a few people cheered, and then Levi began to speak. He spoke his first line into the microphone, but then decided he didn't want or need the microphone. He began to stagger around the room, speaking, yelling and hollering insightful words to his heart's content. At the very beginning, I thought that he was going to be some sort of late-coming Bradley Hathaway copycat. But as he walked around the room and spoke his words about the girl that nobody loves that gives up her body to a different man every night, telling her that she's beautiful and very loved, I could definitely see the difference between Levi and Hathaway's poetry. I found Levi's poetry to be a lot more passionate than Hathaway's (not to say Hathaway wasn't passionate, but I was moved more by the words and emotions in Levi's poetry). You can find some of his poetry on YouTube.com/LevithePoet and you can download the poem he did, called "Kaleidoscope," for free from his Facebook page.
About the time that Levi finished, and the crowd gave up a decent applause, it was time for White Collar Sideshow to put on their performance. Since reading John DiBiase's concert review when he saw the Sideshow in 2009, I had been dying to check these guys out. So I jumped at the chance to catch them in Kansas City. I would later find out that the band was working on a new stage show, but until it's ready, they were still doing the same sorta thing they were back in 2009. The band members consisted of top hat and curly mustache of TD Benton (The Ringleader), The Faceless Woman (TD's wife Veronica) on bass, and the pig masked drummer (whose name is Phil, though I didn't catch his last name). They had two more members this time, though. Brandy was the band's keyboardist and was wearing a gas mask, while TD's son Tristan (or, The Leech) wore a gas mask of his own and spent his time on the floor beating on an oil drum and, honestly, just being flat out creepy. TD and Phil played their drum sets at the same time, with such excellence that I was in awe the entire time. In the background, a projector featured images from old, classic horror movies, as well as images that were related in some way to different porn sites on the internet (of course, none of it was explicit, or even near explicit). Before the show started, the projector featured startling and disturbing facts about the porn industry. The masks the performers wear, along with TD's ringleader get-up, also fit in to the anti-porn message the band offers up. TD holds nothing back when he speaks later in the set about his past as both a drug and porn addict. The mask of The Faceless Woman represents the lack of value placed on the women that he used to look at, and The Pig represents the sin and temptation aspects. The whole set up, performance and display of White Collar Sideshow's set was captivating and truly inspiring. They opened with "Surreptitious Descent" and played through tracks on their self-titled EP (which can be downloaded through the Come&Live! site for free). At the end, after they finished with "Pardon Thy Monster," the projector told the crowd to await the Sideshow's next endeavor, TD Benton's WitcHunt (in my interview with TD after their set, I found out that this was their next stage show AND the name of their next album). If White Collar Sideshow comes through your neck of the woods, on this tour or not, you need to make it a priority to check them out. You'll be treated to excellent musicianship and showmanship, and hopefully you'll be challenged.
After the Sideshow tore down their stage set up, and while The Ember Days started bringing their instruments up and performed their soundcheck, the founder and owner of Come&Live!, Chad Johnson, came up to the stage to share about the formation and life thus far of the label. I caught up with TD, and we both went backstage for an interview. As people came in and out of the room, I could hear The Ember Days soundchecking, and then eventually starting their set. They played some instrumentals, and at one point, I heard Jason Belcher singing through one of the interlude tracks from Your Eyes Light Up, "Yeshua." After the interview wrapped up, and I went out to catch the remainder of their set, the band was playing the lengthy instrumental "Finger Painting" from their most recent EP of the same name. I was holding my camera, debating on whether or not I should start snapping some pictures, but I soon realized I wasn't able to, because the Holy Spirit was moving all around the room. I started to get swept up in worship, and pictures suddenly seemed like the least of my concerns. Just like on the EP, "Finger Painting" led into "Simple Song." This was going to be the conclusion of the set, but a request was made at the last moment (I think by TD, actually) for the band to play "Run To You" from their self-titled EP. The awesome worship continued through the song, as the music and beautiful vocals came together perfectly for some amazing artistry. The band closed their set, as Chad Johnson came back up to speak some more. Chad mentioned the daily devotionals he and the bands have been having, and that, that morning, they had talked about 1 Chronicles 16, and the psalm from David that comprises the majority of the chapter. He then led us into a short time of prayer that involved a couple people being healed of different physical problems. One guy we prayed for had four months of unexplained joint pain just disappear. He told us that he went to a church that didn't believe in things like that, and he broke down in joyful and humbled tears. To see God move like that and begin to mold His people in front of our eyes was a powerful display of His power, love and forgiveness.
While all the prayer and healing was going on, Showbread was setting up for their set. Once everyone felt ready to move on from all that was going on, the projector started displaying movie scenes and images on the set up behind the band, as has become a Showbread staple as of late. When the right time during the sample hit, they got the music started with a surprising song choice, "The Bell Jar." Of all the times I've seen Showbread, I don't remember ever hearing them play "The Bell Jar" live. After the song ended, and the projector displayed some sort of "Christian patriotic" scene behind them, they continued right on into the Who Can Know It? rock track "Myth of a Christian Nation." One of the things I loved after older Showbread shows was the pointless and entertaining banter between songs. The sometimes awkward, but always hilarious, antics from the guys was always a highlight, but had been missing from recent shows. Don't get me wrong - I love what they've done with their talk-less shows, which are always engaging, but part of me wanted to hear the guys talk and joke with the audience. This night, they actually did take some time for banter. After "Myth of a Christian Nation," they spent a little time talking about a barbecue place they wanted to visit that was closed at 5pm, and how sad they were. Getting back into music, they did a trio of songs from Age of Reptiles: "Naked Lunch," "Centipede Sisters" and "Your Owls Are Hooting." A little more banter followed, with Josh telling guitarist Garrett Holmes to tell a joke, to no avail, as Garrett had nothing. Josh told a joke about mushrooms, which garnered a few laughs from the audience, accompanied by several groans (how I've missed this from their shows!). Next up was the slower "Hydra" followed by "Dead By Dawn," which has been a fan favorite for years. Much like the past few shows I had seen by Showbread (this being the third within about four months), Josh took a few minutes to speak from his heart and about things that God has been teaching him as of late. One of the things that stuck with me is when he said "The whole 'God Bless America' thing needs to become 'God Bless The Whole World'." From there, they finished their short set with "The Fear of God." The band's stage set was left up as Chad came back to pray one more time, and then introduce the next performer. He said it wasn't going to be a formal set, but more of a casual background set, and told the crowd that they could socialize, check out the merch booths, or stay and worship if they wanted. The performer was Ben Crist from The Glorious Unseen. For those who hadn't heard, The Glorious Unseen recently entered a hiatus period, with Ben moving to Kansas City to do worship at the International House of Prayer. For anyone planning to catch this tour, you won't have the opportunity to see Ben perform, as he was only playing this night since he lived in the area. He sat down on a stool with an acoustic guitar and performed a quiet medley of worship songs, including some Glorious Unseen songs, like "Wrapped Up In You" and a personal favorite of mine, "Forever Holy." It was cool to hear him live, as I never got a chance to check out The Glorious Unseen live. It was a great ending to the event.
The Myriad House was blessed this night to have not only such amazing talent, but also a huge group/family of people that care so much about spreading the message of Jesus and His love. I expected this Come&Live! tour to be a fantastic night of music, and it was. Along with the music aspect, the ministry of this label is so relevant to today's culture, and anyone in attendance is almost guaranteed to have been touched by the Spirit. White Collar Sideshow will be with the tour a little while longer, then Ascend the Hill will replace them on the bill for the second half of the tour. You will benefit from attending this event if it comes near your area. Just be ready for an encounter with Jesus.
--
Scott Fryberger
, 7/18/11
Arrows Are Deadly Tour
click on an image for a bigger size
**vertical images cropped for thumbnails**
White Collar Sideshow:
Levi The Poet:
Showbread:
Ben Crist: