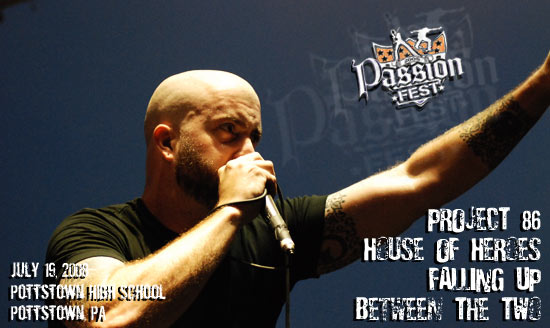 Passion Fest 2008
7/19/08, at Pottstown High School in Pottstown, PA
2006 dawned the birth of a new festival in Pennsylvania, an outreach festival with free admission called Passion Fest. For its third year, the event was held once again on the grounds of Pottstown High School in Pottstown, PA. Although a rather small outdoor festival, there's plenty to do at Passion Fest for the whole family, making it a great mid-summer outing filled with fun, faith, and music.
Passion Fest 2008 launched around noon time, and from the beginning, families are given plenty that they can do even before the live bands begin. The fest has separate Sports and Kids Zones where all kinds of inflatable attractions are available to the children (including sumo wrestling suits), while the teens who want to skateboard or toss around a football can do that as well. Around 1:00pm, before we got there, a local rap group called C.U.T performed before local rock band Aunamae took the stage. When we arrived, the band's vocalist was performing a cover of the popular worship anthem "Blessed Be Your Name," which lead me to believe some kind of afternoon worship leader was performing, so I was surprised to learn later on that it wasn't just a solo act but a full-fledged local rock band.
Around 3:00pm, extreme sports team Riders 4 Christ performed an array of bicycle and motorcycle stunts. The much celebrated team of athletes displayed a great deal of professionalism and were a highlight of the day -- probably drawing most of the attention during the afternoon. After a series of bike stunts (with only one that we saw resulting in a minor wipeout), we saw a few motorbike jumps before the R4C emcee shared a salvation message and gave an altar call. It was great to hear a down-to-earth Gospel message presented in a professional setting. More importantly, it was fantastic to see a group of people come forward in front of the audience and dedicate their lives to Christ.
At 5:15pm, indie rock act Between The Two took the stage, performing selections from their EP, The Depths Of You, and from a forthcoming album they're working on this Summer. The band had engaging energy despite a few sound problems and a vocalist whose style didn't always match the music the band was playing, but they're a young act that certainly displayed potential. The highlight of their set came when they performed the dance-friendly "Shake It Off" from the project they're working on now. It was one of the only tracks that possessed a bit of a Jonezetta feel, but undoubtedly the most fun. They closed their set with a cut from the EP entitled "Deeper Still."
While previous Passion Fest lineups boasted rosters that included the up-and-coming Family Force 5, MxPx, Pillar, Sarah Kelly, Nevertheless, Grits, and others, this year was much more low key. The more known, name acts of the day didn't really start until the evening, with BEC Recordings' Falling Up leading the way. The rock quartet varied their set with selections from across their catalog of music. Fan favorites like "Searchlights" and "Moonlit" were set staples, while the band mixed in several cuts from their latest record, Captiva, as well, including "Hotel Aquarium" and the title track, which vocalist Jessy Ribordy prefaced with a reflection on the topic of science. The guys ended their seemingly short set with "Lights Of Reedsport" as a one-song encore, along with an announcement that they plan to start recording a new record in September and have a side-project in the works that will be a complete departure from the sound of Falling Up.
The first of two performance highlights of the day followed with Columbus, Ohio rock band House Of Heroes. With a highly anticipated new album that has been delayed for much too long on the horizon, the band filled their set with a lot of selections from the record -- which made their set even stronger. HOH opened with a new track before diving into the fan favorite "Mercedes Baby," "Buckets For Bullet Wounds," and the incredibly catchy "Friday Night." After a pair of new songs, they broke out another classic, "Serial Sleepers," before playing the will-be hit "Need You Now" and a cover of The Crickets' "I Fought The Law And The Law Won." To end the generous eleven-song set, the band closed with another new one, "In The Valley Of The Dying Sun," a song that has already been making an impact at radio. The rock foursome performed a tight set for the modest crowd, only making the anticipation of their album The End Is Not The End just that much greater.
Right after House Of Heroes stepped off the stage, speaker Steve DeFrain took the spotlight to share a message about trusting God. DeFrain's approach was more effective than some festival preachers I've heard, and he was a nice choice for sharing a word with the Passion Fest audience.
Passion Fest 2007 reigning rockers Project 86 were promoted to the headlining spot this year, taking the stage after a brief intermission/stage change sometime before 9:00pm. It's been some years since I'd seen Project in a headlining spot at an outdoor event like this (I believe it was a Purple Door Fest quite some time ago... before I'd taken such an interest in the band), so I was curious to see how it would work for a community festival like Passion Fest. A decent size audience stood in attendance for the closing slot, with a good number of them probably unaware of and unprepared for the rock onslaught that await them. Like an electric shock to the system, the guys opened with "The Hand, The Furnace, The Straight Face" from And The Rest Will Follow, as front man Andrew Schwab emerged with a beard and shaven scalp, dressed in a seemingly leather track jacket of sorts on what proved to be a rather overwhelmingly hot July day. But as if playing to an audience made up strictly of Project fans, the group barrelled forward, performing "Put Your Lips To The TV," the brutal "Sincerely, Ichabod," "Safe Haven," and the fast and frenzied energy of the delicious "The Forces Of Radio Have Dropped A Viper Into The Rhythm Section." After "Last Meal" from Truthless Heroes, Schwab shared about the emptiness of the party scene, and encouraged the audience to not get wrapped up in it, before launching into "Molotov." Schwab then prefaced "Illuminate" as being about exposing the darkness, and followed that up with a candid talk about their most recent air travel horrors - including being on "the worst one-hour flight ever" with a screaming baby the entire time. It's rather common for Project's sets to be too short for Schwab to address the crowd much, but with a headlining slot like this one, it felt a lot more personal when he'd pause and share a song meaning - or even something more trivial like travel experiences. "S.M.C." soon followed, a surprisingly bitter song choice from Truthless Heroes, but undoubtedly a song they don't play all too much live anymore. However, paired with the next song, the two seem to go hand-in-hand nicely as "Sanctuary Hum" from Rival Factions followed, one that Schwab introduced as being about abuse. And like a freight train crashing into a mountainside, the band ended with the fan favorite, "Stein's Theme," an energizing way to wrap a set and leave an audience. Thankfully, it wasn't Project's grand finish, as they returned for a two-song encore of "Evil (A Chorus Of Resistance)" and, of course, the infectious sounds of "The Spy Hunter."
Although Passion Fest 2008 was a bit smaller than its preceding years, it was still once again a successful summer Saturday outing that was perfect for families as well as a great way to attract a non-Christian audience that wouldn't necessarily shell out even a few bucks for a Christian event. Hopefully Passion Fest continues to grow, cementing a place in the Summer festival lineup for eastern PA residents (and neighboring states willing to make a day trip) for many more years to come.
-- written by
John DiBiase
, 7/26/08
Passion Fest 2008 Photo Gallery
click on an image for a bigger size
Riders 4 Christ
Between The Two - 5:15pm
Falling Up - 6:15pm
House Of Heroes - 7:15pm
Steve DeFrain - 8:00pm
Project 86 - 8:30pm
*all photos by
John DiBiase
and are the property of
Jesusfreakhideout.com