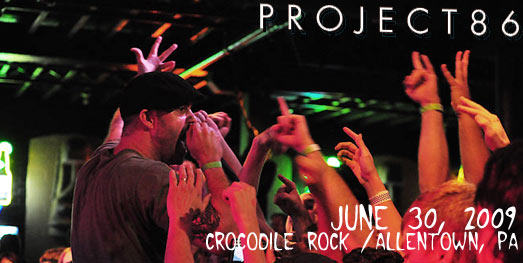 Project 86 / Scream The Prayer Tour
6/30/09, at Crocodile Rock, in Allentown, PA
It's not uncommon for music fans to go to a tour to see just one band. However, it may be a bit more uncommon when a tour boasts 10 bands plus several local bands, but for me, I suppose it isn't all that unusual. I'll admit plainly that I'm not much for hardcore, metal, or screamo, so it often surprises people to hear that one of my favorite bands, especially to see live, is the Orange County hard rock band Project 86. When I heard they were going to be on the Scream The Prayer Tour, which is headlined by Haste The Day and The Chariot and features other hard acts like A Plea For Purging, Sleeping Giant, and Oh Sleeper, I was rather surprised to hear Project was thrown into the mix. Regardless, with the tour coming within minutes of JFH HQ, it was clearly a show to hit, and we turned the opportunity into a chance to interview Project's frontman Andrew Schwab again about their forthcoming release, Picket Fence Cartel.
So naturally, this isn't a review of the tour, but more of an overview of their set as well as a chance to share the photos taken at the show. Apologies to anyone miffed I only caught Project's set.
Project 86 took the stage around 8pm following Oh, Sleeper and preceding The Chariot and Haste The Day. Fans of the band would notice immediately that the foursome looked quite different on stage. The absence of guitarist Randy Torres was the most obvious, while band also had a new drummer in place and bassist Steven Dail moved over to guitar with a new bassist for the road taking his place. it was quite a different look for Project 86. For almost half the set, I had thought the band's new bassist, Alex, was actually Randy's fill-in on guitar until I realized Dail had unexpectedly switched instrument duties. Dail filled in for Torres quite nicely, although the band's famed guitarist was certainly missed. With Torres now doing more work for Tooth & Nail Records, he's touring less with Project, yet still remains a part of the band.
Project 86 opened with a personal favorite, "The Forces Of Radio Have Dropped A Viper Into The Rhythm Section," launching the set in a loud and appropriately frenetic fashion. Schwab is a fantastic frontman and he had no problem hopping across the photo pit to lean into the audience a few times during the band's set to get up close and personal with the crowd. "The Hand, The Furnace, The Straight Face" followed, another furious rocker that fit right in with the kind of audience the band was playing to. In fact, some the band's heaviest material just kept coming, with "Sincerely, Ichabod" next, a bit of a tamer interlude with "Safe Haven" after that, and then continuing the onslaught of rock with a brand new track titled "Two Glass Eyes." The new album, which is only two weeks away from release now, contains some significantly stand-out anthems, so I was especially surprised "Two Glass Eyes" was the sole choice from the new album to play. However, given the predominently metal fanbase in the audience, this fast and furious song was probably the perfect choice (and it really did sound great live). From there, Schwab announced the oldie-but-a-goodie "Stein's Theme," and Oh, Sleeper vocalist Micah Kinard joined the band on stage to sing along. Finally, and sadly, Project's seven song set came to a close with fan favorite "Spy Hunter." Schwab encouraged the audience to sing along and then grabbed an enthusiastic fan from the audience and pulled them on stage to join him in singing.
In all truthfulness, this year's Scream The Prayer Tour is the perfect event for the metal and hardcore fan. Project 86 put on an engaging performance as always, and hopefully more heavy music fans will check them out after seeing them on this tour. But regardless if you love or hate Project, the Scream The Prayer Tour is your ideal stop for all of your live Christian metal and hardcore needs.
--
John DiBiase
, 7/2/09
Project 86's Scream The Prayer Tour 2009 Photo Gallery
click on an image for a bigger size
**vertical images cropped for thumbnails**
Project 86
*all photos by
John DiBiase
and are the property of
Jesusfreakhideout.com