While Flyleaf fans continue to speculate over whether the band is truly on hiatus, some of the band members have been busy with side projects. One of them is a worship duo comprised of rhythm guitarist Jared Hartmann and his wife, Kat. The result is this eponymous EP,
Kat&Jared
, which features warm, atmospheric worship with some nice experimental touches.
The EP kicks off with the joyous "We Adore You." Jared's guitar work is fine and ambient, reminiscent of an outdoor worship service at sunset, and Kat's vocal delivery makes the music unique. Kat sings with childlike joy and sincerity, and her warm vocals melt like molasses over Jared's adept guitar playing. She practically squeals with glee as she sings "You've been so good to us!" The group vocals, which are utilized during the bridge and closing, add a dynamic, congregational feel to the song.
While Kat&Jared sing worship for a Bethel church, their style and sound are more akin to groups like Eisley and Arcade Fire. This is especially evident in "Hallelujah," with its addition of raw harmonies and a fanciful glockenspiel, and in "We Want to Know You," which opens with gang vocals singing "whoa-oh-oh." Lyrically, Kat&Jared opt to keep the words simple but meaningful. They don't use any cryptic metaphors, and they keep their focus solely on exalting God in spirit and in truth. Lines like "Our hearts beat just to love You / Our lips sing just to praise You / Our lives poured out to serve You / Oh, we want to know You" will challenge listeners to search their own hearts to see if God is first in their lives, while also encouraging listeners to join in and engage in personal and intimate worship.
The EP closes with the stirring "You Amaze Me." There are lovely musical interludes throughout the track, leaving plenty of room for spontaneous worship. Jared's guitar creates the appropriate atmosphere without being intrusive, and it's the kind of song where the listener can get lost in worship. The only downside is that it finishes somewhat abruptly due to lack of build up towards the end, thus ending the EP with the listener expecting a little more.
Overall, Kat&Jared's self-titled EP is a well-crafted worship project. While the lyrics aren't really groundbreaking, they are sincere, and the duo's passion for worship is evident and contagious. With Spring around the corner, listeners will want to pick this one up for long drives on the highway and sunny afternoons spent outside. Kat&Jared is also recommended for listeners who want to hear worship that is both corporate and personal at the same time.
- Review date: 3/5/17, written by
Nicole Marie Vacca
of Jesusfreakhideout.com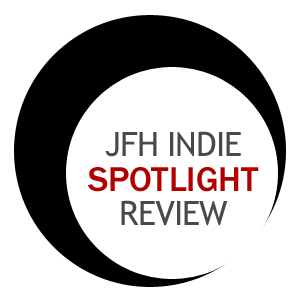 Record Label:
Natives Music Group

Album length:
5 tracks: 29 minutes, 23 seconds

Street Date:
February 4, 2017

Buy It:
iTunes

Buy It:
AmazonMP3
We Adore You (5:49)
Hallelujah (5:02)
We Want to Know You (7:14)
In Awe (4:32)
You Amaze Me (6:46)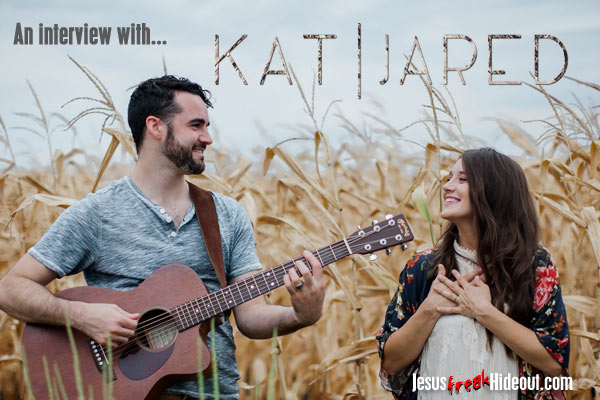 Jesus Freak Hideout (Nicole Marie Vacca): What inspired you to record this EP?
Kat&Jared: The Kat&Jared EP was inspired by the journey we've been on the past five years or so. We've made music together since we were teenagers and we always knew we would put out a record together at some point, but whether it was touring with Flyleaf or having babies, the timing just never lined up until now. This record is a celebration of the nature of God; it's about trusting in and enjoying His goodness no matter the situation or season.
JFH (Nicole): How has your time with Flyleaf influenced your approach to creating music?
Kat&Jared: Being a part of the Flyleaf family has had a major impact on our writing style. All of our songs are written from life experience and they are focused on the reality of God's faithfulness despite shifting seasons. It's important to us that there is true emotion in every lyric; we want to sing about the things we want to see! One of the things Lacey used to always talk about to me (Kat) was singing with conviction. I want people to believe what I'm singing about and beyond that, I want them to be able to borrow my faith for certain situations so that they can have strength to take another step. Our time with Flyleaf also really shaped the way we value interesting melodies and musical accompaniment. God is Creator, so we want to be creative with the art we're offering back to Him.
JFH (Nicole): What are some of the benefits and challenges of creating music as a couple?
Kat&Jared: We love being able to work together! We're best friends and we truly enjoy each other. So, our closeness and vulnerability with each other is a major asset when it comes to songwriting. We have history together, and at the end of the day we know that we're on the same team, journeying toward the same goal. Jared always says the challenge of working with Kat is that he can't read her mind! Sometimes, Kat will have an idea that she is trying to present and no matter how hard I try, I just can't get inside of her brain and figure out exactly what it is she is talking about. So sometimes that makes the process a little longer but we always end up laughing about it!
JFH (Nicole): When writing worship music, how do you find the balance between spontaneity and structure?
Kat&Jared: Well, when the actual writing is going on, we are primarily focused on song structure. However, many of our songs are birthed out of intimate worship moments where we just sit around with our guitars and Kat sings melodies and prayers. From that, there is usually a lyric or melody that sticks and we begin to write about that. When we play live, we believe that the more you prepare ahead of time, the more you can be free and spontaneous while leading people. So, we usually have really long practices and go over every little detail so that it's our second nature by the time we're in front of people we're leading. Then we can focus more on what Holy Spirit is wanting to say and do.
JFH (Nicole): Do you have any interesting stories from your time in the studio recording this EP?
Kat&Jared: Recording the Kat&Jared EP was really interesting! We have a 3 1/2 year old daughter and a 19 month old son. We have great family and friends that help out a lot, but often we couldn't get a babysitter for the hours we were recording so we would just bring our kids along! Kat only got to sing through each song once because one of the kids was always screaming or needing something from us. There is one pretty funny video in particular on our social media pages that accurately sums up the recording experience with kids. Jared is trying to do a quick video and our son Wyatt is sitting in his lap screaming every time he tries to talk! The process was hectic at times but we truly cherish the memories. This is the record we will look back on and remember that we recorded it between loving on our babies and changing their diapers. We're thankful.
JFH (Nicole): What were some passages from scripture which inspired your songwriting?
Kat&Jared: This record was particularly inspired by verses relating to hope, joy, overcoming, and God's goodness. It's also especially based off of the recurring theme throughout the Bible of God giving His kids new names. A few of our favorite verses that inspired the Kat&Jared EP are:

Psalm 34:8 (The Voice)
"Taste of His goodness; see how wonderful the Eternal truly is. Anyone who puts trust in Him will be blessed and comforted."

Jeremiah 29:11 (The Voice)
"For I know the plans I have for you," says the Eternal, "plans for peace, not evil, to give you a future and hope - never forget that."

James 1:2 (The Passion Translation)
"When it seems as though you are facing nothing but difficulties see it as an invaluable opportunity to experience the greatest joy that you can."

Ephesians 3:20 (The Voice)
"Now to the God who can do so many awe-inspiring things, immeasurable things, things greater than we ever could ask or imagine through the power at work in us."

John 1:42 (The Voice)
"As Andrew approached with Simon, Jesus looked into him.
Jesus: Your name is Simon...but from this day forward you will be known as Peter, the rock."
JFH (Nicole): What do you hope listeners will take away from this project?
Kat&Jared: Our desire is that people will be encouraged to keep on walking on their journey with God. We pray that people will realize that there is abundantly more hope and joy available to us than we can even imagine; and when our lives are anchored to the reality of God's good and perfect nature, then there is always a reason to sing and celebrate!