There's a ministry in Laurel, Maryland, called My Hope, My Love that serves to offer food and clothing to the less fortunate in the area. A truly Christ-like ministry that is run by a three-piece worship ensemble called Dearest Brother. The three friends have recently gotten together to record and release an acoustic EP called My Hunter.
The EP's opener is a song called "Wilderness," which leads us in ever-so-softly with a carefully strummed acoustic guitar and mild vocals akin to those of Bon Iver or Josh Garrells. The music picks up a little with some haunting synth and additional vocal harmonies that are certainly welcomed, albeit maybe a little spine-tingling. "My Hunter" follows, picking up the pace just a hair. The instrumentation is still very light, but it's necessary for the vocals and the lyrics to really shine. The chorus is both well-written and enlightening, and possibly the most beautiful of choruses I've heard in quite some time. The "hunter" in the EP's title is, in fact, God, as lead vocalist Adrian Mathenia sings, "I have been pursued by the King that I betrayed, not for wrath but for mercy, not for death but for life, He has caught my heel in a trap set long ago, I am loved by my Hunter, I am washed and made well." It's a song that helps you remember that Jesus is not after us to make us pay for our sins, but just to love us, and it's also a song that you can just enjoy for the musical quality as well.
"Abba, Father" is a great deal more accessible in nature; not that the first two songs aren't necessarily, but "Abba, Father" definitely seems like the best fit for Christian radio. Shades of Shawn McDonald in the vocals and music are evident, while the song structure and melodies are more along the lines of Matt Redman. Despite the "ready for Christian radio" factor, the song is still very strong, and would most likely be one of the best things currently on AC radio. To wrap it all up, the last song is called "For Your Glory." It's a very somber song, with elegant acoustic guitar controlling the pace as Mathenia quietly comes in at the right moment. He doesn't have a lot to say, but no word here is a waste of time or breath; he asks God to destroy his idols and forgive him as he lives his life for God's glory. It's beautiful, inspiring, and humble, and as far as the music is concerned, it's a great way to finish.
Every once in a while, you have that new or unknown band that you come across without knowing what to expect, and you're instantly met with a pleasant surprise of great sounds. Dearest Brother is one of those bands. Their excellent lyricism and musicianship and almost breath-taking indie/folk song structure are a real treat to the ears. "My Hunter" and "For Your Glory" are the highlights, for sure, but My Hunter as a whole is a worthy choice for fans of modern day indie/folk fans. That means if you like Bon Iver or the softer sounds of Mumford & Sons and The Lumineers, this one's for you.
- Review date: 9/30/12, written by
Scott Fryberger
of Jesusfreakhideout.com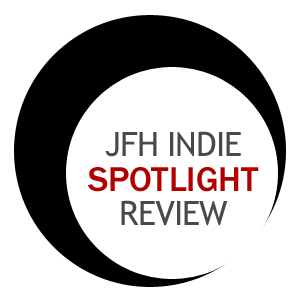 Record Label:
None

Album length:
4 tracks

Street Date:
September 18, 2012

Buy It:
Bandcamp
Wilderness (2:41)
My Hunter (5:45)
Abba, Father (4:14)
For Your Glory (3:17)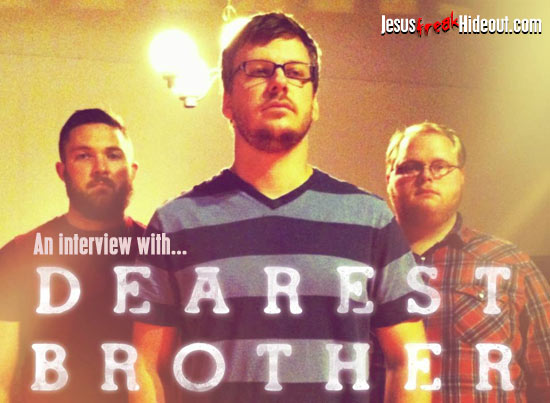 Jesus freak Hideout (Scott Fryberger): First up, can you tell us a little bit about your ministry, My Hope, My Love?
Adrian: A few of us were looking for opportunities to serve our community and share the gospel. Our church is uniquely situated near wealthy neighborhoods and very poor neighborhoods. We prayed about it and God led us to initiate our own ministry. We called it My Hope, My Love to sum up who Jesus is to everyone in this ministry. The biggest program that we operate is called the Free Store. People from our church and churches in the area donate gently used clothes, coats, and toys. We set them up in our church like a retail store and open it to the public for one day. Everyone that comes in gets shopping bags and are told they can take as much as they need at no cost; everything is free. We try to help them while they're shopping, have conversations, pray with them if they need prayer, and of course share the gospel. We have been tremendously blessed to see God work in lives and meet physical as well as spiritual needs of our neighbors. We are working on expanding and opening Free Stores in other cities. If anyone is interested, they can check us out at myhopemylove.com.
JFH (Scott): Was Dearest Brother a product of working together in this ministry, or was it a pre-existing band?
Adrian: Matt and I have been playing music together basically since we met at Washington Bible College in '08. We called ourselves "Dearest Brother" at the time but never really moved forward with it until we needed a worship band for the MHML events.
JFH (Scott): Where did the name "Dearest Brother" come from?
Adrian: That was actually Matt's idea. Like everyone, we have family members who do not know Jesus. Matt pointed out that our songs were almost like letters to our lost friends and family about who God is and why we serve Him. So he wanted to call us Dearest Brother and let it serve as the salutation before all of our songs.
JFH (Scott): Your Bandcamp specificially labels your EP, My Hunter, as an acoustic EP. Does this mean that future releases will not necessarily be acoustic?
Adrian: Yeah, when we lead worship or perform as a band we are almost always electric and pretty loud. We did our first EP acoustically more out of necessity. We didn't have the budget to get into a studio and track full band arrangements. So this was a good way for us to get our music out sooner, within our means, and start building buzz for a full-length in the future.
JFH (Scott): My Hunter has a lot of indie and folk influence; what artists would you cite as influences on your sound and lyrics?
Adrian: I think for our sound, at least on this album, we definitely have a lot of Jon Foreman influence. Probably a little Nick Drake and Bon Iver just in production style. Lyrically, I think Allen Levi and Andrew Peterson have really inspired me. Also Karen Bergquist and Linford Detwiler from Over the Rhine.
JFH (Scott): Do you play a lot of shows outside of the Baltimore/DC area?
Adrian: We haven't played much outside of this area yet, but we certainly plan to in the future. I think this EP will help us achieve that. We hope that in doing so, we can take the ideas of MHML with us and encourage people to engage their community.
JFH (Scott): What are your favorite portions of the Bible?
Adrian: Oh man. That's tough. I guess I've always been an Old Testament guy. I love seeing the stories that point to Jesus centuries before He came. I've been really into Nehemiah lately. The passion and the distress that moved him to go home and rebuild the wall, for God's glory, is really striking a chord with me.
JFH (Scott): Do you have any more songs in the works at the moment?
Adrian: We have more than a LP worth of songs ready to go, but we always have something new in the works. I get really excited any time I take a song to the fellas and hear the way it takes shape under their arrangements. We have a couple songs in that process right now and my ears are happy.
JFH (Scott): What has God been teaching you lately?
Adrian: That He alone is in control. Sometimes we feel like we're pushing against a brick wall and we get discouraged that it's not moving. God has been showing me that I'm commanded just to push. All movement comes from His hand. I may never see these walls move, but God is glorified in our obedience and that gives me joy.