It feels like only yesterday that Coldplay made piano-driven rock the greatest thing since sliced bread. The combination of passionate alternative music with the gentle sound of the keys made kids reevaluate their decision to quit piano lessons and to learn what the word "falsetto" means. Indie artist Martin Lloyd's latest album, Secret Place, may be a prime example of all the good things that came from the piano-rock movement.

Leading us gently into this collection of songs is "Coming King." The swelling keys lead into simple refrain, "See Him coming in the clouds. Every eye behold Him, healing in His wings. See Him coming in the clouds, every tongue confess that He is Lord and coming King." It's a simple foreword that sets the tone for the entire album: soft songs, intimate lyrics, passionate. Songs like "Loving You" and "Teach Me How to Love" have a sound that is almost reminiscent of Mae, but with more a laid-back tone. Balancing the tension of being easy-listening yet nearly anthems in nature. Musically, Lloyd's style is gentle but deeply layered. There's a lot going on, but because it is so calm, it may not be noticed as much. Furthermore, the vocals are just a pinch louder than the music, so the words are heard clearly without overwhelming the instrumentation.

Songs of adoration saturate the album with ballads, such as "In This Moment," "You Have Made Me," and "No Matter." They all carry the same emotion and similar verbiage found in the Psalms, seeing the inadequacy of our words to describe the love of God and how great He is. There are some truly worshipful and prayerful moments captured on each track without the album feeling like a typical church gathering.

"Your Love" brings the album to a close in a more epic fashion; while the album started gently, this closes things on a grander scale. However, it never crosses into the point where it feels overwhelming; it's epic but not too epic.

Overall, Secret Place is a strong labor of love with some excellent moments of brilliance. Occasionally, it dips into being somewhat too innocuous, but quickly rebounds. Thankfully, the best parts are way more noticeable than any negatives, making this album one that many listeners could enjoy. Martin Lloyd's peaceful melodies make this an album perfect for quiet times praying, reading and meditating on God's Word, as well as during small groups. While the music is more worshipful in tone, it seems like it would be more appropriate in intimate settings, which is appreciated and needed. At the end of the day, Martin Lloyd is providing a calm gift of restful music to listeners. Do yourself a favor and give Secret Place a chance.

- Review date: 10/13/17, written by Ryan Barbee of Jesusfreakhideout.com


Record Label: None


Album length: 10 tracks: 57 minutes, 39 seconds


Street Date: March 25, 2017


Buy It:
iTunes

Buy It:
AmazonMP3

Buy It:
HearMeNow.com
Coming King (3:05)
Loving You (4:42)
In This Moment (Psalm 27) (6:30)
Teach Me How to Love (Psalm 86) (5:22)
You Have Made Me (7:54)
No Matter (3:51)
Stand on Me (5:55)
My Soul Thirsts (4:53)
Fountain of Your Mercy (7:22)
Your Love (8:04)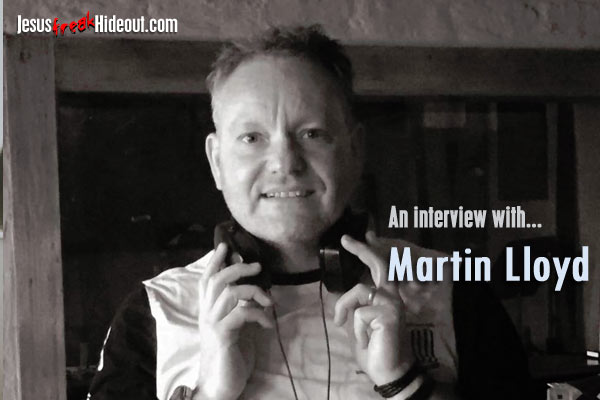 Jesus Freak Hideout (Ryan Barbee): Well done man! You've made a beautiful album. What's the story behind Secret Place?
Martin Lloyd: Secret Place is a reflection of my own private worship times, and a desire that I've had for a long time to produce a resource that might help other lovers of Jesus to cultivate their 'secret place' with Him - that place of intimacy where His plans, purposes and heart for us are revealed, and we can feel Him close; nestled beneath His wings. I have a passion for the Psalms and King David's heart, and need to state here how inspiring Dr Brian Simmons' "The Passion Translation' has been in breathing fresh life into the Psalms for me. To all who listen to Secret place, my prayer is that the songs lead them on a journey to the Secret Place of greater intimacy with their loving Father, and that a spirit of peace and rest settles on every heart, life and home
JFH (Ryan): Who are some of your major musical influences?
Martin: As a teenager in the '80s I still feel that was the most incredibly rich and creative decade musically. The likes of Michael Jackson, Prince, The Police (and Sting), Genesis, INXS (great Aussie band) and the emrgence of Bryan Adams and U2 were all features for me throughout this time. Developing my own style of improvised worship more through the '90s, Hillsong had a great influence, along with Michale W Smith and Steven Curtis Chapman, whom I regard as one of the great singer/songwriters of his generation. More recently, I have been greatly inspired by the melodies of Coldplay, and firmly believe that Chris Martin has been anointed with an incredible gift, even though he doesn't acknowledge it yet!!
JFH (Ryan): What song from Secret Place has had the largest impact on you personally and why?
Martin: I would say "You Have Made Me", given that it was written at a time when my wife and I were trying to get our heads around the Grace message; trying to 'un-learn' years of a more works-based theology to embrace a new paradigm - saved by Grace, once for all, and loved unconditionally by an amazing, loving Father. Ultimately, it's a song of recognition that in the end nothing excites Jesus more than spending time with us, His children. The greatest thing that we can do is give Him our all - the good and the bad, and surrender our hearts to Him. As I sit and soak under this song, I can feel His presence soaring and swirling over me, particularly in the instrumental break towards the end of the track.
JFH (Ryan): What do you hope to see in the future for your music?
Martin: Music is one of the great loves of my life, and I would be thrilled if I could devote more of my time to it. I would love to spend more time exploring the Father's heart through worship with other artists of like mind and spirit. Ultimately, I firmly believe that hearts and lives are truly transformed in the presence of Jesus, and I consider it an honour and privilege to lead people to a point of engaging with Him and allowing Him to minister, nurture, heal, inspire, and bring gentle correction. My desire is to see the name of Jesus glorified in every corner of the earth, that His kingdom be manifest on the earth. If there is any small thing that I can do to see this come to pass, then I'm in boots and all!
JFH (Ryan): If we were to look at your recently played music, what artists and bands would we find?
Martin: You would find, in no particular order: Bethel, Amanda Cook, Elevation Worship, United Pursuit, Coldplay, Steven Curtis Chapman
JFH (Ryan): I love asking this because it tends to reveal a lot about the direction of an artist/band… if you could go on tour with any 2 bands/artists, who would they be and where would you go on tour?
Martin: Steven Curtis Chapman and Coldplay. The creative energy and genius would be life-changing. I would be happy to tour anywhere with these guys, but I do have a dream that one day I will go to the nations of Africa and minister at rallies of thousands - to see peope that have very little in the way of material possessions so consumed with passion for Jesus and emanating His unbridled joy, even in the face of great adversity.