Wisconsin native Tim Korry has been playing and writing music for quite some time. He has recently released his 4th, and newest, solo album Above the Snakeline. On the record Korry shows off his wide array of musical tastes and blends several different styles throughout the album. Korry goes from a worshipful acoustic number like "Revolve," to a world vibe, like the Latin flavor of "Sacred Place" or the world beats and eastern flare in "Snakeline Reprise," to a pop/rock jam (and album favorite) in "New Way," to a piano ballad in "First Heartbeat." Above the Snakeline is all over the map musically and shows influences ranging from The Beatles to Peter Gabriel, U2 and beyond. Whether it's modern pop with auto-tune, electronica, or just an old fashioned acoustic guitar you will hear it on Korry's latest. Diversity is the name of the game.
Korry is able to pull off several different genres, often times blending genres within a single song, with relative ease. The musicianship is more than respectable and the comfort level with experimentation is evident. Tim is a confident musician who seemingly can pull off any style or genre. This fact is definitely strong side and he uses it to his advantage. The biggest complaint with the record would be vocally. Tim can sing, and most times his voice is enjoyable, but at times the vocals come out a little weak. These weaker spots can give the appearance that he's slightly off-key. In the grand scheme it's a rather minor complaint as these occurrences are very few and far between.
Tim Korry has offered up a truly unique musical outing with Above the Snakeline. It's one of the more diverse albums I've listened to personally. Something this diverse has the ability to wow listeners with something new at every turn, but its lack of musical cohesion may be too much for some. If you're looking for something new and different that provides an enjoyable listening experience, with a positive and spiritually-based message, Tim Korry's Above the Snakeline is right up your alley. If you find yourself loving this album, be sure to check out Tim's previous works as well.
- Review date: 9/19/14, written by
Michael Weaver
of Jesusfreakhideout.com
JFH Staff's Second Opinion
Tim Korry has been making music since the 90s and his influences can clearly be attributed to that period in alt rock music and before. His vocals may draw some comparisons to the likes of Jason Wade from Lifehouse at times or U2 ("New Way"), while other times his style is even a little reminiscent of Embodyment ("Sacred Space"), or others. Tracks like "New Way" present a great deal of promise for Tim Korry, with a strong melody, catchy chorus, and ambitious sound. But a song like "Sacred Space" is an example of of a track that probably could have used a little fine-tuning from a producer or outside input (like dropping the "
Alpha and Omega
" whispers, for example). The middle-eastern-flavored "Above The Snakeline" offers something really unique, but coupled with a 90's electronic pop beat (think
Code Of Ethics
's self-titled) and some bold synths and it's all a bit too bizarre for its own good. "Light of Love" has a bit of that U2 feel, while "Not of This World" takes that sound and adds a bit of that Code of Ethics electronic sound again. "First Heartbeat" has Korry sounding a little bit like the Worship Circus' Gabriel Wilson or The Normals' Andrew Osenga (and this is also a standout track), "Show Me A Sign" is a raw rock number with a great use of synths (another album highlight), and the album draws to a close with a needless "Snakeline Reprise" and a more appropriate finish in the mellower "Unconditional" (returning to a bit of that U2 influence). Korry has a very unique project in
Above the Snakeline
that is a bit dated in its production and approach, but he's got the makings of something really special within reach. I'd love to hear what he can do if connected with the right producer or musical partner to help streamline the
Snakeline
just a bit more. - Review date: 10/1/14,
John DiBiase
of Jesusfreakhideout.com

Record Label:
None

Album length:
10 tracks: 36 minutes, 19 seconds

Street Date:
September 7, 2014

Buy It:
iTunes
Revolve (3:20)
Sacred Space (3:13)
New Way (3:07)
Above The Snakeline (3:35)
Light of Love (3:25)
Not Of This World (4:15)
First Heartbeat (3:31)
Show Me A Sign (3:41)
Snakeline Reprise (3:13)
Unconditional (5:03)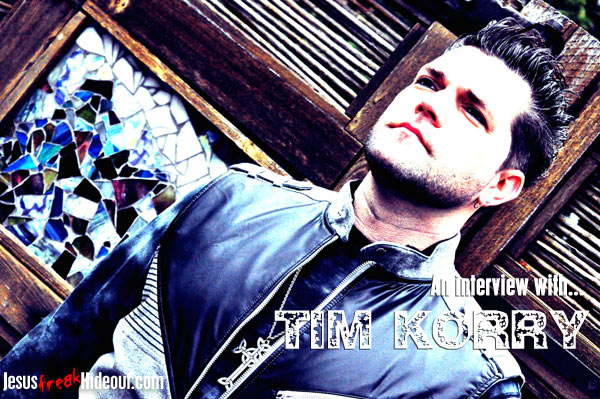 Jesus freak Hideout (Michael Weaver): I've searched the web and found a few different meaning behind the term "snakeline." What does Above the Snakeline mean to you?
Tim Korry: The term "Snake Line" refers to the early American settlers. When buying a property, one would ask if it was above the snake line. There were many species of poisonous snakes in the low lands and it was safer to live on higher ground. I heard this term and immediately thought of the spiritual "snake line" that we battle to stay above every day. It just seemed real fitting for the overall concept of the album.
JFH (Michael): The album cover for Snakeline is also quite interesting. It looks like a picture of you, a scene of Adam and Eve, a compass, and some dragonflies presented in a scrapbook-like view over the background of brush, open field, and electric pole. What's going on with all of the imagery?
Tim: My wife actually constructed the album art. She's quite the artist and used a bit of symbolism in this mixed media representation. There is a lot going on in that picture as there usually are on my covers. The Adam and Eve was actually taken from a picture of a carving inside a castle in Ireland which symbolizes what the cross has erased. The dragonfly I've adapted as a logo with three 7's inside of it (which are also my initials). Not that this is a Christian symbol per se, but I used the dragonfly as a symbol of change. A change from the selfish, ego driven, secular rocker into a guy that just wants to tune into the Spirit and reach people through His guidance. As far as the electric pole, well, it looked like a cross that was sitting in a vast farm field. I suppose one could look at that "cross" as sending out power to the hearts of believers.
JFH (Michael): How did you develop such a wide variety of musical influences? Was it something instilled in you, or was it more self-discovery?
Tim: The musical influence comes from years of playing in rock bands in many styles of music. My tastes really are all over the board. Heavy metal, blues, classical, Lebanese, African, electronic, country... the list goes on but everything tends to jive together when put in the right places. This album really was inspired by the Holy Spirit and I was led to go with a sort of Middle Eastern dance rock sort of mix. The writing of it really happened quickly and set in a specific direction.
JFH (Michael): "New Way" is a really great song both musically and lyrically; it's my favorite. What's the story behind it?
Tim: Wow, thank you indeed. That's a rocker. "New Way" was a song that I had been working on for a few years in a few different variations. It really came together quickly when the writing of the album began, however. The song is about giving up the old rock and roll ways (you know, all the junk) and starting a new way of thinking and doing things. We are a new creation, right? I'm not saying that I'm doing everything right at all, but the new me sure tries a lot harder and is aware of shortcomings. It's really about getting rid of all the stuff that drags you down and yet hopeful that the LORD is coming soon to take us out of this place.
JFH (Michael): What are you hoping God does through this new album?
Tim: Well, it was frustrating enough being a secular indie musician. The previous albums are all very positive with Christian undertones, but this is the first overtly Christian album I've done. I knew that going in it would be even tougher to reach people than as a secular unsigned artist, but felt that I needed to do it anyway. God will use it as He will. Sometimes (or a lot of times) we push really hard to make things happen that we want to happen. It's tough to let go, but also necessary. I am hoping to get the music heard, plain and simple. The Spirit will work from there.
JFH (Michael): What is the most difficult thing you've had to overcome at a show as a touring musician?
Tim: The biggest problem is that we are currently not touring. We have done a few shows in Southeastern WI and in Chicago but not a tour for this album. We have been talking with a management company over a few deals that include booking and publishing, but they unfortunately have really dropped the ball. We are currently looking for representation. In the mean time, I am planning to do a live streaming event before the end of the year. It's just a different way to reach people who listen to many genres and want to hear new and interesting sounds. I'm hoping to get out there a little bit more in 2015 with some physical live shows as well.
JFH (Michael): What is your favorite piece of gear right now? I personally love my Way Hug Fat Sandwich distortion pedal right now.
Tim: The funny thing about my many years of guitar playing is that I'm not a "gear head." I'd always have guys coming up after a show asking how I got certain sounds and my answer was pretty simple... I turn a few knobs, hit a few buttons until the tone sounds right. Good feedback is always a beautiful thing. I'll always love the SRV/Hendrix sort of feel. To make the story short, I'm diggin' the Fender Mustang Floor pedal board. It's got those great Fender tones and some room to trip out some good effects. Running that into a Marshall half stack provides some great sonic possibilities. Man, I gotta tell ya, with the progression of technology, there are some really cool effects busting loose all over the place.
JFH (Michael): Since a hot topic of debate... What is your take on U2 giving away their new album? They aren't necessarily the first to do it, but they are the first to do it in this way. Do you think it's a positive or negative for the music industry?
Tim: Excellent question and I've been outspoken on this one. First off, I have been a serious U2 fan since 1986 and have even been asked to sing one of their tunes as a voice double for Bono for a South African DJ for use in clubs. I was one of those fans that knows literally every song. Here's my take... If I wanted to buy the new U2 album, I would. I think we are getting into a scary area when companies can just place music on your phone without your permission. I will not be pleased if Lady GaGa appears on my phone for instance. These companies are becoming way too invasive, period. Another point is this: unsigned artists are already working with much less than signed and promoted acts. This is a fact. As it is, it's hard to get people to pay $5-$10 for an album online because they know that they can download it for free somewhere or just steal it. Musicians lose out in the end because we only get a percentage of what the songs are selling for anyway. Albums are not cheap to mix, produce, and distribute. U2 has "cheapened" up the art form by basically spamming everyone with this album thereby making it even harder on the musicians that are paying for and promoting albums on their own. I believe that music is still an art form given by GOD and should be valued as such. I'm on a mission to not let the devil get all the good music and challenge other Christian musicians to be creative and not to just parrot other CCM template songs which we hear constantly. Let's bring this genre to a new level. Psalm 33:3 - Sing unto him a new song; play skilfully with a loud noise.