Nathan Jarrelle
may be a new name to a lot of hip-hop fans, but he has been hard at work. Jarrelle himself has released eleven studio albums and has a label (Nathan Jarrelle Ministries) with several other artists involved. Jarrelle aims to have lyrics rooted in good Christian theology, but also addresses tough issues like anxiety, depression, and abuse. This is pretty evident in "John 1:4-5," as Jarrelle raps about doubt and depression but repeats the line "
Do not let the darkness overtake you. Instead, let the light of God shape you.
" Sonically, Jarrelle is shooting for a sound similar to that of artists like Drake, Bryson Tiller, Lecrae, and Jonathan McReynolds. His 2020 album,
Beyond Your Reach
, is produced by Damian (who is also part of the NJM family).
The beats and sounds here are very smooth. The production isn't bogged down in the very overdone trap sounds of today -- there is a little here and there, like in "Know the Boy" or "Stand Firm Little Soldier" -- and it allows the raps and lyrics to really stand out front and center. Lyrically, Nathan Jarrelle hits the mark perfectly, given his stated intentions. His raps are Christ-centric and focus a lot on messages of God's love and the things He does for us. He also stays focused on scripture. Beyond that, he often talks about struggles like depression, but always points to Christ as the answer and our hope. My favorite line comes in the hook for "Like Jesus." Jarrelle sings, "I don't wanna be like Mike; I just wanna be like Jesus." He sells the point harder in the first verse when he raps, "I don't wanna be like Drake; I don't wanna be like Michael, Kendrick, or Cole -- None of them died on the cross for my soul. I'm giving the credit where the credit is due."
Overall, Nathan Jarrelle has a great vibe, a good sound, and unashamedly praises the Lord with the words that comes out of his mouth on this album. All these things, paired with Damian's solid production, leads to an enjoyable album. Nathan Jarrelle is passionate about spreading the good news of Christ through his music and ministry, and I look forward to hearing what he has to offer moving forward. I may recommend this a little more for older hip-hop fans, but think it has appeal to listeners from all generations.
- Review date: 8/25/23, written by
Michael Weaver
of Jesusfreakhideout.com

Record Label:
Nathan Jarrelle Ministries

Album length:
1 track: 4 minutes, 49 seconds

Street Date:
January 15, 2020

Buy It:
Apple Music
Stunt (2:44)
Know the Boy (2:00)
John 1:4-5 (2:53)
Through These Tears (3:05)
Like Jesus (3:44)
1996 (Space Jam) (2:42)
Beyond Your Reach (Acts 17:27) (2:23)
Stand Firm Little Soldier (1:42)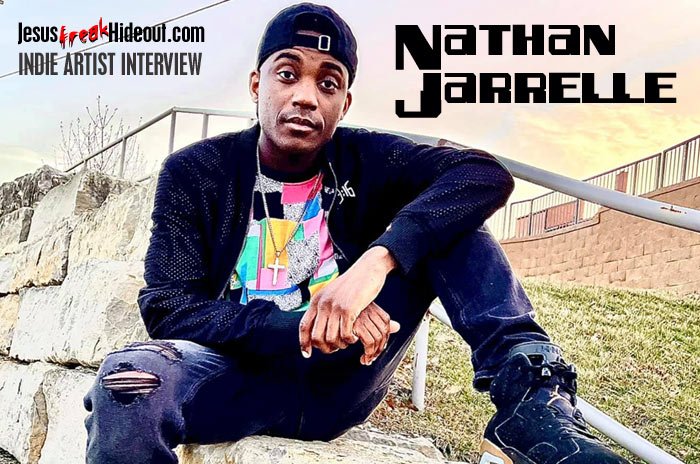 Jesus Freak Hideout (Michael Weaver): First off, can you tell us a little about your label (Nathan Jarrelle Ministries)?
Nathan Jarrelle: Of course, Nathan Jarrelle Ministries is a label that helps creatives right where they are, which means they can do what they love and what they're passionate about while still working their day jobs or pursuing their career. This industry is tough and I never want people having to sell themselves short in order to attain their goals. It's already hard enough being an independent artist with little to no budget and without industry connections. My label has signed five artist including myself and my job is to equip creatives with the resources they need to realize the vision that God has given them, whether they sign to me or not.
JFH (Michael): You've been at this awhile (11 albums!). When did you first start writing songs/raps?
Nathan: I first started writing short stories, I was greatly influenced by R. L. Stine's Goosebumps and Fear Street Series at the age of twelve. When I was 16, I started to branch out into poetry and journaling and that's where I truly started to practice songwriting.
JFH (Michael): I really appreciate how you blend messages of God's love, human struggles, and full-on scripture. Even when tackling issues like depression you point to the hope found in Christ. Why is this type of lyricism so important to you?
Nathan: Thank you, that means a lot to me. I don't want to make generic music that is "one size fits all." I think it works quite a bit for radio but not so much for people. I want to relate to someone right where they are by telling them what my struggles are, letting them know they are not alone and that regardless of their struggle Jesus is never too far away to help them. I relate to superhero's often because of their character flaws. I've found the best way to write lyrics is to be honest with God and with myself. It's important to me because we are called to be a voice for the voiceless and through music I can be that voice that helps someone put into prayer what they might not know how to word correctly.
JFH (Michael): My favorite track on the album is "Like Jesus." I really enjoy the old school Gatorade/Michael Jordan reference, the overall meaning behind the track, and the parts where you shared your heart in spoken word. Can you talk about this one a little?
Nathan: "Like Jesus" was one of the first songs created for Beyond Your Reach. I prayed to God and asked that He would help me to not make 'just another song.' I prayed He would help me make something original that said what He wanted people to hear. The spoken word at the end of the song was ad-libbed, I didn't write it down and rehearse it. I just remember finishing my verses and letting the song play while recording, The Spirit of God told me to speak and that's what came out. Like Jesus is really about comparing ourselves to others. I thought the like Mike Gatorade commercial fit perfectly with the idea of the song. I struggled a lot with comparing myself to others around this time, and this song help me set the record straight not only for others, but also for myself. The goal isn't to be like those we idolize, they are only human and though they may be capable of greatness, that greatness doesn't equal perfection. Jesus is the only one who is truly worthy of us imitating and I hope that when people turn this song on they lean more into that concept.
JFH (Michael): You have to songs based directly in scripture (and titled that way). What was it about John 1:4-5 and Acts 17:27 that was speaking to you?
Nathan: The Epistle of John is one of my favorite books. John 1:4-5, the song itself is about wrestling with doubt, fear, and disbelief. What I found cool about this scripture is that it doesn't say that darkness had to leave in order for the light to shine… No. it says despite the darkness, the light still shined and the darkness did not overcome it. Sometimes feelings of doubt, fear, disbelief, and even disappointment linger but that doesn't mean that the Light of Christ has diminished or has stopped shining. Acts 17:27, speaks more about the darkness we face and how God hopes that we will turn to Him through His Son, Jesus. The scriptural titles are placed purposely because I think a lot of times scripture gets the point across in a clearer way. I also hope the listener will look up the song titles to learn what the Bible says and like it so much that they dive into the context. I wonder how many google searches I've inspired!
JFH (Michael): Do you have any upcoming shows or appearances coming up that you'd like to share?
Nathan: Unfortunately, I don't have any dates to give at the moment. I have 12 phenomenal albums that I hope I will be able to perform for people whose lives my producer and friend, Damian Alston, and I have changed for the better. I have collaborated with 1K Phew on a song I have called "Desires" from my Low Resolution 2 album. It was a really great experience and the reception has been great too. I hope in the future I can collaborate with other prominent artist, I am always open to do features and I'm fairly easy to reach by email and social media so we will see what happens!
JFH (Michael): Any final thoughts or messages you'd like to leave for the readers?
Nathan: I would like to wholeheartedly thank you for listening to me. I can't tell you how much it truly means to me for you to listen to music I've created in hopes that you wouldn't feel alone or burdened. As much as I want to talk about me, I want you to know that I couldn't do this without Jesus and a network of people who love and pray for me. I hope you understand the lyrics that I write and that you know the same Jesus who died for me is the same Jesus that died for you, no matter what you've done, and He did rise and He is coming back again! Thank you, Jesus Freak Hideout!