When the mainstream music world had N*Sync and the Backstreet Boys, Christian teens were more than likely enjoying the sounds of Jump5, ZOEgirl, and Rachael Lampa. Bubble gum pop has all but gone extinct these days; what remains doesn't really make any impact, while the rest of it has matured and changed over the years. Taking cues from modern artists like Britt Nicole, Charmaine, and Francesca Battistelli, the duo known as
Fire & Ivy
have crafted five songs for their EP,
Eternity
. Fire & Ivy's music is a bit of an amalgam of sorts, utilizing hints of that old school bubble gum pop sound wrapped in pop rock and electronica. There's even a rap bridge in the Katy Perry-esque "If You See Me." It's really awkward and sloppy, though, and it doesn't really make any sense in the context of the song. Unfortunately, the vocals often feel this way throughout the whole project, even with the rapping confined to this one track. "Fire in the Sky" features a melody that feels congested and off-beat, and "Yours To Use" seems a little too busy, trying to fill out the melody with the limited number of words they're using. Additionally, Chelsea Fritchey and Aly Zelaya don't necessarily seem like their vocals are best suited for pop music, and may sound better in a heavier rock setting. In the context of these five songs, they feel a bit overpowering.
Eternity
certainly does have a catchiness factor, however; it can't be denied that these songs will get stuck in your head after only a few listens. When all is said and done, pop fans would do well to give Fire & Ivy's EP a listen. - Review date: 8/8/16, written by
Scott Fryberger
of Jesusfreakhideout.com

Record Label:
None

Album length:
5 tracks: 19 minutes, 21 seconds

Street Date:
June 21, 2016

Buy It:
iTunes
If You See Me (4:00)
Fire in the Sky (3:57)
Eternity (4:03)
Yours to Use (3:46)
Draw Me In (3:35)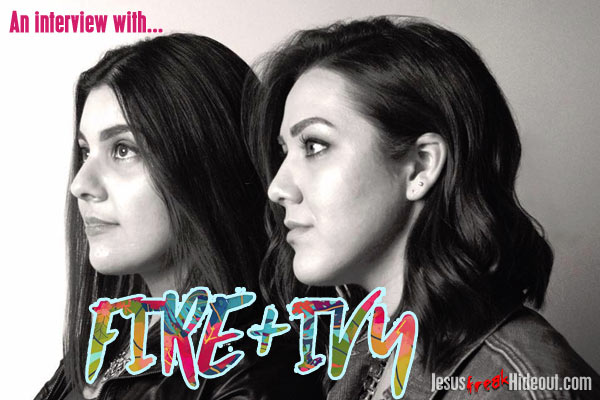 Jesus Freak Hideout (Scott Fryberger): First off, tell us about the name Fire & Ivy.
Aly Zelaya: ďFire & IvyĒ expresses who we are and our hearts. There are characteristics of these objects that we want to emulate: Fire can be seen from far away; even if you canít see it, you can smell the smoke and know itís a fire. In a similar way, we want it to be obvious that we are believers in Jesus Christ. We want it to be evident in the way that we carry ourselves, in what we say, and how we act. Ivy can be seen climbing up building walls, and can often completely cover it so that all you can see is the ivy. In a similar way, we only want Christ to be seen in our lives. This life isnít about us, itís about Him, and we want all that we do to be to His glory and honor. Not ours. Also, a little bonus is that fire and ivy are such different things, which can resemble the big differences in our personalities.
JFH (Scott): What role do each of you play in the band and in the recording studio?
Chelsea Fritchey: We both sing lead and background parts. We usually switch back and forth, so we can both get equal opportunity to sing both lead and harmonies. We both love singing harmony, so itís important that we take turns. Generally, because of our ranges, I usually take the lower melodies and Aly takes the higher parts. Aly plays the guitar, and I play both the guitar and piano.
Aly: In the recording studio, we bounce ideas back and forth, but Chelsea is the ultra-analyzer. Haha. She is a perfectionist, and I have to balance that out. Lol! Also Chelsea takes care of most things in regards to business, while I handle most of the design aspects.
JFH (Scott): How long have you been making music together?
Chelsea: We have been singing together for close to ten years. We had been a part of another band before Fire & Ivy, but we set out on our own - writing and composing - at the onset of 2010.
JFH (Scott): What artists would you cite as personal inspirations?
Chelsea: Oh my goodness, this is such a hard question! So many artists have been inspirations to me! But I will definitely have to say Steven Curtis Chapman is a huge one! I grew up on his music and, even as so much time has passed, everything he writes is relevant and catchy. I love how he stays true to himself musically and that his lyrics always so clearly express aspects of God. His lyrics are so simple, and yet, there is so much depth to them. You can always be encouraged or challenged in more than one way by his songs. I want to write like that. Britt Nicole has also been an inspiration, musically. She takes risks and isnít afraid to try new things and I want to do the same. I could list many more, but Iíll stop. Haha!
Aly: Plumb. All day and all night! Her writing is so real. Sheís so honest about where she is in life and how God is working. Sheís inspired me to write like that. Another artist who is quickly becoming a big inspiration for me is Hollyn. The control that girl has of her voice! So. Good. Listening to her definitely gives me the motivation to dig deeper and work on my vocal technique!
JFH (Scott): Are you hoping to sign to a major label sometime down the road?
Chelsea: Yes, we are praying and working towards getting signed to a major label in the future. We would love to be a part of a bigger team to help guide us in the music industry and provide the opportunities to reach different people and places that we would otherwise never have on our own.
JFH (Scott): What's your favorite song from Eternity?
Aly: Currently, my favorite song off the EP is ďDraw Me In.Ē I love how chill it is, and the words are so personal and relevant at all times.
Chelsea: My favorite song off of the album is ďIf You See Me.Ē Musically, itís one of our more experimental songs and itís so fun to sing! I love the edgy pop feel and the surprise rap in the bridge. I also love the lyrics of the song. The subject is something thatís not really talked about too much, let alone sung about, but I think itís an important one - like, letís be real with each other.
JFH (Scott): How about your favorite live show moment?
Aly: While we were performing "Fire in the Sky" at an open mic, we looked up at the turn into the chorus, and on our left, we saw one of our producers bust out in serious dance moves, pumping his fists into the air and jumping around while singing along. As we continued scanning the crowd, we saw a crowd member, one we had never met, singing along with gusto as well! It was one of the coolest things to see people having fun and singing along, especially someone weíd never met before!
JFH (Scott): What have you been studying in the Bible lately?
Aly: Iíve been studying Psalm 33. I love this chapter because it is full of the characteristics of our God. He loves justice and righteousness, His word is right, His work is true - and the list goes on! And because of who He is and what Heís done, He is worthy of our praise! He is our Creator, deliverer, help, shield, guide, and our hope! Reading and studying through this chapter has reminded me of the privilege we have to know our Creator. The God of the universe wants to have a personal relationship with me!
Chelsea: I just started a study on Galatians actually! I am a part of a Bible study that is going through that book as well, so Iím very excited to delve deeper into it. Galatians reminds believers that we were not, and cannot be, saved by the Law. God instituted the law so that we can know how sinful we are and then turn to the only One who can redeem us from that state! No matter how much good we do, or how many laws or commands we obey, those things cannot undo that wrong we have done. The only source of full and FREE forgiveness is in Christ Jesus!
JFH (Scott): Anything else you'd like to add?
Chelsea: Our highest goal in what we do is to give God the glory. We pray that every song we write, everything we do, and all that we say may point you to Christ and that your walks with Him may be strengthened.
Aly: You can find us on all major social media platforms: Facebook, Instagram, Twitter, YouTube, etc. Please like or follow us! Weíd love to connect with you and keep in touch!