To inspire people is a honorable task, to inspire people to live for Jesus - divine. For Alabama-based worship band,
Cannot Be Contained
, that is their mission. They want to encourage everyone to make Jesus the focus of everything they do, all the while utilizing music to deliver this message. However with CBC's debut EP,
Found
, that message gets muddied with poor production values and lack of experience. The EP opens with the lackluster "Salvation." Sonically, the guitar sloppily pans from left to right making for a very perplexing opener and doesn't grasp listeners as much as confuses them. This is followed by the stereotypical, "Let Me Worship." It features the expected acoustic guitar and lyrics that many Christians have sung at a youth camp, "
Let my words be worship, let my heart be worship, let my life be worship, unto you
." Sadly, this seems to be the case with nearly the rest of the album: songs that have recycled lyrics and predictable chord progressions. Furthermore, when the band attempts what may be a glimpse of originality, something deters it from completing the task. An example of this is "19." Musically, it begins with an old radio sound, but it is completely negated by the clear and clean guitar and vocals. Along the same lines, lead singer Robert Mallory passionately belts out, "
We are Yours, we are Yours, almighty God
," but his aggression does not match the lyrics. "We Cry Holy" concludes the album with the same bland lyrics that most of the album showcases. You can hear an effort for a climax but the struggling rhythm of the song derails it from reaching that climax successfully. Truthfully,
Found
may not be what listeners are looking for, but that doesn't mean that the album has nothing to offer. The band seems to be a group of men that seriously want to spread the name of Jesus, which is not only noble but also encouraging. However, what truly could have helped them in this venture is more time to craft their art and a skilled producer, engineer, and better mixing. This may be the first time for many to hear of Cannot Be Contained, but if the errors are corrected, it may not be the last. - Review date: 8/2/13, written by
Ryan Barbee
of Jesusfreakhideout.com

Record Label:
None

Album length:
8 tracks: 34 minutes, 30 seconds

Street Date:
May 21, 2013

Buy It:
AmazonMP3
Salvation (2:42)
Let Me Worship (3:55)
Found (5:02)
19 (4:03)
Purify Me (4:11)
God of the Broken (4:47)
Set Me Free (5:08)
We Cry Holy (4:42)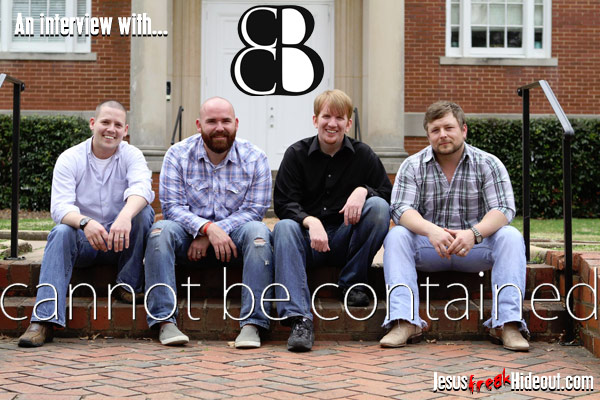 Jesus freak Hideout (Ryan Barbee): What's the story behind the band name, Cannot Be Contained?
Robert: Cannot be Contained came from the third verse in our song "Purify Me." It's a song I wrote about 4 years ago. When I wrote that verse, my wife was like "hey that would be a great band name." In that verse, I was trying to explain how big God is without saying something that's been said a million times. I wanted to name the band "Spaghetti on the Wall." No one liked it but me ... I still like it.
JFH (Ryan): How did you guys all meet?
Jason: Rob, Shaun, Brion, & I all met through our church, Church On the Rock in Calera, AL. We met Nick through a mutual friend of ours & his energy while playing was so awesome that we asked him to be in the band.
JFH (Ryan): Now I know many bands are raising money through Kickstarter/Indiegogo/etc. and you guys raised the money for the EP through Kickstarter. How was the experience you had?
Jason: The whole Kickstarter experience was really cool. We were nervous when we had a week left & were only at 60% or so, but God provided. It was cool to hear from people that I have never met that liked our promo video & wanted to back the band.
JFH (Ryan): What is your favorite song off the EP? And what's the story behind the song?
Robert: My favorite song is "Found". It came really close to not making the EP. I wrote this song while battling an addiction. While the addiction wasn't serious (nicotine), the idol behind the addiction was. A war was going on inside me. Jesus wanted all of me not just 99%. Jesus doesn't let you off the hook like that. He comes in and says 'Hi, I require your entire life'. This song is about that struggle between holding onto your life or letting go.
Shaun: "Found." It was just an amazing process at how the song came together. We sat down one afternoon to listen to the rough song idea, fiddled around with it for about 15-20 minutes then didn't mess with it till we got to the studio. That was literally the second time we played the song as a group and recorded the song in one take. Talk about something that was just meant to be and had a higher power watching over it and guiding you through it the way He wanted. It was definitely a God moment in the studio that day while we were playing.
Brion: "Found"
Jason: I am a huge fan of our song "19" because that is a song that I wrote the chord progression for over 5 years ago and I am really proud on how it turned out. I used to play it on the acoustic for my wife, Lesley, all the time to help her relax. It also means a lot because of the name. I named it "19" because my wife's birthday is on the 19th of December, she was 19 when we got married, & my daughter was born on the 19th of March. "Found" means a lot to me, too, because when Rob let me hear his idea on the acoustic, I knew that this was something special. Then Shaun did his lead line the next week and I was blown away. When we got to the studio & went over it with David Keith (producer), his eyes lit up & he helped turn the song into something even more special. I really feel that God's anointing is on that song. It is a constant reminder to me that God has this band and it is for His glory.
JFH (Ryan): Who are your musical inspirations?
Robert: Musical Inspirations: (not in order) Switchfoot, Hillsong United, Jesus Culture, Supertones, Radiohead, Weezer, Chevelle, Blindside, P.O.D., Ben Stone
Shaun: Wow, this is all over the board for me. I grew up listening to old country artists like Hank Williams, Patsy Cline, Elvis, Jerry Lee Lewis as well as old rock/pop stuff like the Beatles, Bob Dylan, Jimi Hendrix, the Doors, Led Zeppelin, and, to round it off, some good Motown as well. So, I have always liked a very diverse group of music. I think it has allowed me to have wide range of ideas musically and not forced me to operate in a particular box. I look to all those artists and more for musical inspiration and musical ideas.
Nick: My musical inspirations are all over the map. They range from country to metal, haha. I find that the Red Hot Chili Peppers taught me my stage presence and have very deep lyrics. You have to listen between the lines to fully grasp the meaning of their music and I love that. For Today is also a big inspiration of mine, because of the passion they put into their performances, and their music is so Spirit-filled that I feel like I am in a "hardcore" Sunday morning service. But it was multiple country artists from Alabama to Garth Brooks and George Strait that made me want to pick up an instrument to begin with.
Jason: My musical taste varies. It goes from worship music to something heavy like Killswitch Engage or A Plea for Purging. I am also a huge fan of Stavesacre. Pretty much anything that has a rocking guitar on it, I will probably like.
Brion: Jesus Culture and Elevation Worship
JFH (Ryan): You guys opened for Peter Furler, which is big deal, how was that experience?
Robert: It was awesome because when I got saved around 1997 and started asking questions about music; the Newsboys "Take Me To Your Leader" album was the first Christian alt rock album I ever heard. I remember throwing away Weezer's 2nd album "Pinkerton" because it said "G'D" like 17 times, and replacing it in my CD case with Newsboys " Take Me To Your Leader." So, opening for that guy was pretty cool to me. We're talking about a guy that wrote "He Reigns" simply because he wanted to write a 3 chord song. We were very lucky to share the stage with him.
Shaun: It was a FREAKIN' AWESOME EXPERIENCE! Now, I will tell on myself...when I found out we were opening for him, the name didn't register with me. I definitely knew who the Newsboys were, but the individual members of the group were a different story. It was definitely one of those surreal moments people talk about. Peter, as well as the guys in the band, was really cool to talk with and we definitely had a great time. It was a really awesome night of worship and praise.
Nick: Where do I begin? This entire opportunity I have been blessed with from joining the band until now has been amazing. Being able to open for a man who has had such an impact on thousands of people's lives, is almost beyond words. I think the best part of the entire experience, and the most humbling, has to be when the show was over, Peter looked at me and said "you guys did really well, sorry we weren't able to hang out, though." Just to hear such an admired man that's been playing music longer than I've been alive say we sounded great, that was very humbling. Also, to know he wanted to take time to meet with us and hang out a little bit was awesome. I've been playing music for 10 years now and I work and have worked so hard for opportunities like this, and all I can say is that it is unbelievably humbling.
Jason: It was an unbelievable experience. I have known Peter Furler's tour manager since I was a kid and was just talking to him on Facebook one day about the music industry and he asked us to open for Peter. Totally a God thing - I mean we had only been a band about a year and just recently recorded our album (in April)… things like that just do not happen that quickly. The crowd was awesome & worshipped along with us.
Brion: Traveling to a different city to play in front of a large group of people and opening for a renowned artist such as Peter Furler was pretty awesome.
JFH (Ryan): What is God teaching you all right now?
Robert: To praise Him through a storm. It is easy to worship Him when everything is great. The Bible says to consider it pure joy whenever you face trials of any kind, no matter what it is, physical, mental, spiritual, it doesn't matter. The enemy's #1 tactic is to make you feel like you're the only person in the world going through whatever it is you are going through. God is teaching me to praise Him through the storm. God will never let a praiser be defeated.
Shaun: Probably the most important things of all.....Patience & Belief! Through the whole process of recording the album to where we are currently, everything has just "happened". It has shown me, and I believe everyone else, that if you are doing something for the right reasons and with the right motives, then God will take care of all the details. That there is no sense in trying to force things to happen. You just have to believe that they will happen, pray about it, ask and thank God for making it happen and then, well, in our case so far.....it's happened!
Nick: God is constantly teaching me something new, DAILY! I believe a big lesson I'm being taught right now is just to slow down. God keeps telling me to slow down, enjoy today, because today is the only chance you get to live today. As a band, God is showing us how important it is to have others to lean on. Just to use the tools in life he presents to you. Of course, I may be speaking for myself, but being in a band, God is real good with allowing us to practice patience. God is showing us, from what I see, that whatever we set our minds to we can do. He has more than blessed my fellow members with talents that they are all using for God's glory. God is still and, I strongly believe, will continue teaching us lessons daily, along with presenting us with awesome opportunities like He has already done.
Jason: He is daily telling me that He has to be my everything. The last three years have been extremely difficult for me on a personal level from financial stress to sickness in my family. In spite of all of that pain, I have never been closer to God or to my wife. Sometimes, the storm seems like hell and that it will never end, but when I let go and rely totally on God, then I am free and whole even in the midst of the chaos of this life.
Brion: Faith and Patience. I think we all realize that making it to the next level doesn't happen overnight. Through faith and patience, we have come a long way in a short period of time.