The early 2000's was an amazing time for music: rock had evolved into so many denominations and expressions that it collided with pop, hip-hop, country, etc. Furthermore, worship music started to grow and change into a more mainstream sound leading to the explosion of Hillsong, Passion and Crowder, among other progressive pioneers. These incredible trailblazers have led to an ever-growing number of worship artists and bands. Adding to that growing fold is Australian based indie band
All Above North
with their debut album,
How Great It Is to Be Broken
.
The album is a collection of worship and inspirational songs for the Christian life, however, those lines tend to be blurred as humanity always has an object of affection and worship. Songs like "Your Love" and "Hope" and "Your Love is Unbreakable" reflect on the depravity that is ingrained in the human condition and the separation that it causes between God and His creation. Furthermore, these tracks are balanced out with an honest and heartfelt plea for God to draw the believer closer to himself. While these tracks and others like "Oh What a Day," "My Desert Heart," and "Please Don't Forget Me" sing to the Lord, they are more introspective and not necessarily worship songs, per se.
On the contrary, "I Worship You Forever (Psalm 145)" is a pure song of worship and could even be used in gatherings of the church. As lead singer Jon Tiddy sings, "I exalt you God and Father, you're compassionate, slow to anger, great in faithful love," he pulls from scripture while utilizing U2 style instrumentation to create a beautiful track. The title track, "How Great It Is to Be Broken," continues this same style but with a bit more epic arrangement, concluding the album in a solid fashion.
Overall, All Above North makes a great effort and has a lot to offer listeners. There are some incredible moments of genius, but with 90% of the songs on the album topping out at over 5 minutes each, listeners may not have the stamina or time to digest the album in its entirety. In addition, musically, the album is very reminiscent of U2 or early works from Coldplay, which may draw or repel listeners, but for this reviewer it is extremely intriguing. As AAN continues to grow and mature in songwriting, we may see some excellent music coming from the band. Make no mistake, How Great It Is to Be Broken is a good album--the instrumentation and production are top notch--it just needs to be honed in a little more to make it a great album. Nevertheless, we should all look forward to seeing the future of All Above North as the band evolves.
- Review date: 11/11/17, written by
Ryan Barbee
of Jesusfreakhideout.com
JFH Staff's Second Opinion
"By God, for God, because of God" is a great motto for all believers, and the exact motto of Australian alternative worship band
All Above North
. Their new album,
How Great It Is To Be Broken
, is a celebration of God's goodness of breaking us of the disease of sin and bringing us into new life. "Oh What A Day" is a simple declaration of the joy of freedom ("
God's loving grace has set me free, oh what a day! This victory shout, God rescues me, oh what a day!
"), while the title track is the perfect encapsulation of the band's purpose ("
A crooked bone that needs a reset must be broken to be straightened out again, in the same way God's hand breaks us, so that our sin can be gently carved away
"). The album has alternative rock tendencies, but is a lot quieter than it should be, with very little to emphasize the rock sound and the dynamic of the songs. In essence, it could benefit from some more power and volume. That being said, All Above North has provided a worshipful album that reminds the listener of God's victory over even the most broken of us all. - Review date: 11/8/17, written by
Scott Fryberger
of Jesusfreakhideout.com

Record Label:
Northwest Records Pty Limited

Album length:
10 tracks: 55 minutes, 36 seconds

Street Date:
September 30, 2017

Buy It:
iTunes

Buy It:
AmazonMP3
Please Don't Forget Me (5:47)
Your Love (4:26)
Oh What a Day (5:41)
Walk on Water (5:31)
Hope (5:27)
Father (5:52)
Your Love Is Unbreakable (5:14)
I Worship You Forever (Psalm 145) (5:51)
My Desert Heart (5:25)
How Great It Is to Be Broken (6:22)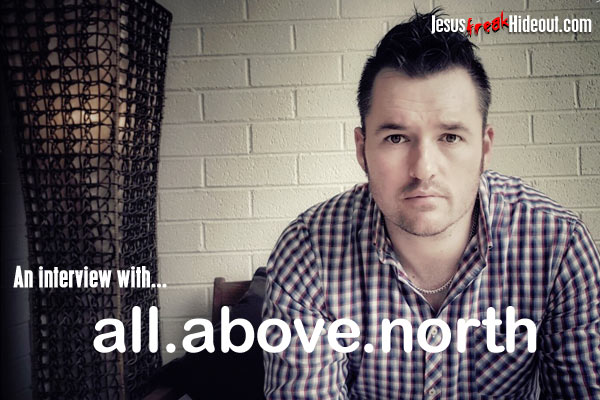 Jesus Freak Hideout (Ryan Barbee): What is the story behind the name Above All North?
Jon Tiddy: Yeah, the name is interesting. I had been really stuck trying to come up with a name that I liked, and that I felt in some way pointed to God. The name itself came from a sentence that I got a bit tongue tied on. I was trying to explain to my wife that an approaching summer storm was all north of the city that we live in, and it came out something like, "All the weather is all above north of us." After we had a bit of a laugh about it, it struck me that my mistake could work as an interesting name. Since I really believe that the work that I do through All Above North is by God, for God and because of God, I liked the idea that the name could in some way point to God as notionally being 'all above north' of us. So I hope the name 'All Above North' acts as a reference to God our Father, who, "...looks down from His holy habitation, from heaven, and blesses His people." (Deuteronomy 26:15)
JFH (Ryan): Who are some of your musical influences and what about their sound inspires you?
Jon: My three main musical influences would specifically be Dave Gilmour (Pink Floyd), The Edge (U2) and Cold Play. Collectively, I really love how each of these artists use digital delay affected guitars and synthesizer/midi to create layered soundscapes under beautiful melodic lines. I love David Gilmour's ability to create wonderfully soulful and emotional guitar solos. Rhythmically, I am a big fan of how The Edge uses delays on his guitar lines to create amazing arpeggios. This is something I try to incorporate into my writing. Finally, Cold Play's use of midi and synthesizer is also something I am a fan of and also try to incorporate into my song writing. For my drumming, I really admire the styles of Chad Smith (Red Hot Chili Peppers) and Taylor Hawkins (Foo Fighters), and where possible, I tried to incorporate some of their styles into the album.
JFH (Ryan): What's the inspiration behind the title track "How Great It Is to Be Broken"?
Jon: The inspiration behind this track was the lived experience I had (and probably will continue to have) with God breaking down those areas of my life that needed his refining. When God has done this to me, it has often been accompanied by trial, hardship and, at times, pain. So this song recognizes that sometimes God brings us through periods of refining and perseverance - which at the time can seem like extreme trial and hardship. 'How Great It Is to Be Broken' thanks God for working in our lives during these times, recognizing that God's hand gently breaks down those things in our lives which are sinful so that He can rebuild us again. It is ultimately a song of joyful thanks and praise to God.

Structurally, this song was in part inspired by 'Army of One' by Coldplay. I really liked the idea of messing around with traditional song structures such as intro, verse, chorus, bridge, verse, chorus, outro etc. So I set out to create a song made up of two parts. I really liked the space and freedom this structure created to take the listener on a journey that involved a main God-focused theme in part A; and a response to that God-focused theme in a worship-styled part B. I also adopted this approach in another song on the album, called 'I Worship You Forever'.
JFH (Ryan): If we were to look at your recently played music, what album have you been playing over and over and over again?
Jon: The producer of the album, Luke Munns, encouraged me to expand my musical vocabulary. So I have what I call my 'Shazam Mix' in my Spotify account - where I draw in any song that I happen to hear, wherever I may be, that has something interesting, or something that I want to learn or use in my song writing. At the moment in my Shazam Mix, you will find anything from deadmau5 to Purity Ring, Bishop Briggs, to Cliff Martinez's soundtrack on Drive and Daniel Pemberton's soundtrack for Steve Jobs.

At the moment, albums that I am also currently listening to are 'Holy Fire' by Foals, 'When It Was Now' by Atlas Genius and 'AM' by Arctic Monkeys.
JFH (Ryan): What do you hope to accomplish with your music?
Jon: A wise retired pastor, who has been a wonderful spiritual mentor to me during the recording of the album, told me a story about faithfulness that goes something like this: "There was someone out in the world who faithfully spread the gospel message and ended up leading one man to Christ. The man who was lead to Christ was Billy Graham - and we all can imagine the numbers of people he has led to Christ." The pastor then told me that God's plan could be to use the music of All Above North to lead one person to Christ, or millions to Christ or anything in between. My job, he told me, was to remain faithful to telling the truth about God in my life through the music God gives me, because we never know how God intends to use those we lead to the kingdom. My hope is that the music of All Above North resonates with someone somewhere and leads them to God. If by doing that, just one person is saved for the kingdom, I will praise God!
JFH (Ryan): It's always good to end with somewhat of a big dream question! If you could go on a world tour with 2 other bands/artists, who would they be and why?
Jon: Of course I dream of touring with David Gilmour, U2 or Coldplay as they particularly influenced the album. But as a Christian artist, I really love the idea of the Christian music festivals, such as Worship Night in America. As this is my first album, and I don't yet know what God has in store for any possible career in the CCM industry, I would be truly blown away if there ever was an opportunity to be a touring artist along with all those other great Christian musicians on something like Worship Night in America. But right now, I am really excited about the chance to tour around the small and regional churches where I live that are under resourced and who usually get left out of 'touring circuit.'