Having been a musician for nearly 30 years now, singer/songwriter
Stephen Yeske
finally decided to take the leap into recording. He's released a string of singles throughout 2022, which have now culminated in his debut EP,
Keys of Heaven
. As Yeske's main goal for his music is to worship the Lord and edify the Church,
Keys of Heaven
foregoes flashy instrumentation and poetic songwriting and instead focuses on solid musicianship and straightforward lyricism. Much of the album is low-key and unassuming, as if he's demonstrating his desire to lift up Jesus and not himself. The EP is full of soft acoustic guitar, light drumming, and pretty piano and keyboards, with the occasional, slightly more upbeat moment that could almost be a good fit for radio ("Love Divine" being perhaps the best example). And on that note, each of these six songs is a simple song of praise and thankfulness for what God has done in Yeske's life. Again, the lyrics are straight to the point and easy to pick up - maybe a little repetitive here and there, but full of truth and even Scriptural references. The title track essentially sums up the whole point behind the EP: "
In You there's eternal life / You've given us the keys of Heaven / in You we have the victory / forever we'll sing / holy, You are holy, holy is the Lord/ worthy, You are worthy / worthy is the Lamb
." While a lot of Christians in the 21st century seek fame and superstardom with their music, it's refreshing to hear from someone humbly using his gifts to worship the One who gave them to him.
Keys of Heaven
won't help Stephen Yeske become a household name, but it's an honest and reverent bunch of songs that accomplish what he set out to do: honor God and minister to others. If you enjoy the sounds of The Glorious Unseen or even the more stripped down songs from recent Citizens albums, you might be interested in
Keys of Heaven
. - Review date: 10/18/22, written by
Scott Fryberger
of Jesusfreakhideout.com
JFH Staff's Second Opinion
Stephen Yeske
is on a self-described mission to "edify and bring unity among the church body of Christians" through music. On his debut EP, titled
Keys of Heaven
, he sets out to do just that. With vocal similarities to the lower register utilized by Jason Martin (Starflyer 59), and a musical base of acoustic guitar and heartfelt vertical lyrics, Yeske takes six songs to share his earnest gratitude to Jesus. Ultimately, though the lyrics don't break any new ground, they are certainly heartfelt. "Glorious" kicks things off with a Delirious-lite vibe with my favorite moments being the chiming guitars that make up the foundation of the song. Additionally, "Live By Faith" has a darker acoustic tone paired nicely with what sounds like either a cello or violin. Avoiding the common snare of DIY production, everything on
Keys of Heaven
sounds of high quality, and with a reach for more depth in song-craft beyond lyrical cliche, Yeske may just make some noise on a bigger stage. Until then, with
Keys of Heaven
, he's off to a strong start.
- Review date: 10/24/22,
Josh Balogh
of Jesusfreakhideout.com

Record Label:
None

Album length:
6 tracks

Street Date:
October 21, 2022

Buy It:
Bandcamp
Glorious (4:35)
Fountain of Life (4:46)
Keys of Heaven (4:25)
Live by Faith (4:47)
I'm Captured (4:50)
Love Divine (4:34)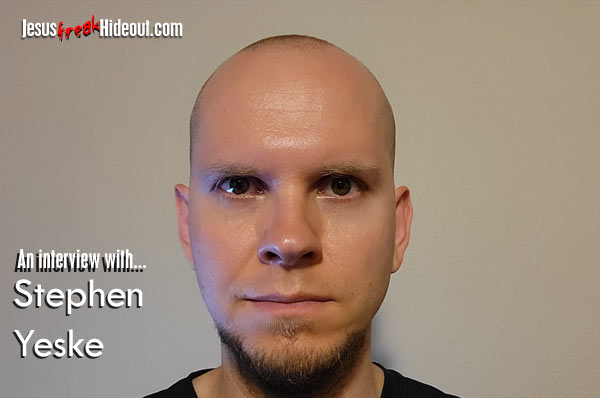 Jesus freak Hideout (Scott Fryberger): Your bio says that you've been playing music since 1994. What led to your interest in musicianship
Stephen Yeske: My parents signed me up for piano lessons when I was ten. I think I became curious when I actually felt something when playing a music piece on the piano.
JFH (Scott): When and where did you first play music in front of an audience?
Steve: I believe the first time was for a piano recital in middle school.
JFH (Scott): How did you finally decide to record an album, and when did you start writing for it?
Steve: To independently record and release music is a whole lot easier to do now and that certainly helped me in deciding to record an album. I've been writing songs since 2012. The music projects I'll be recording will be a collection of those songs. Half the songs on the "Keys of Heaven" EP album are older songs and the other half are fairly new.
JFH (Scott): Who are some of your musical influences?
Steve: Delirious?, Paul Oakley, Ryan Delmore, Jeremy Riddle, Gospel Hymns, etc.
JFH (Scott): What have you been reading in the Word lately?
Steve: Psalm 1:1-3 KJV: 1 Blessed is the man that walketh not in the counsel of the ungodly, nor standeth in the way of sinners, nor sitteth in the seat of the scornful. 2 But his delight is in the law of the Lord; and in his law doth he meditate day and night. 3 And he shall be like a tree planted by the rivers of water, that bringeth forth his fruit in his season; his leaf also shall not wither; and whatsoever he doeth shall prosper.
JFH (Scott): What advice would you have for someone who wants to learn to play an instrument?
Steve: It's a commitment. To grow we need to be consistent, disciplined and fervent and be merciful towards ourselves in the process. This goes for learning to play an instrument and I also believe these principles can be applied in being an instrument for God to use.
JFH (Scott): Which of your songs would you pick to play for someone who was interested in hearing your music?
Steve: I would play "Fountain of Life." I feel a strong connection to that song whenever I play it.
JFH (Scott): Do you plan to continue writing and recording more songs?
Steve: I can't foresee myself not writing songs for the time being. My next project will be a full LP album. I plan on recording and releasing that next year.
JFH (Scott): Where can people find you on social media?
Steve: https://www.facebook.com/stephenyeskemusic/
JFH (Scott): Is there anything else you'd like to share?
Steve: I feel like sharing this particular verse. Hebrews 12:1-3 KJV: "1 Wherefore seeing we also are compassed about with so great a cloud of witnesses, let us lay aside every weight, and the sin which doth so easily beset us, and let us run with patience the race that is set before us. 2 Looking unto Jesus the author and finisher of our faith; who for the joy that was set before him endured the cross, despising the shame, and is set down at the right hand of the throne of God. 3 For consider him that endured such contradiction of sinners against himself, lest ye be wearied and faint in your minds."