Radio Friendly
are a rock band hailing from Ripon, California. While "rock" is the obvious genre, the group cover sounds ranging from the 80s, alt/rock, punk-adjacent, and even some more modern rock sounds. Their newest release, a six-song EP entitled
Made to Worship
, is the follow-up to
The Archives
. From the guitars to the keys, the 80's feel is very evident in the opening track, "Made to Worship." "Love One Another" gets that pseudo-punk/Ramones vibe going in what turns out to be a fun and rocking number. "Total Praise" finds the band slowing things down for an acoustic worship number. The lyrics open the song with, "
As we lift Your name; give You total praise. There's no other name that saves. Need to understand; You were more than just a man. Died and rose again; set us free. Give us victory.
" There's definitely a 90's Hootie and the Blowfish vibe happening on this one. From here the group goes into a cover of the Matt Redman classic "Heart of Worship." The song is revamped and features some really nice keys. "Matter of Time" brings the tempo back up a little with a Styx sort of feel to the music. Finally, the EP closes out with "Worship You." The track has a moody feeling and the way the keys and synths play back and forth give it a cool sound.
The first thing I thought upon hearing Radio Friendly was "Rock 'n' Roll Worship Circus." While they certainly aren't a copy of the early 2000's sensation, I think the basic idea is the same: Present the Word and worship the Lord to rock music. With modern worship being stuck in a bit of a rut musically these days, it's nice to see something come out with a different take. Fans of rock and alternative music will likely get the most enjoyment out of Made to Worship, but any fan of worship music should give this one a listen. I look forward to seeing what Radio Friendly does next.
- Review date: 9/11/20, written by
Michael Weaver
of Jesusfreakhideout.com
JFH Staff's Second Opinion
Two decades in, the pop/rock & roll band
Radio Friendly
is going strong, having just released their tenth album,
Made To Worship
. The band has a good time glorifying God with a blend of the southern pop of DecembeRadio, the rock & roll of The Elms, and some of the alternative grit of early Audio Adrenaline. The opener and title track also starts off with something that sounds like early Owl City on hyperdrive. The band's lyrics, though earnest, are a bit less complex than their sound. "Total Praise" says, "
As we lift Your name / give You total praise / there's no other name that saves / need to understand / You were more than just a man / died and rose again, set us free, gave us victory
." These six songs, each a testament to the appropriateness of the band name, are sure to find an audience in fans of contemporary pop rock and/or any of the artists mentioned above. - Review date: 8/28/20,
Scott Fryberger
of Jesusfreakhideout.com

Record Label:
Sanctified Records

Album length:
6 tracks

Street Date:
April 17, 2020

Get It:
iTunes
Made to Worship (2:46)
Love One Another (3:39)
Total Praise (4:19)
The Heart of Worship (5:41)
Matter of Time (4:22)
Worship You (4:23)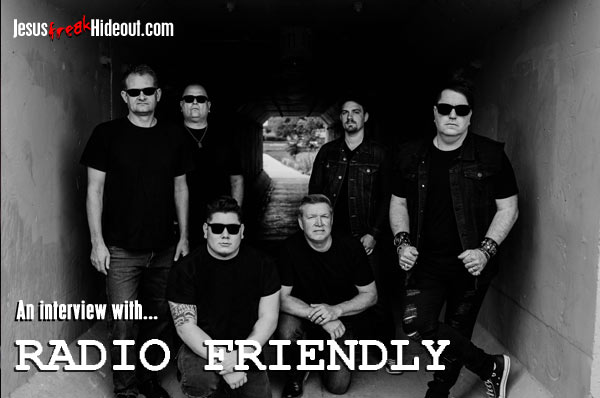 Jesus freak Hideout (Michael Weaver): What's the story behind your name? The term "radio friendly" can be used with a negative connotation behind it at times, but you've embraced the term wholeheartedly. What is the band trying to convey with its usage?
Bosch Boschetti: When we started out in 1999, I had a couple ideas for the name of the band but kept going back to Radio Friendly cause it just sounded cool. I knew the good meaning of it and my goal was to make great upbeat Christian music that everyone could listen to.
JFH (Michael): The first thing I thought of when I started listening to the EP was "Rock 'n' Roll Worship Circus." Then I noticed that you've actually played with them before. Is there any influence in what they were doing in the 2000s with what you're doing now?
Bosch: 2. (Absolutely! In 2004, we played a rather large show opening for The Circus and Gabriel [Wilson] and myself hit it off pretty well that day. We later on in the year ended up working with Gabriel and Chris (The Glitter Twins) mixing two of our tracks off our Christ Like All Star record our first full length studio project. I absolutely loved what The Circus was doing and they have been a huge influence to say the least to me and RF to this day.
JFH (Michael): My favorite worship song of all-time is "Heart of Worship." I connected with that song in a way I never had before several years ago. It put me back on the right path for following God's calling and plan for my life. I always get excited to hear a new version of the song. What made you choose that one to cover?
Bosch: Well, "The Heart of Worship" has always been a big favorite worship song of mine and my daughter's since it came out. When I started thinking about a cover song for this EP, I knew that was the song to cover. During rehearsals, before going into the studio, I came to find out that Matt Redman was a distant cousin of my wife Marty, and thought that was pretty cool. I arranged a meet up at The Namm show 2019 Worship Night, which was coming up, and had a chance to meet and get to know Matt a little more and share with him that I wanted his blessing for covering his song. Matt's response was "only if you do it RF style," to which we did. We are blessed to have gotten the chance to do this cover and will always be grateful to God and Matt for this chance. We gave this track everything we had.
JFH (Michael): On the rock side of things, my favorite here is "Made to Worship," but on the slower end, it's definitely "Total Praise." Could you talk about those two songs in particular? Where are the musical influence and lyrics coming from on these two songs?
Bosch: With "Made To Worship," I wanted to write a song that talked about the things we go through on a daily basis in life, but no matter what we go through, we need to always remember as a child of The King is that we were made to worship God through it all. On a musical note, I wanted to do something different with this song so I had my keyboardist Jesse Miller come up with a cool synth lead versus an electric guitar lead-in for the song, and I think it came out super rad. I am an 80s kid, so pretty much everything I write, whether I like it or not, has some kind of 80s flair to it. When I originally penned this song, my inspiration for a guitar riff was the intro to a Blondie song and from there the song was created.

For the song "Total Praise," I sat down to write a nice acoustic song that was easy to follow and sing back with. I brought the lyrics to Jesse and we ended up switching out some of the lyrics, and then I had him and our guitarist Mark Hofman work out most of the arrangement based off of my original concept. Altogether, I think we came up with a beautiful song of worship that describes some of what Jesus went through for us that day on Calvary and so for that we offer up our "Total Praise" to him every day.
JFH (Michael): I noticed that this band has been active for a while. Did the current pandemic lead to the band having time to record this EP, or was it already in the works before all of this happened?
Bosch: Yes, you're right Michael, the band was established in the winter of 1999 and by summer, we were in the studio recording our first EP, releasing Subject To Change in October. Our first single was "Do You Know," a very 70s British Rock tune that's very upbeat. Our second single, "I am so Blessed," landed us our first radio spot. Radio Friendly is celebrating 21 years this year and we have been blessed to have stayed busy making music and playing a lot of shows over the years sharing the stage with many great Christian and non-Christian artists. We actually started production on our current EP back in February of 2019. Our producer and engineer Brad Barth at Audio Voyage sat down with us and said "let's take our time on this project and have no deadlines whatsoever and make a record like they use to do back in the day." We just really wanted to give this worship project everything we had, giving God our very best to date. So, yes, the pandemic didn't hit until we were in the middle of manufacturing the EP. By this time, we had an April 17th date as our launch and we all discussed it and thought it would actually be a great time to share this music with our fans and the world and try to be an encouragement to all.
JFH (Michael): After things begin to get back to normal do you have any tour plans?
Bosch: Yes, we are planning on doing some drive-in concerts here soon and working on a full production live stream event as well. We also will be dropping one more lyric video and band music video before the end of the year. We have three Christmas EP's and a single, "I Heard The Bells," that we will be promoting starting in mid-October, so we should be staying busy through the end of the year.
JFH (Michael): What has God been teaching you during this challenging season of life -- especially coupled with releasing new music into the world?
Bosch: God has been teaching me, personally, a huge lesson in patience and trust this year with the making of this project and not playing many shows; I really needed it. This is the first time for us as well as many bands to have a music release and not be able to go out live and do what we do for God. Through this challenging season, my faith has grown more than ever and I have learned even more how to give everything over to God and allow Him to work in me for the good. I know deep in my heart that this EP will reach many, but even if it didn't, and it only reached one soul and changed their life forever for the kingdom of God, we as a band have successfully completed this mission.