Company of Saints is a SoCal worship band that specializes in pop sounds with synths and other tricks. The duo features the husband and wife combination of Julia and Mark Palmer. Their newest release is a 5-track EP, titled Programmer. The entire EP is pretty mellow overall and gives off a very relaxing vibe from front to back. Julia's voice is higher pitched but beautifully haunting, adding a nice contrast to the music. After a cursory listen, you would never guess that this is a worship band; they are completely and 100% unique in sound when it comes to worship artists. However, when you start listening deeper and paying attention to the lyrics, the worshipful aspects come to life, though not through the retread lines you've heard before. "Faith only needs a tiny spark to light a fire inside your heart," in "Light a Fire" and, "No magic outshines You; no mortal compares to You" in "New Creation" are just a couple lyrical examples. From the first few seconds of "Light a Fire," until the conclusion of "Your Sacrifice," the Palmer's have crafted something that truly stands out from the crowd. Programmer is a worship album that I seriously doubt you've ever heard before. Company of Saints gives folks a chill, interesting, and well-produced worship experience, but their sound may only appeal to a smaller market of listeners. "New Creation" and "Your Sacrifice" are top tracks on the EP and may give you a good idea of what they have to offer. If you're intrigued by the duo's sound, they freely distribute their music; you can pick up Programmer and their past works without affecting your bank account. This is definitely a worship project worth spinning at least once to appreciate the uniqueness of Company of Saints.

- Review date: 8/15/17, written by Michael Weaver of Jesusfreakhideout.com

Record Label: None


Album length: 5 tracks


Street Date: July 14, 2017


Buy It:
iTunes
Light a Fire (3:45)
New Creation (4:29)
Resurrection Parade (4:05)
Don't Wait (4:20)
Your Sacrifice (4:48)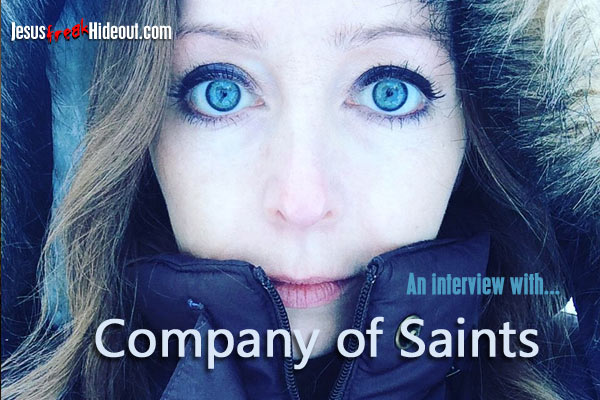 Jesus Freak Hideout (Michael Weaver): This is likely the most unique "worship" album/EP that I've ever heard. From where do you draw your musical inspiration? What artists help to drive your creativity?
Julia Palmer: Thanks! If you mean "unique" is a good thing, haha! I've been listening to Lecrae a lot lately and I know he has to have influenced me. We've always been into Radiohead, Daftpunk, M83, New Edition. We like a wide variety of styles!
JFH (Michael): Where does the heart for worship come from? Do either of you have experience as worship leaders in a church setting?
Julia: We have been worship pastors at various churches that we have attended over the years. Sometimes as fill-ins, on rotation, or on staff as the worship pastors at one church for two years. We took a break from leading when our 3 kids were babies. Recently, the church we attend has a lot of worship leaders (it's connected to a Christian college) and so, because we are not needed there, we have been focused on recording. I'm an ordained pastor in the Foursquare Church.
JFH (Michael): The cover art is cool. Is that one of your synths, or some sort of effects? What's going on there?
Julia: Thank you! That's our 1982 Korg Poly 61 synth. We love vintage synths!
JFH (Michael): I'm curious to know how the songwriting process works out lyrically and musically between the two of you.
Julia: Usually, Mark will start a song and get the foundation of it. Then he will show it to me and then I will put a melody and lyrics to it. Then we work on it together as it evolves. We have been collecting synths, drum machines, and various instruments for years. We have a deep well of amazing instruments we can go to to create a vibe or a specific sound. We almost always begin the songwriting process by programming our Roland TR-808 with a beat and working the song forward from there.
JFH (Michael): My favorite song from the EP is "Your Sacrifice;" I just dig the vibe of the song. Can you talk about that one a bit? How did it come about?
Julia: That's our favorite song, too! Mark had pretty much "finished" the instrumentation of that song and then showed it to me and, right away, the idea of the lyrics took shape in my head. The music immediately made me think of the Garden of Eden, but it also sounded sad to me. I could picture Adam and Eve being ashamed and God calling out to them. Then the music picks up and seemed declarative of something good! Then there is the bridge and, again, the music seemed to just speak to me that it was the voice of God calling out repeatedly to them.
JFH (Michael): Will Company of Saints be doing any touring?
Julia: I don't think so, but you never know.
JFH (Michael): This is a game we played recently with the staff here at JFH… If you could only have one album to listen to for the next year straight, what would it be and why?
Julia: This is a really hard question! I guess Radiohead's In Rainbows because I can't imagine getting tired of it. And when I want to listen to worship music, I could just sit down and play that myself :)