There aren't a whole lot of Christian symphonic metal acts available for fans of the genre, but those that are around are more underground acts. Enter
Reflection of Glory
: an independent symphonic metal act with heavy alt/metal influences. The soul behind Reflection of Glory is Barry Dreier, who writes, records, and produces all of the music. His latest album,
Reborn
, is a slight shift in sound from his previous two albums (
Birds Eye View
and
Christmas
), which were much softer. Dreier stated that he felt he had to reimagine his sound to fit the message of this album and that
Reborn
is the culmination of his musical, technical, and theological training.
Reborn
sees a great improvement in production and overall sound from its predecessors. While you can tell there isn't a big studio behind the release, the songs are mixed well and sound clear. The heavier guitars and more technical solos also add quite a bit to the music. Lyrically, the album is extremely up front with the messaging: the album is about Jesus and looks to spread the gospel. Dreier doesn't have the typical power metal vocals that you'd expect -- his voice is a little more of a slightly deeper Michael Stipe -- but his lower timbre seems to work for the given musical backdrop. Some of the best tracks present are "Crucify Him," "Land of My Dreams," and "Rome Burns" and "Enough of This World." If you're looking for some new metal with an alternative spin, or you really dig the symphonic sound, Reflection of Glory and Barry Dreier are going to be up your alley. Given the improvement evidenced by
Reborn
, I'm very interested to see where Mr. Dreier goes next. - Review date: 1/3/18, written by
Michael Weaver
of Jesusfreakhideout.com

Record Label:
None

Album length:
11 tracks: 45 minutes, 59 seconds

Street Date:
November 17, 2017

Buy It:
iTunes

Buy It:
AmazonMP3
Reflection of Glory (5:40)
Crucify Him (4:25)
Land of My Dreams (3:33)
Stay His Hand (4:35)
Rome Burns (5:04)
The Way (3:36)
Siren Song (4:37)
Lullabye (0:46)
Nightmares (4:47)
Enough of This World (3:33)
Reborn (5:23)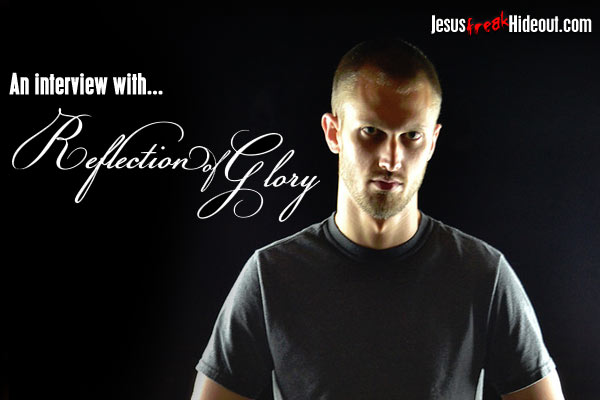 Jesus Freak Hideout (Michael Weaver): Can you talk about the meaning of the name Reflection of Glory?
Barry Dreier: The meaning behind Reflection of Glory is simple enough, coming from II Corinthians 3:18. As a Christian, I am supposed to represent God to the world (as a reflection of God's character) while He continues to transform me to become more like Christ. In general, I want that to be true for myself in all parts of my life. As a musician, I want it to be especially true for the music I create - that the music itself will be a reflection of God is some way. I don't want my music to be all about myself but to be a reflection of something greater.
JFH (Michael): Who are some of your musical inspirations, or favorite artists?
Barry: Limiting this list to "some" could be difficult, so I'll stick to the highlights from my favorite genres. Most recently, I've been heavily influenced by metal bands like Theocracy and Nightwish, two powerhouses of their own styles. Their sounds are awesome, and the technical proficiency of their music is something I hope to reach one day. As I studied music in college, I fell in love with the grand orchestral sound, especially in symphonies by Mozart (no. 40), Mahler (no. 3), and Saint-Saens (no. 3). Growing up I was really into classic rock, and Led Zeppelin has been influential as they really developed their music and pushed the boundaries of genre. I also really enjoyed Yes for more progressive rock, and they are a big reason why I got into music as a young teenager.
JFH (Michael): You made pretty major overhaul to your sound -- production included -- for Reborn. What inspired this change and the overall undertaking of this album?
Barry: I did a lot of musical soul searching before undertaking Reborn. I started by wrestling with whether or not to even produce the album, and then the decision to overhaul the musical direction came halfway through production. So there are a handful of songs that got completely cut from the album because they no longer fit in the new style. The key to the change was twofold: first, I wanted to be challenged. Looking to the future, I really want to develop more progressive and album-oriented compositions, which is much more complicated than what I've previously written. Second, the shift in overall sound was a recognition of my influences. Combining the symphonic sound with a metal band, if not entirely original, made perfect sense in light of the music I enjoy.
JFH (Michael): My favorite track is "Rome Burns." I like melody, guitars, and the solo at the end. Can you talk about the story of this one?
Barry: "Rome Burns" was a fun song to put together, and was a collaboration with a good friend who loved musical allegory. The idea of "Rome" in the song is a picture of our personal lives: our independence drives us to build our lives as kingdoms and to put ourselves in charge. As we try to maximize our success at the expense of others, eventually circumstances outside our control will interrupt our plans or ruin the "kingdom" that we've built. Musically, I tried to reflect some of the story: the drums of the barbarian armies outside the city, and the horn calls of war at the defeat of Rome, that sort of thing. I definitely had a blast putting this song together, and I'm glad you enjoyed it
JFH (Michael): How did you manage the recording process with all of the different sounds coming into play?
Barry: Very carefully! Recording and producing everything myself was a lot of fun, but there was also plenty of learning by trial and error. Since all of the songs on Reborn were written 6-8 years ago on acoustic guitar, I had to re-imagine each one. That meant writing and scoring all the orchestral parts, adding riffs and breakdowns, and in some cases completely rewriting melodies and chord progressions. There were so many different parts on different tracks; I had to make up a spreadsheet to keep track of my progress on each song. It's a unique experience to see how a song changes through the creative process, and I'm pleased where each one ended up.
JFH (Michael): What are you hoping God does through your work and this album?
Barry: My hope is that God will use my music, and the experiences in life that I write about, to reach others with the gospel. I hope that, for other Christians struggling with despair and hopelessness, they can be encouraged by my struggle and the work of God through it. For people who know about God, I hope that my music would challenge them to address their faith more seriously. And for those who don't know God at all, I hope that they can identify with what I have written and that God would use it to plant a seed of faith. Life in this broken world can be pretty terrible at times, and I've found that a lot of popular Christian music simply doesn't speak to that experience. I hope that God will use my music to speak to those who think the same.