Canadian band
The Arctic
released their debut EP,
Reverberate
, in August. While the group lay claim to the title of "worship band," their musical output doesn't immediately bring that to mind. The EP opener (after an ambient intro), "Searchlights," is really upbeat and -- while it's unashamed in its messaging -- doesn't play out like the worship music you'll hear today. The guitar lead in the title track is a nice one, but the song shifts more to that "worship" style of music. "Lost Lover" features another British Columbia band -- Coalmont -- and is a slow song that features a softly picked guitar that gives way into some bigger drums in the second verse. The guest vocals provided by Stephanie Esau are fantastic and give the song a great dynamic. The slower number builds and hits full crescendo around the 3:31 mark, before slowing again for Stephanie as she sings, "
I want to show you love; let Me show you love. Never-ending, all-forgiving love. So please don't hide My treasured bride; come be satisfied.
" This one is all-around the best on the EP. "A.P.O.A." picks up the tempo yet again and has some shades of Jars of Clay in sound and structure. The title is a shortened version of "A Psalm of Adoration," and the lyrics are those of praise to the Lord. It's certainly the most fun listen here. The EP closes with "City of Light." The track has a bit of a folk flavored sound and an enjoyable rhythm. The EP is fairly short, but you get a pretty good taste of what the band is about. The lyrics are worshipful in nature, but the music, aside from "Reverberate," stays away from the modern worship formula. The production is solid, but could benefit from some tweaking. Singer Luke Vandevert has a suitable voice, but does get outshined by Stephanie Esau's guest appearance. With that being said, the best of
Reverberate
definitely comes in "Lost Lover" and "A.P.O.A." Both are good tracks for different reasons, but "Lost Lover" is far and away the best the EP has to offer. If you're looking for some new music with a worshipful message, look no further than The Arctic's introduction.
Reverberate
could be just the thing you're hoping to find. - Review date: 9/19/17, written by
Michael Weaver
of Jesusfreakhideout.com

Record Label:
None

Album length:
6 tracks: 22 minutes, 42 seconds

Street Date:
August 5, 2017

Buy It:
iTunes

Buy It:
AmazonMP3
Intro (0:31)
Searchlights (3:46)
Reverberate (5:00)
Lost Lover (feat. Coalmont) (4:42)
A.P.O.A (3:57)
City of Light (4:46)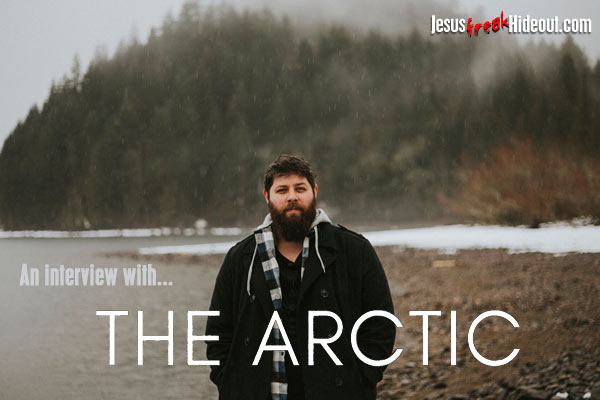 Jesus Freak Hideout (Michael Weaver): How long has The Arctic been making music?
Luke Vandevert: That's an excellent question. This project, "The Arctic," is a kind of a collaborative/creative outlet for myself and the friends that come alongside on the journey, so in the creation of making music, I'd say it's fairly young. The first song I recorded under "The Arctic" was called "Diversity" and it was released in Oct 2015. Even then, if it wasn't for Marika Siewert (who is featured on the song) pushing me to record it, I'm not even sure if it ever would have seen the light of day. She kept saying "You NEED to record this" and I think I finally did just to stop her from bothering me about it (kidding). It did get a GMA Covenant Award nomination for collaboration of the year, which still floors me today. So if it wasn't for Marika's encouragement, I don't know if I would have even started recording.
JFH (Michael): Who are some of the artists that give you inspiration for the music you make?
Luke: Oh wow, where do I even begin? There are so many wonderful, struggling artists out in the world that continue to blow me away with their art and expression. Most of the artists that inspire me these days are local friends trying to pursue music as a career, like Ryan McAllister, Coalmont, We Are Mystic, The Dawn Chorus, Joshua Hyslop, Jordan Klassen. I'm not sure how things are in the states, but on the west coast of Canada, it is quite expensive to live, which makes it quite difficult to pursue music. These guys (and many others) are constantly inspiring me. On the spiritual-plain of music these days, I have to go with Brian Doerksen and The Brilliance, fresh sounds and fresh words from these two artists are intoxicating with life and renewal. We're also getting into fall, which leads me to my yearly routine of listening to a lot of Thrice's Alchemy Index and Peter Gabriel's Scratch My Back.
JFH (Michael): I read that The Arctic does worship events and helps churches. Can you talk about the side of your ministry?
Luke: We do! The primary purpose of The Arctic is worship-focused events and creating a space to pray, praise, lament, and surrender to God. We're in a bit of a season which is unusual for us, where we are currently helping quite a few churches with Sunday morning, whether it's The Arctic band coming to collaborate with churches for their service or just myself with their worship team. However, we do like to do our own events that are collaborations with churches or ministry that are a combination of their community integrated into what we do. Sometimes it looks like having a local songwriter open with some of their songs, but most of the time it's having them join us as we collectively all lead worship together.
JFH (Michael): I'm a big fan of "Lost Lover." Can you give us some information on that song and the decision to bring Stephanie from Coalmont in to sing with you?
Luke: I'm glad that you like it! That song has a pretty cool story to it. We were in my hometown of Powell River, B.C, doing a youth conference and I remember waking up to this line in my head "lost lover" and it kept hitting me like a shameful insult. I was in the town I grew up in, the town I made many mistakes in and where I misunderstood love many times. So, after letting it eat away at me, Hosea came to mind, I started reading, then I found 6:6 "I want to show you love, not offer sacrifices, I want you to know me, more than burnt offerings" (NLT). After reading that, I found my guitar and started writing, and we sang the first draft at the conference that evening. When we were in the studio, I showed the song to Ryan (producer), and he had an idea of changing the structure from a letter-to-listener to a conversation. When we finished writing it, we both felt that another voice or two was needed. Now, Nate was helping with some co-writing, so it just felt like it would be perfect to have Coalmont get involved. When it came to ironing out parts, Ryan & I both felt Stephanie should sing the chorus, Nate would take the second verse, and I took the first. Stephanie's voice was absolutely perfect for the role, and I'm so glad both of them could collaborate with the song.
JFH (Michael): Is there a particular song from the EP that is your favorite? Maybe one that has a deeper meaning, or one what you enjoy playing live?
Luke: That's a good question... I think "City Of Light" is one that continues to have layers to it. The other songs were tested hard with worship events, but "City Of Light" was almost a complete re-write where Ryan and I pretty much wrote it in a couple hours, then recorded it. There wasn't time to "fact-check" and bounce the theology off friends, it just happened. Now, every time I listen to it, I pull out something different and unique about it. I guess we'll see in time if I'm a heretic, haha!
JFH (Michael): Where can listeners find The Arctic playing live music?
Luke: Hopefully, everywhere... one day. Right now, we're kind of stuck in BC/AL as we're trying to build relationships with churches and do a western tour in the future. Send us a shout if you'd like us to come to you! We'd love to see this thing happen and hopefully spread into the states and across the seas.
JFH (Michael): What has God been teaching you through the process of releasing this debut EP?
Luke: His timing is always "the timing." As much as I'd love to quit my job, and run with this thing, almost "force" it into reality, I know that's not how it works. Right now, I'm doing what I can, praying into it, helping and cheering for others as they pursue music, and waiting for an answer of the next move.