Hailing for Myrtle Beach, SC,
Brent Tatum
releases his first album,
Run to You
, with major talent assisting. Aaron Gillespie [Underoath, The Almost] joins in to produce the album and even play drums on three of the album's tracks. Tatum's music is rock based and carries a vibe somewhat similar to Gillespie's own solo material. The album opens up with a faster moving rock number in "You Make Me Brave" and a more mid-tempo rocker in the Gillespie featured title track. The lyrics are of a worshipful nature, but don't really come off as "worship songs" per se -- which isn't necessarily a bad thing. The Aaron Gillespie influence is certainly heard in the vocals several times in these first songs, especially in the lead off track. Tatum slows things down for a more worshipful sense in "Faithful" and "Run to the Cross." Gillespie returns to the drums for "Echoes." This track is one of my personal favorites as the guitar strumming along to the 6/8 beat really sets it off nicely. Tatum continues at a slower pace for "Promises." Gillespie's final drum appearance is found on the second to last track, "Majesty." The tempo finally gets raised a touch for the final song. "Paid It All" also has an Aaron Gillespie influence, but more from a musical perspective. The guitar run before the verses makes the song stand out a little more than others, and it ends up being an enjoyable closer. Overall,
Run To You
starts out really strong, but doesn't quite live up to its full potential. There are certainly some really enjoyable moments, but in the end, there isn't a lot that really sets the album apart from other similar worship outings. Aaron Gillespie fans, especially the fans of his two solo worship albums, may be the best audience. However, fans of worship music with a little more edge than a worship leader like Tomlin will also likely find this one an enjoyable listen. Brent Tatum sounds like he has the chops to make it in this industry and offers a little more diversity than most on his first outing.
Run to You
is definitely worth a listen. - Review date: 11/16/16, written by
Michael Weaver
of Jesusfreakhideout.com
JFH Staff's Second Opinion
Worship leader and singer/songwriter
Brent Tatum
is set to make waves in independent music with his new EP,
Run To You
. Produced by Aaron Gillespie (who also provides drums and some hard-to-pick-out vocals), the EP sounds primed and ready for worshipers to sing along to. Tatum also seems highly inspired by the works of Gillespie, particularly the alternative/rock material, as Tatum's singing style and overall genre are reminiscent of the softer side of The Almost (see "Echoes" and "Paid It All," for instance). Other songs, however, such as "Majesty," are more akin to Christian contemporary pop. Though the sub genre can change from song-to-song, the change is never drastic, always sounding like Brent Tatum; each song seems to fit together as an individual puzzle piece. There's certainly a lot to like about
Run To You
, though listeners expecting groundbreaking material might be disappointed. This is a pop rock worship album that sounds like a lot of others in the genre. But it's one that I would recommend above a lot of its contemporaries. Give it a listen and see what you think. - Review date: 11/28/16, written by
Scott Fryberger
of Jesusfreakhideout.com

Record Label:
None

Album length:
8 tracks: 30 minutes, 12 seconds

Street Date:
March 25, 2016

Buy It:
iTunes

Buy It:
AmazonMP3
Make Me Brave (feat. Aaron Gillespie) (3:58)
Run To You (feat. Aaron Gillespie) (3:02)
Faithfull (4:11)
Echoes (feat. Aaron Gillespie) (3:38)
Run to the Cross (3:59)
Majesty (feat. Aaron Gillespie) (4:04)
Promises (3:20)
Paid It All (4:00)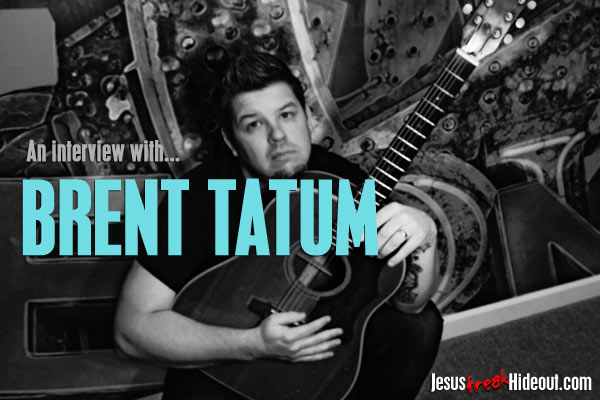 Jesus Freak Hideout (Michael Weaver): How long have you been playing guitar and writing music?
Brent Tatum: Well, I actually started on drums as a young kid playing in church and, just like every teenage kid with hopes of being a rockstar, I started playing drums for the band until we didn't have a singer, and I guess that's when I sort of found out I could sing. I have always fooled around with guitar, writing songs, but I'd say in the last 10 years or so it became my instrument of choice.
JFH (Michael): It's pretty crazy to see an indie artist get hooked up with a name like Aaron Gillespie -- especially for their first release! How did you come about getting Aaron to produce the album and even drum for you on the three tracks?
Brent: I have been a fan of his music for a long time, and as I was on the path to really discovering who God was in my life, [Aaron's] songs and testimony really helped me along that journey. I saw he had a studio and took a chance on sending him some acoustic stuff and he loved it. Next thing I knew, I was on a plane headed to Salt Lake City, Utah to record my first solo EP. He said he had not really produced a worship type album and really thought I had something good to work with.
JFH (Michael): How did the recording process on this album go? How long were you in the studio?
Brent: When I got there, he had me play all the songs live, so I picked up his old Martin and played through all the songs. Before I was done with the second song, he jumped up and said "I have an idea for this," so (the drums already being mic'd) he gets behind this old vintage Rogers kit and basically structures a complete song from the drums -- something I have never seen anyone do before. After that, we went song by song the same way. He pretty much produces from his drum kit, and as a drummer myself, it's complete genius. When we finished recording for the day, he would take me to ridiculous eating spots and, me loving food, it was right up my alley. All together, I think I was there almost 2 weeks and recorded pretty much every day for about 8 hrs until the album was done.
JFH (Michael): I'm a sucker for the 6/8 time signature, so "Echoes" obviously stands out to me. Beyond the aesthetics of the time signature, the music itself also really speaks to me. The way the guitar is strummed, as well as the sound/tone, reminds me of some 90's stuff I really love. Can you talk a little about this song and how it came to be?
Brent: Wow, this song... So I wrote the song about my wife and God if that makes sense. I quit gong to church for a while once my wife and I got married simply because her family is Jehovah Witness and my family is pentecostal. HUGE difference there. We pretty much decided to put God on the back burner and we were happy. Well, God had different plans and called me back into ministry and I wrote this song in a time where my wife and I were not on the same page in our spiritual walk, and in the song, I'm telling her to trust me because I've got your hand and it's gonna be ok. At the same time, God is saying to me in the song "trust me I've got your hand and it's gonna be ok." I actually recorded that song about 5 years ago and felt that it needed to be on this record, so we went through and made it what it is today. As far as the 90's feel.. it's funny because Aaron said the same thing. I don't know why, but I guess I was just in a 90's mood when I wrote it, but hey, who doesn't like 90's music? It's the best!
JFH (Michael): Do you have a favorite song of your own from Run to You? Perhaps one that speaks to you a little more for one reason or another?
Brent: The song "Run to You" is probably my favorite song. This song really speaks to me when the Enemy, or the world, tries to tell you that you aren't good enough or that you have made too many mistakes for God to still love you. This song reminds me to just run into the arms of God because that's where my identity is. No matter what we have done, he is there waiting with his arms open for us.
JFH (Michael): Do you have any upcoming tour plans? I'm sure current and new fans would love to catch a live show!
Brent: I just finished up a string of shows with 7eventh Time Down, Abandon and a few other artists, so I don't have anything in the near future. I will say I am heading back to Salt Lake City with Aaron to write and start working on the next album. I will probably release two singles in the spring. My wife is expecting our second child, so I will be tied up for a little here shortly, welcoming our girl into the world.
JFH (Michael): We serve (and worship) a mighty Creator and God. What has He been trying to show or teach you lately?
Brent: You know, as a writer, I am continually asking God to show me what's on his heart. I think the biggest message the world needs to hear right now is that God is for the lost. He just isn't for those who attend church with a perfect attendance, but he is here for the broken and for the ones who feel like they have nothing left. God is so good to us; he knew us before we were born and if we could only get the world to see that their lives have a greater purpose to love one another, we would all be better off doing the will of God.