The story of
Sarah Felicia
's journey into the music industry may not sound unfamiliar to you, but to the young singer/songwriter from Ontario, Canada it's an important one. Growing up with a passion for music has led her to releasing a single called "Red Balloon" in 2017 (and a French counterpart called "Ballon Rouge"), as well as her debut EP this summer.
Take Flight
explores Felicia's talents as both a musician and a singer, with simple but effective instrumentation and a keen ear for melody and harmony. That being said, Felicia's songs are also relatively simple - but not in a bad way. She adopts the old adage that "less is more," creating simple soundscapes with piano and guitar, along with a few other instruments when necessary. The music is nice, but it's clear that Felicia sees it as a means to convey her message of hope and joy. "All That Glitters" is written as a fairytale of sorts that tells the story of a young lady who becomes enchanted by what the world has to offer, only to remain feeling empty until she found life in Jesus. "Take Me Back" reminds me of Crowder's "Back to the Garden," with its theme of longing to be in the presence of God, where chains are broken and we are set free, and "All I Need" takes inspiration from Psalm 23, praising the Lord for leading us and providing all of our needs. It also brings Psalm 139 to mind, as Felicia sings "
When I'm lost or hide ashamed, You won't let go, You'll always find me.
" In the end, the biggest obstacle that
Take Flight
presents is memorability. Its simplicity generally works in its favor during a listening session, but it doesn't leave a lasting impression. Aside from that, Sarah Felicia creates a pleasant experience for the listener, and I would recommend her EP to fans of All Sons & Daughters or Audrey Assad. - Review date: 8/15/18, written by
Scott Fryberger
of Jesusfreakhideout.com

Record Label:
None

Album length:
6 tracks: 21 minutes, 32 seconds

Street Date:
July 20, 2018

Buy It:
iTunes
All That Glitters (3:49)
One by One (2:59)
Take Me Back (5:49)
Lullaby (2:02)
All I Need (3:53)
Little Bird Fly (3:00)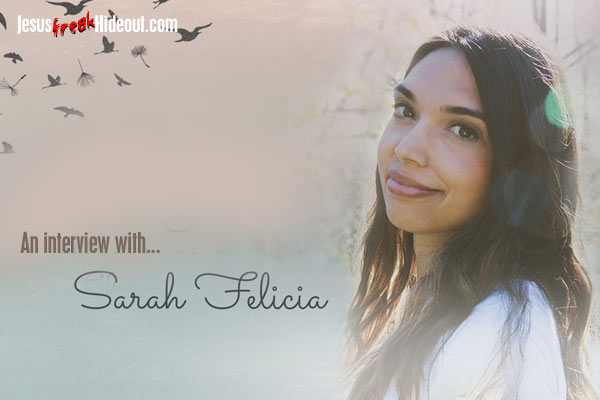 Jesus Freak Hideout (Scott Fryberger): Your bio says you felt called to pursue music in university. Did you go to school for music, or were you initially studying something else?
Sarah Felicia: I always had a dream in my heart to be a professional singer, but ended up going to school for English instead, because I thought that my dream of being a singer was a long shot. After some prayer and thought, I really felt God was calling me to pursue the passion for Music and Ministry he had placed in my heart. So, in my second year of University I switched my studies to Music and Youth Ministry. I also spent a semester in Nashville, TN studying song writing and being an artist, which helped me further realize that music truly is my calling and passion.
JFH (Scott): You are credited as having written the music and lyrics for all six songs. Was there any outside creative input?
Sarah: I really believe the songs on my EP 'Take Flight' were truly placed on my heart by the Lord to sing. An example of this is when one morning, I woke up singing this melody for a song, and God gave me the words for it soon after! It became the song 'Take me Back' which is now on my EP. Being able to write music lyrically and instrumentally has truly been a gift from God. Also, my good friend and fellow artist Cristabelle Braden produced the EP, and she had some great creative input in the production and recording process as well.
JFH (Scott): Who would you cite as artistic influences on your music?
Sarah: Some artists that have influenced me musically are Bethel, All Sons and Daughters, Rend Collective, Steffany Gretzinger, and JJ Heller.
JFH (Scott): I like the fairy tale nature of "All That Glitters." Was this a story inspired by someone specific?
Sarah: Great question! The girl in the story doesn't necessarily represent one person specifically, but rather many people who may be going through similar things as her. When I wrote this song, God placed it on my heart to write a song about a girl who represents the world in many ways today. She goes on a quest in search of truth and some kind of fulfillment. After a time of seeking, and constantly facing disappointments from temporary fixes the world has to offer her, she realizes all that glitters may not necessarily be gold. She then discovers what she needed all along, finding redemption in Christ! It truly is a story of God's Grace, and His relentless pursuit of us, and the joy and freedom we have when we realize that!
JFH (Scott): With the current oversaturation of Christian worship and pop bands, what steps do you take to make your songs stand out?
Sarah: Something that is very important to me is that my sound remains true to who I am as an artist, and true to the melodies God places in my heart. My style is a blend of folk, pop, acoustic and contemporary worship - all of which I take creative influences from, while still keeping my own fresh unique sound.
JFH (Scott): How frequently, if at all, do you play live shows? And what kind of venues do you prefer playing in?
Sarah: I usually play live shows at open mics, restaurants, coffee shops, and churches - wherever I can really! Right now, my goal is to play in a variety of local, nationwide, and international performances. I'm also currently leading worship at my church, which is a huge part of my heart!
JFH (Scott): What have you been reading in the Bible lately?
Sarah: I've been reading a lot from the Book of Psalms. I find a lot of inspiration for my songs from there as well. The psalms are so relatable, and so inspiring, and real, and I think it's also really awesome that David was a musician, and songwriter as well!
JFH (Scott): If you could co-write and sing a song with any other living artist, who would it be?
Sarah: I would love to write a song with Steffany Gretzinger. I love her heart of Worship, and her surrender, and love for God is so evident as she leads worship. I also really like her music! Me being a new Artist, and worship leader as well, I feel like she's someone I could relate to in certain ways, and learn from too!
JFH (Scott): Would you like to add anything else?
Sarah: A big thank you for this opportunity to share my thoughts, and to share who I am as an artist! Also my prayer is that this EP would truly 'Take Flight' and minister to many hearts, and encourage, and inspire many people through Christ as he draws them close to Him, through His gift of music. :)