Contemporary and gospel artist
Antwan Jenkins
is the type of musician that is as diverse in his abilities to play, sing, lead, teach, coach, and build a team as they come. His list of credits is a long one, from leading God's Purpose Choir and Divine Connection Ministries, to leading worship at New Life Community Church in Indianapolis, Indiana among other community gatherings called "A Night of Unified Worship." His two-song debut is an excellent taste of what he is capable of with the funky, joy-filled "Victory," which features call and response defiance toward the enemy, and the soulful ballad "More of You." The vocal talent and power of his charisma palpably leaps through the speakers leaving a desire for this reviewer to hear more. Laudably, Jenkins avoids some of the common pitfalls of the gospel genre (and live worship industry, for that matter) like runtimes that seem to stretch far beyond necessary, often leaving me reaching for the skip button. He deftly maneuvers past this issue, and leans not only on his own undeniably strong vocals, but features others to further accent a strong release. I truly look forward to hearing more from Antwan Jenkins, with these two songs hopefully just being the start of even greater things very soon. - Review date: 10/10/20, written by
Josh Balogh
of Jesusfreakhideout.com

Record Label:
Antwan Jenkins, distributed by IndieBlu Music

Album length:
2 tracks: 7 minutes, 41 seconds

Street Date:
August 28, 2020

Get It:
iTunes

Buy It:
AmazonMP3
Victory (3:32)
More Of You (4:09)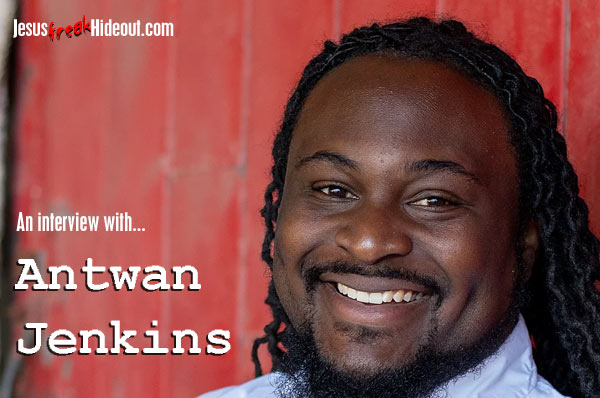 Jesus freak Hideout (Josh Balogh): By way of introduction for our listeners... who is Antwan Jenkins?
Antwan Jenkins: Antwan Jenkins is a husband, father, worshipper, worship leader, song-writer, recording artist, audio production, music business guy, and over ALL a Jesus lover!
JFH (Josh): What songs/albums have been the biggest encouragement to you in this crazy year we call 2020?
Antwan: My "Victory" album was one of my biggest encouragements this year of 2020!
JFH (Josh): Who have been your biggest inspirations musically?
Antwan: Randy Weston of Judah Band has been my biggest inspiration musically.
JFH (Josh): What would be your top three dream musical collaborators to work with?
Antwan: My collabs if I did any would be with Randy Weston, James Fortune, and Rich Tolbert.
JFH (Josh): Of the multitude of musical accomplishments to this point, what has been your proudest moment?
Antwan: My proudest moment would be and always will be giving hope to the hopeless through music and encouraging the discouraged!
JFH (Josh): Was there any specific story or moment that inspired the uber-funky song "Victory?"
Antwan: "Victory" inspired me, because I was in a season of defeat and after every defeat God somehow gave me the Victory!
JFH (Josh): What is your biggest hope for your music and ministry going forward?
Antwan: To continue to impact lives by encouraging, giving hope and inspiring the generation under me to be lead by the Holy Spirit.
JFH (Josh): Any last things you would want our JFH listeners to know about you or your ministry?
Antwan: Follow me on all social media platforms under Antwan Jenkins & Antwan Jenkins Music and also please purchase or download my dual project "Victory."