What do you get if you listen to
The No Longer
's newest full-length album? A little bit of everything that rock music has to offer (except the hardcore stuff). The No Longer mixes rock, funk, pop punk, grunge, classic rock, 80s metal and ballads into a full-length album called
War Stories
. Picture what it would sound like if Hyperstatic Union and Petra became one band, and you get the basic idea of what The No Longer sounds like. That being said, the guitars are the highlight of the album. While there isn't always something there to get excited about, songs like "It's Alright, Nazirite!" and "Drawing The Lines" feature some pretty good, rocking guitars. The music in "Hipster" even slightly reminds me of Nirvana, except that it has better production, and it's a lot poppier (but you can hear the influence). It's the more rock-based tracks that the band really seems to excel at. The funky songs like "The Living Daylights" and the ballads like the Pink Floyd-esque "Blood Red Moon" and "Truth Hurts" are alright, but don't display their talent as well as the rock songs. The main reason for this, though, may not lay entirely on the musicians' hands. The No Longer's lead vocalist and guitarist, Geoff Desiato, has a good voice, but it's one of those voices that only fits well within a certain genre of music. He has a rock voice (borderline hair metal on a few occasions), and it doesn't translate well into the softer material. The album could have been a lot better had they not experimented quite so much. It's a noble attempt, indeed, but some bands don't really have what it takes to successfully pull off a lot of genre-switching. As far as other weaknesses, there's not really that much to mention.
War Stories
is a pretty good album; I think it just needs a little more power behind it. - Review date: 1/11/11, written by
Scott Fryberger
of Jesusfreakhideout.com
It's Alright, Nazirite! (3:17)
Serpent Sly (4:20)
The Living Daylights (4:16)
Limelight (4:29)
War Torn (3:38)
Drawing The Lines (3:26)
Hipster (4:12)
Blood Red Moon (4:02)
Truth Hurts (3:15)
Grip (3:21)
Paupers & Princes (5:26)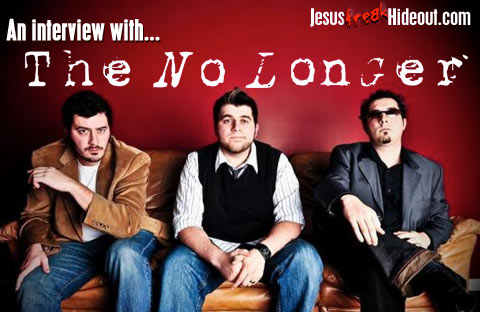 Jesus freak Hideout (Scott Fryberger): Who would you cite as influences for your music?
Geoff Desiato: We all really like Remy Zero. Very good band. We do a few covers of theirs when we play live. We also really like the more diverse Stone Temple Pilots stuff. I am a big House of Heroes fan. There's also a running joke with my brothers that I wish I were Kevin Max. He's kinda my idol. Nick cites the likes of Kings-X, Stevie Wonder, Radiohead and Oasis among his influences. We really like bands that strive to be better, be different, and go further with each release.
JFH (Scott): What inspired the songs on War Stories?
Geoff: I think we all had really gotten frustrated with a decidedly waning church-body in the U.S. There's a general sense of consternation in the lyrics which wasn't a thing we were conscious of when we were writing them...probably a result of social fatigue. For us, we grew up in an American church and were heavily involved from a young age. We just sit here and watch countless people we grew up with walk away from all that they were raised to believe as if they can find something better out there. I think each song either is drawn from a personal experience or gives our perspectives on the current Church culture.
JFH (Scott): Several different styles of rock are represented on the album. Was that intentional or just natural?
Geoff: Wow! Where to begin and still try to keep it brief… To start, we have the luxury of 3 strong vocalists. That allows us to do different things so when we write, we try to create the appropriate sound to express what we are trying to say with the song. We approach each song in a completely different way. We set up our instruments differently; we record them differently; we may even modify our playing styles to capture the sound that we're going for. It's one of the reasons we are glad to have total control of the recording process. We record it completely by ourselves- just the three of us in a room. We write it, re-write it, perform it, and then I mix and master it. I even did the artwork myself. Most bands probably don't have the ability to experiment as much as they'd like because of what the record label may expect from them. This is a project that we conceived and completed on our own, and I'm quite proud of the fact that even if we didn't have a million dollar studio, the result is a pure, unadulterated product from the minds of the brothers Desiato. We get bored when bands do the same things over and over, so we are hard on each other to not repeat ideas. Some might say that's unfocused, but it keeps us interested. We had tried our hands at folk, pop, and a bit of techno-rock on our last recording and we definitely had an increased desire to rock a little more on this album.
JFH (Scott): How would you compare The No Longer's music to your previous band, Rainy Day Theory?
Geoff: No comparison. We kind of sounded like The Goo Goo Dolls, you know late 90s/early 2000s. I only wrote a small bit of the music and lyrics. Coincidentally, we actually had a thrown together reunion show which JFH attended back '05. We kind of stunk, but it was fun since we hadn't played since '01. The No Longer was formed by the backing band for Rainy Day Theory since the primary songwriter and lead singer is now working in full-time ministry in Brazil with his family.
JFH (Scott): How long have you been making music?
Geoff: Well, I'm a committed guy, I have only been in two bands in my entire life. We started what eventually became Rainy Day Theory back in '96 when I was in Junior High with my brother Luke and our friend Nic Billman. We added a bass player who would eventually be the original bass player for TNL, George Gaston. We broke up in 2001, and in early 2002, we started The No Longer with our other brother Nick replacing George about 5 months after the formation. I guess that covers the full 15 years.
JFH (Scott): Do you have a favorite song from War Stories? If you do, what is it and why?
Geoff: We all agree that "Serpent Sly" is our favorite because it is one of the more definitive songs we have come up with. I think it represents us very well. The subject matter of the song is clear and the fact that it rocks when we play it live helps tip the scales. I would give this to somebody to get an idea of what The No Longer is about.
JFH (Scott): What are your near-future plans for The No Longer?
Geoff: We are hoping to have a full album release show very soon. Hopefully this album will sell a lot of copies. I would love to go on some kind of tour even if we were just the 15 minute opening act. SO… House of Heroes, we are waiting by the phone…
JFH (Scott): What has God been teaching you lately?
Geoff: Lately? The same things He has been trying to teach me since day one. Dying to self, the cost of true discipleship and devotion. I'm often reminded that people cling to the "free" part of grace but shrug off the "costliness" of real devotion to Him. He hasn't had the chance to move on to the bigger, better things yet because I'm a pretty slow learner. Plus I think we're always moving on to the next thing too quickly. It's pretty funny to think that I could ever understand something enough for God to feel comfortable moving me on to the next thing…to quote 4Him "we need to get back to the basics of life" wait a minute… forget HOH, I would like to open for 4Him on the reunion tour. Do you have Mark Harris' cell #?