It's always an appreciated effort when a new artist comes along who tries to do something different. Tired of the same-old in CCM, that's what the duo of Kierstyn St. John and Emma Voron are aiming to do, with their self-described Christian jazz pop fusion act,
Zoetic
. "Worth It" is their fourth standalone single since their self-titled debut EP in 2018, and the first to also get an official release for the instrumental version. Following the edgier "The Other Way," from earlier this year, "Worth It" takes the more accessible route, with lighter tones and a more singable melody. Zoetic has a real knack for blending organic and synthetic instrumentation; while the percussion (and some other bits of music) are electronic, a large part of the song revolves around a jazz piano. There's even a little piano solo right before the bridge that I honestly would've liked to have heard more of. The title of the song is likely enough to give the listener an idea of the song's theme, but it does center around the worthiness of God, in the sense that His love is worth laying down everything and suffering through the difficult things life brings us. This notion is perhaps best summed up in the song's pre-chorus: "I can't escape this call, so many times I've tried / a life of comfort and You're telling me it's time to say goodbye / You ask for everything, You ask for sacrifice / I don't have much but take my pieces." Biblical truth like this isn't heard enough on Christian radio, and it's refreshing to hear a Christian pop act that does more than just pander to the audience. Though Zoetic is still a pretty new artist in the scene, one listen to their singles is enough to convince me that they have what it takes to make a difference in CCM. They're definitely an artist to keep an eye on. - Review date: 9/25/21, written by
Scott Fryberger
of Jesusfreakhideout.com

Record Label:
None

Album length:
1 track: 4 minutes, 28 seconds

Street Date:
August 6, 2021

Buy It:
iTunes

Buy It:
AmazonMP3

Buy It:
Bandcamp
| | | |
| --- | --- | --- |
| Worth It (4:28) | | |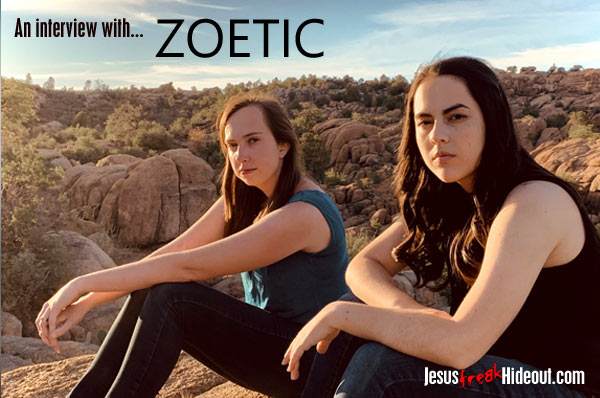 Jesus Freak Hideout (Scott Fryberger): For starters, can you tell us about the name Zoetic?
Kierstyn St. John: There isn't much to tell! I was trying to find a name for the project using online random band name generators and I liked this one when I came across it. It's short, easy to remember, and wasn't in mainstream usage. It means "living or vital to life" which isn't why I chose the name but it is pretty cool!
JFH (Scott): How did you two meet and start making music together?
Kierstyn: I met Emma in February of 2020 right before the pandemic really hit the US. I had two previous singers beforehand and was looking for someone who could both sing the material and make this a serious endeavor. I'm actually very close friends with Emma's sister, and she recommended Emma to me when I told her I was looking for a singer. Emma had the perfect combination of an incredible vocal range, prior jazz experience, and a heart for the Lord.
JFH (Scott): The message of "Worth It" is one you probably don't hear too often from big-time CCM artists. What sparked the idea to write about giving up everything and even enduring suffering?
Kierstyn: Like most songwriters, I write about what I am going through at the time. Emma had quit her job a month before that, which was a giant leap of faith for her, and I decided to hire her part time which was a giant leap of faith for me. We both felt that these were decisions that were led by the Lord. It's not often that Emma and I have shared experiences like that, and so it seemed natural to write a song about it!
JFH (Scott): Are you open to signing a record contract, or do you want to remain independent?
Kierstyn: We are definitely open to signing a record contract, but it would need to allow us the creative freedom to continue to self-produce and write alone. I'd like to maintain a lot of creative control, but if the record label liked our sound and understood our mission, we would be willing to discuss it!
JFH (Scott): It's been three years since your EP released. Is Zoetic going to continue as a singles band, or is another album/EP in the works?
Kierstyn: I released my first EP with a different singer, and back then I had absolutely no idea what I was doing. I think these days, singles are the better way to build a solid fan base from scratch, and albums/EPs should be released by more established artists. We are going to stay on the singles path for another year or so and then if we are ready to release an album, we will. I love albums; I love telling a story through an entire body of work. But I just don't think we are quite ready for that yet.
JFH (Scott): What artists would you like to collaborate with someday?
Kierstyn: Some of my current favorites in the Christian jazz scene are Cole McSween, Montell Fish, and Madison Ryann Ward. We would love to collaborate/tour with any of them. For secular artists, Emma's favorite band is AJR and mine are Animals as Leaders and Snarky Puppy. It would be incredible to collab with any of those artists but considering how outside of our genre they are, it seems unlikely.
JFH (Scott): What are some of your non-musicians hobbies?
Kierstyn: I love playing Magic the Gathering with my husband (I know, super nerdy). I'm also an avid lover of ping pong. Emma is the queen of Rubik's cubes. She can solve any of them, even the twelve sided ones.
JFH (Scott): Is there anything else you'd like to share with us?
Kierstyn: I started Zoetic because I was tired of mainstream Christian music all sounding the same. As Christians, we serve an infinitely creative God, and we should strive to reflect that in our music. But much of Christian music has become commercialized with vague, shallow lyrics and four chord progressions. Even much of the production sounds the same. Obviously, there are creative artists in the scene right now, but they are often on the fringes. I hope that as Zoetic continues, we can reach others with music that glorifies the Lord, tackles difficult topics in the faith, and pushes the boundaries in songwriting and production.