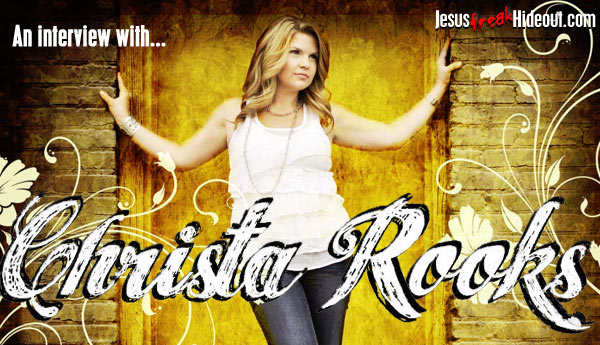 Recently Jesusfreakhideout.com's Cathy Payton had the opportunity to interview
Christa Rooks
, an up and coming Christian singer/songwriter, about her faith, family, and new EP,
At His Feet
...
This interview took place in September 25, 2012.
Jesus freak Hideout (Cathy Payton): At what age did you first become interested in music?
Christa Rooks: Music has always been a huge part of my life. I've been singing since as long as I can remember ... hair brush in hand on the fireplace ["stage"]. And I was always putting on "shows" for my family and family friends. In kindergarten, my best friend and I performed "I Enjoy Being a Girl" with matching dresses and hair bows. We tapped a dance routine and sang our hearts out! And by the way, we won! Good times.
JFH (Cathy): You recently released your first EP, At His Feet. Tell us what it was like creating this project -- how did it come about, were the songs written by you or with you, what was recording process like?
Christa: Well my husband James and I had been praying for quite some time about what our next steps should be in my music ministry. We had been advised by several trusted sources that I needed a quality recording of my voice; a few covers and a couple originals were suggested. We were referred to producer Jason Hoard [Black Cat Studios, Georgia] by a friend in the music industry. After talking to and meeting Jason, we knew we were supposed to work with him. He helped me choose the songs featured on the record. We went with three covers: "Carry Your Name," "Hosanna," and "None But Jesus." And the last two: "Most High Renown" and "I Worship You Lord" are two of my originals. We had such a fun time recording with Jason and his studio musicians. It was a great experience, and I can't wait to get back in the studio to record a full album in the future.
JFH (Cathy): What was the most surprising or important thing you learned during the making of the EP?
Christa: One thing I took away from the experience is it's so important to work with people you can be yourself with. Jason, Trey Roth (the vocal engineer), Brandon Coker (the drummer) and everyone we encountered all made us feel right at home and so comfortable. Feeling at ease is HUGE when recording.
JFH (Cathy): Who have been your musical influences, Christian and/or mainstream?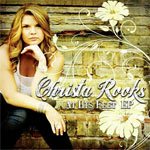 Christa: Wow! Since music has been such a part of my life all along, I've been influenced by many artists. Many are listed on my artist page on Facebook [Chris Tomlin, Christy Nockles, Matt Redman, Sarah McLachlan, Dolly Parton, Elvis Presley]. Some that really stick out in my mind are Darlene Zschech, Whitney Houston, and Faith Hill.
JFH (Cathy): You recently welcomed a daughter into the world -- in May, correct? How do you balance your responsibilities as a mother of four and wife with your music career?
Christa: Great question. There's a definite hustle and bustle, especially with four kids involved. The main thing that brings balance to it all is that we (my husband and I ) see the music career as more of a ministry than just a career. We, as a family, try to be ministry-minded in whatever we do whether it be our marriage, parenting our kids, serving others/friends, and music. And James is the most supportive husband! We are just as busy as everyone else, but we really try to weigh out our efforts in the context of ministry and where God would have us. It's so freeing to be open to whatever God has for us to do. Yes, Orion Grace was born in May. So we have a seven year old son, five year old son, three year old son, and five month old daughter. I love my life!
JFH (Cathy): What advice would you give a young person who is considering a career in music?
Christa: Pray. Make sure God is giving the desire. In Psalm 37:4, Delight yourself in the LORD; And He will give you the desires of your heart. (Psalm 37:4 NASB) Delight in Him. Make Him first in all you do, and let Him shape and mold your heart to what He desires. Once you know that you know He's calling you to music ministry, wait on the Lord and His timing. And as you wait, work with excellence to sharpen your craft and improve. Serve faithfully. And just do what you do for His glory and His renown.
JFH (Cathy): What's next on the horizon for you?
Christa: Now that the EP has released and we're done with the production phase, I'm booking with churches and ministries for worship events. Church retreats, women's conferences, youth camps, worship rallies/conferences ... whatever and wherever He leads me.
JFH (Cathy): Is there a particular scripture that resonates with you or that has been a source of comfort for you?
Christa: Psalm 62 is one that I love. One of my songs (not on the EP) is inspired by this passage: My soul finds rest in God alone; my salvation comes from him. He alone is my rock and my salvation; he is my fortress, I will never be shaken. (Psalm 62:1, 2 NIV84) And "Most High Renown" on my EP is full of scripture from Isaiah. One of my favorites: Surely God is my salvation; I will trust and not be afraid. The Lord, the Lord, is my strength and my song; he has become my salvation. With joy you will draw water from the wells of salvation. (Isaiah 12:2, 3 NIV84)
To find out more about Christa Rooks, visit ChristaRooks.com!