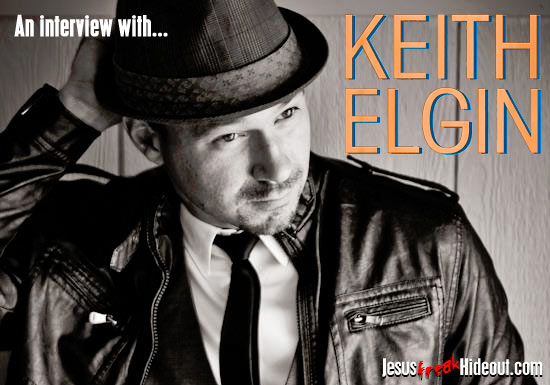 Keith Elgin
, singer/songwriter, recently took some time to speak with Jesusfreakhideout.com's Cathy Payton about his music background, his inspiration, and his upcoming single release from his self-titled EP,
Keith Elgin
....
This interview took place in August 22, 2012.
Jesus freak Hideout (Cathy Payton): At what age did you first become interested in music, and when did you decide you would pursue a music career?
Keith Elgin: I started singing in the church choir when I was a little kid (I used to crush my solo in "This Little Light of Mine") so I've been singing for a while. My dad is a music teacher so I've been around music my whole life. I actually played the drums until after college, when I sold my drum kit and bought a guitar. I went to college to become an English teacher, and taught for one year. But it was about then that God was making it clear He was calling me towards full-time ministry, and specifically music.
JFH (Cathy): You've released two full-length albums, Seize the Day in 2005,and 360:GOD in 2009. What was the most important or surprising thing you learned during the process of completing those albums?
Keith: I produced Seize the Day myself and I think you'd be able to tell, if you heard it, that I was basically making things up as I went along. There were 10 songs on the album, and probably 8 different genres. And it all happened so quickly: A friend from church came to me, not long after I wrote my first couple of songs, and offered to pay for me to record an album. (So I used my own Kickstarter before it was cool.) Within six months of writing my first worship song, I was in Bias Studios, with gold records on the walls and where GRAMMYS had been produced, recording an album. I didn't really have time to think. But, my passion grew through that process and it became clearer to me that God was tugging me in the music direction.

With 360:GOD, I realized that as much as I wanted to be involved with every single step, other people had gifts that were far beyond mine. So if the purpose was to create music that connected people with Christ, then why should I try to hold onto control? Ultimately, as you'd expect, the production quality went way up, and my songwriting improved as well.
JFH (Cathy): Your most recent release is your self-titled EP from October 2011, which was produced by Jason Hoard. How did you get together with Jason?
Keith: Jason actually produced 360:GOD as well (as did GRAMMY winner Bob Dawson). My band was developing a more mature sound and I liked some of what he had done in the past. So I sent him an email and some songs, and he said he'd love to work with me. We hit it off immediately, mostly talking sports, and it was clear he'd be the perfect fit for my music. We think on the same wavelength so I trust whatever he recommends or wants to try.
JFH (Cathy): The EP includes three original songs. Do you find songwriting easy or difficult? Is it something you want to continue to do?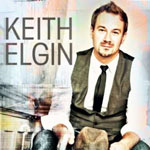 Keith: I definitely want to continue songwriting as long as God continues inspiring me. I have positive and negative aspects to my writing style. My biggest struggle is setting aside time just to write. Probably 80% of the time, I get inspired while driving in open spaces. I don't know why that is, and unfortunately it's not completely safe to break out a guitar or piano and work on a song driving down the road. So usually I just voice record my ideas on my phone. One thing I'm learning about myself is I can quickly tell what ideas are bad ones. If I know a song is going to bomb, I just change directions. The result is fewer songs, but in my opinion, they're stronger right out of the gate.
JFH (Cathy): Your album includes "Our Hope is in You," co-written by you with Brandon Coker, Jason Hoard, and Third Day's front man Mac Powell. What's the story behind that collaboration?
Keith: Jason plays guitar, mandolin, and banjo with Third Day. So when I told him one song was half-finished, he suggested I bring it as-is and we'd get Mac to help us finish it off. So we sat in the studio, I played a little bit of what I had, we changed some things here and there, and finished it off the next day. It's an honor for me to have their names on it because they're all great musicians and dudes. And I love it that people seem to connect with the song live too!
JFH (Cathy): Your live performances are high-spirited and full of energy. Songs like "Dance, Dance, Dance" from the EP get your audiences up and moving. What do you like best about performing live?
Keith: Wow, I love seeing people respond to God. I think for anyone who is leading worship, to look out and see someone that's "feeling it" means we've done our job. In my opinion, our responsibility on stage is to create an environment where everyone can connect with God through the music. It's especially meaningful when it's a youth event, because typically it's not cool to be a Christian. So seeing some of the walls being broken down and seeing teenagers surrendering to God, even just in a moment, is truly amazing. It's definitely fun being on stage and playing music with friends, but that's not the end goal. That's just the means to the end, which is to lift up the name of Jesus.
JFH (Cathy): You were awarded the 2012 CCM Network International/Christiansongwriting.com Songwriter of the Year for "Made for More" from the EP -- how did that come about?
Keith: I submitted "Made for More" to be considered in a songwriting contest late last year. Christiansongwriting.com received songs from independent artists from all across the world, and "Made for More" won first place for the 4th quarter of 2011. That put me in the discussion for the CCMNI Award. CCM Network International contacted me in the spring and let me know that I had been chosen as their 2012 Songwriter of the Year. Very humbling and exciting!
JFH (Cathy): Your award for winning will be going into the studio with producer Jeff Quimby, former director of artist development at Integrity Music and producer for artists such as Lincoln Brewster, Nicole Nordeman and Big Daddy Weave. Has that process begun -- have you started working together?
Keith: We're trying to figure out a time that works. It looks like I'll be heading down to his studio in Alabama in early 2013 to record. Looks like it's time to go for a long drive and get some inspiration!
JFH (Cathy): Who have been your musical influences, Christian and/or mainstream?
Keith: I listen to a smorgasbord (yes I said that) of musical styles, from Tchaikovsky to Taylor Swift to Jay-Z. And you'd never know it by listening to my music, but I own almost every Boyz II Men CD. I like music with groovin' beats. But being someone who leads worship regularly, I definitely listen to a lot of modern worship music, such as Hillsong United, Jesus Culture, Passion, Elevation Worship, etc.
JFH (Cathy): How do you balance your responsibilities as worship pastor at The Vine, a church outside Washington, DC, with your music career?
Keith: We are a church plant, which can make it even tougher at times. So in addition to leading worship, I run the website, do graphic design/communications, event planning, and so on. The important thing for me is raising up leaders from within the church. I am not bigger than the church, so it has to be okay for me to be gone for a weekend and have things not fall apart. I feel like we've gotten to that point. It's easy for me to try to control every little thing, but I have to remember that it's God's church, not mine.

My pastor is very supportive of my music and has said over and over that everyone has gifts and we want to help them be used for the Kingdom as a whole, not just our church. So both roles don't compete…they actually help each other.
JFH (Cathy): You are a Compassion International artist. How did you get involved with them, and how do you support their mission?
Keith: In 2006, I heard Shaun Groves speak about Compassion as a part of a concert. I knew right then that I wanted my musical opportunities to be used for something beyond just that day or night. So in 2009, I got the opportunity to partner with Compassion as an artist, which means I present the opportunity for people to sponsor children as a part of our show. My wife and I were blessed to visit Ecuador with Compassion in 2010 and see first-hand everything Compassion does there. It gave us a new view on what exactly I was inviting people to do when sponsoring children. I also wrote "Made for More" after returning as my pseudo-Compassion-theme-song. My wife and I sponsor two children of our own as well: Shelra in Haiti and Nayeli in Ecuador. It's just an honor to represent such a solid, Christ-centered organization.
JFH (Cathy): What's next on the horizon for you?
Keith: In the next couple of weeks, "Made for More" is being released to radio. I know that it's tough for an independent artist to break through the radio wall, but I'm just praying God does what He wants with it. We've already started booking youth events into late 2013, so I'm just excited to keep following the path God has laid out before me. Just trying to stay faithful to His call.
To find out more about Keith Elgin, visit KeithElgin.com!