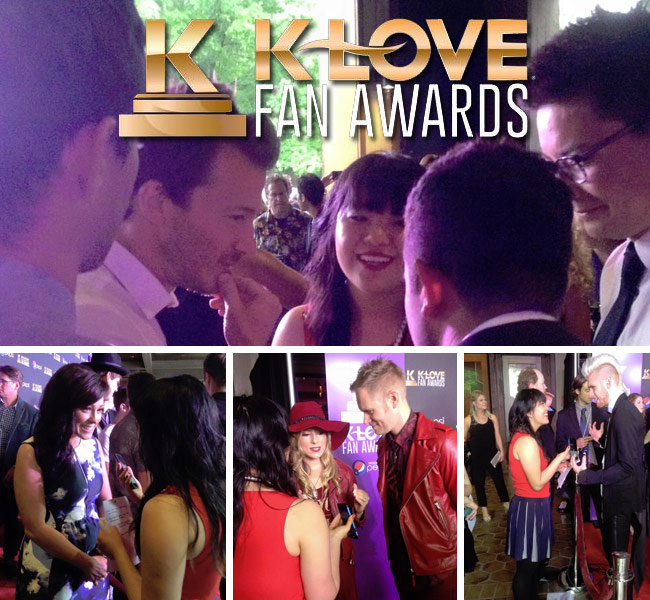 Jesusfreakhideout.com's Cortney Warner hit the red carpet on May 31, 2015 for the 3rd Annual K-LOVE Fan Awards to ask a few quick questions of some of the hottest talents in CCM right now...
This interview took place on: May 31, 2015.
JFH (Cortney Warner): Who would you love to collaborate with (Christian, secular, living, dead)?
Chris August: Chris Tomlin. His music means a lot to me. I was saved at a church camp when I was 15, I'm 33 now, and he was the worship leader. I got to write with him once, and I would love to write with him again sometime.
Love and the Outcome: Johnny Cash! U2, Phoenix, Lecrae!
Jonathan Thulin: Andy Mineo. I love him! I think he's brilliant.
Ryan Stevenson: One Republic, or Amy Grant. If I could choose anyone to do a duet right now with, it would be Amy Grant. And I've never met her, but I want to.
7th Time Down: United (Hillsong). Toby (Mac), Ryan Stevenson, Plumb! I would love to do a duet with Plumb.
Sidewalk Prophets: Tenth Avenue North! We love all those guys, and I think coming together with Mike Donehey and his insane brain would be an incredible idea.
Steven Curtis Chapman: I'm working on my first ever corporate worship project, and I'm really writing for the church, and I've had the chance to collaborate with the Rend Collective guys, which was awesome. Got to write with Matt Redman, my buddy; we've written several things together. Talked today with Matt Maher, saying, "hey can I write a song with you?" so seeing all these guys and getting to write with them is exciting. Collaboration beyond that, that's one of those great questions. Someday, it would be awesome to do a song with Paul McCartney. I'm just going to throw that out there. He's just such an amazing songwriter and such a great performer. *to the microphone* Paul McCartney, give me a call, let's write!
Tenth Avenue North: Bruno Mars! That would be fun. Chris Martin from Coldplay, I mean c'mon! Or whoever produces Coldplay.
Kari Jobe: Oh! I am fortunate to get to collaborate with a lot of different people, because I do a lot of worship writing, but I would say at this point in time, I would collaborate with Lauren Dagle. Yeah, that would be cool.
Hawk Nelson: Plumb! *to the mic* hi Plumb, let's do a song together! *to Cortney* She's so awesome!
Blanca: For King and Country! So I'm gonna try to make that happen, they're awesome.
JFH (Cortney): What's something you're looking forward to this year?
Jonathan Thulin: I'm looking forward to recording my new record. I'm going to record it in London, and so I'm really excited about that. I'm just excited about new music, new opportunities, and all the touring I'm going to do. I'm looking forward to meeting new fans and new people. It's such an amazing experience, and I am so honored and so humbled.
Love and the Outcome: Oh man, we're playing festivals this year with a band for the very first time, so I think it's going to be a party on stage. It's been the two of us for a long time, so I think we're pretty excited to play a longer set. Winter Jam was 10 minutes, festivals are 45, so it should be a good time.
Ryan Stevenson: I am laser-focused on my record. I'm really looking forward to getting that thing done, and just getting it out, and letting people hear it.
7th Time Down: Our new record. We're super pumped about it, so excited. It's coming out in August. It's called, "God is on the Move". The first single is out.
Colton Dixon: I just bought a house--this is like super personal *laughter* We close on it in June, and um, it's my first house. My first time figuring it all out, like, I bought the house, and I'm like, "Dangit, I need furniture!" so we take a trip to Ikea! It's just a really big year, and I'm excited for the future. There's going to be a couple more really big decisions coming up, and it's like, "Man, God please be in the center of it, help me make the best decision." But it's cool; I'm finally becoming my own person, and it's cool.
Sidewalk Prophets: We have a new album coming out in August; it's called Something Different, and we're excited. For the first time in three years, we have new music for fans to listen to, and I'm really excited for them to see how we've grown musically and spiritually on all levels of our walks.
Kari Jobe: A lot, we're doing a lot of shows this summer with Hillsong United, Bethel, Jesus Culture, Passion, and all those guys, and we're doing one with (Chris) Tomlin, so it's going to be a fun summer.
Hawk Nelson: We are going on tour with the Newsboys this year, starts September 17th in Las Vegas, and goes all over the country.
Blanca: I have a son, he's 22 months, he'll be two in July, and I'm just looking forward to growing with him. Seeing him go from baby, toddler, to big boy. Just creating more moments with him and doing life together.
Jamie Grace: Looking forward to a big summer tour this year with my sister Morgan and Mission Six, also the third record I just started recording like a week ago, so I'm really pumped for that.
Casting Crowns: We are recording a live record this summer, with a bunch of teenagers. We are the youth group band at our church every Wednesday, so we wanted to do something that plugged into home for us.
JFH (Cortney): What's God been teaching you lately?
Jonathan Thulin: God's been teaching me to trust Him, just being able to step back and let Him take control. We say that a lot as Christians, but being able to actually do it is a completely different story. The great thing is that He really doesn't fail, and when you trust him and just give it all to Him, He really comes through.
Love and the Outcome: When He says, "It is finished," it really is finished, so I can live in healing and can be free to be who I am because He's done it all already. So everything is a gift, every day is a gift.
Ryan Stevenson: Trust. No question, trust.
7th Time Down: Patience. Patience and grace.
Sidewalk Prophets: Patience and perseverance. He's also been teaching us how to chill out *laughter* God can shut a door, then open another one for you, so we're just trying to follow Him the best we can.
Steven Curtis Chapman: Well, just as of lately, as in just this month, this is the month (May) when we lost our daughter seven years ago, so this has been a hard month. Unfortunately, I forget so many things God's taught me, so He has to keep teaching me over and over again. I'm still kind of relearning the same lessons, but thankfully He is patient and He's still teaching me that the story isn't over yet, that He really is going to finish what He started, that He really is working things together for good. Even still, on those days and those seasons when you feel and see so much heartache and pain and it's hard, but I'm more convinced than ever that it's just the beginning of the story. I know I'm quoting my song lyrics and I apologize, but it is true, and that's what I'm learning. I'm thankful I get to sing the things I believe and that I'm learning, because it helps reinforce it for a slow learner like me.
Tenth Avenue North: Tonight, for the first time at one of these award shows, I can honestly say, definitely in the past, I've cared about winning, and God's really finally gotten through to me that joy is going to come by celebrating others, not by winning. So I feel like the first time I'm not looking at this as a competition. And it's a really great place to be.
Plumb: A lot of things. Faithfulness is just sort of a big umbrella over our family. As a family, my husband and I, our marriage fell apart and we remarried each other, and just had a whole second chance at marriage and life, and a whole home. So this whole record is sort of a response to that. Just thankfulness for what God has done, and really feeling undeserving of that second chance. So just to be faithful with what we've been blessed with. He made beauty from our ashes.
Kari Jobe: I've been learning a lot about just being patient, that God's timing really is perfect, and if I wait on His timing, it's a lot better than my own.
Hawk Nelson: I feel like God's been teaching us the power of gratitude. Just like, when you're really truly grateful for things, it just opens the door to so much joy in your life.
Blanca: To be real, to be who He's made me to be. A lot of times growing up, I had a lot of insecurities, and you feel like you want to compare yourself to others and what you feel works, but at the end of the day, God is just calling us to be who He's made us to be, and it's in those moments that people connect the most. I feel like that's been the biggest lesson that He's been teaching me.
Jamie Grace: A lot about patience and just trusting Him, and I feel like that's so cliché, but I feel like that's where I am with Jesus. I'm one of those kinds of people who likes to have everything organized, a schedule for family vacation. I like to know what's going on all the time. Whenever I get an email for the schedule, that's my favorite email I'll ever get *laughs* but the Lord's like, "I'm not going to send you a schedule, Jamie Grace, you're going to trust Me."
Natalie Grant: I'm a mother, I'm taught something new every day *laughs*. I struggle with a lot of fear, and I tend to put on a brave face, but I really struggle with fear. I've studied how many times God said, "Do not fear" -- 365 times, one for every single day. That is not a mistake. I really think He's been teaching me a lot about trust. Just relying on Him through blind faith. I am a control freak, and I love to have my planner, to have everything organized, and for me to go, "I'm going to live with blind faith" is what I'm learning.
JFH (Cortney): Do you have a favorite Bible verse?
Chris August: Ephesians 5:1. In an age where there are so many "role models" saying, "be like this, be like that," it says to imitate Christ, and I just like to remind myself of that.
Love and the Outcome: Romans 12:1. It basically talks about whatever you do, do it for Jesus. And that's how we try to live our lives. God is love, and we are the outcome.
Ryan Stevenson: Proverbs 3:5-6
7th Time Down: 1st Timothy 4:12. "Don't get disheartened because you're young, God's capable of doing incredible things through you." Having a 19 month old son, it's my prayer for him as he grows up.
Sidewalk Prophets: Romans 12:10. Outdo each other by honoring one another, and that's what I've been thinking about. Trying my hardest not to receive honor, but to give it.
Plumb: James 1:19. Be slow to speak and quick to listen.
Kari Jobe: I've always loved Psalm 27:14, where it says, "Wait on the Lord, be of good courage, and He will strengthen your heart."
Hawk Nelson: Psalm 34:18-19. I feel like that's what we experience in life, we are guaranteed that we will face challenges, but God is the one who will rescue us from them.
Blanca: Joshua 1:9. For someone like me who struggles with anxiety and fear, it's a good verse to remember that God is in control.
Jamie Grace: Psalms 30:5.
Casting Crowns: Psalm 139 has been really special to me. God knows what we need before we say it. He's put us together on purpose, and He knows where it's headed with our lives.
Natalie Grant: I don't have a favorite verse; it's like trying to pick a favorite child. *laughs* But my favorite chapter of the Bible is Romans 8. If you've never read it in the Message version, don't study the Message, but to read the Message, it will make Romans 8 come alive to you like you've never heard before, I promise this. If I had to pick a verse, it would be 1st Peter 5:10.

Click here All News Headlines
|

RSS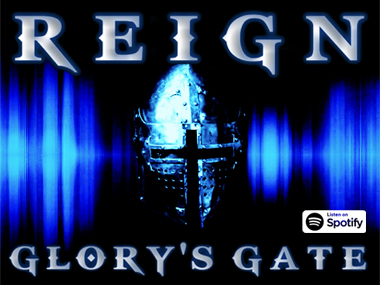 ---
---
---
---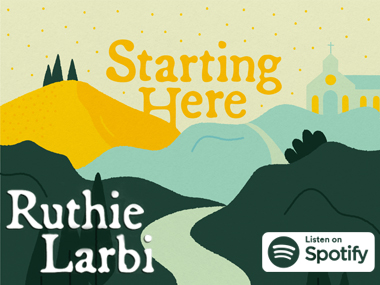 ---
---
---
---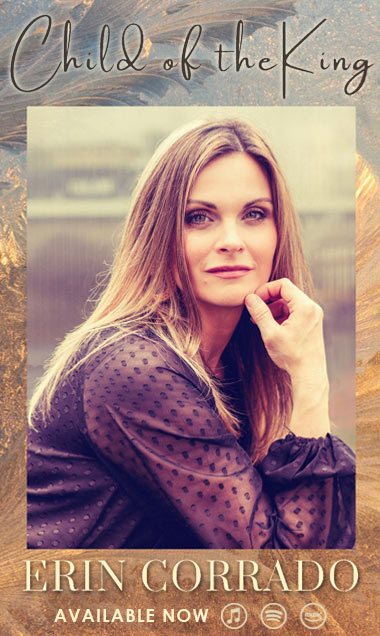 ---