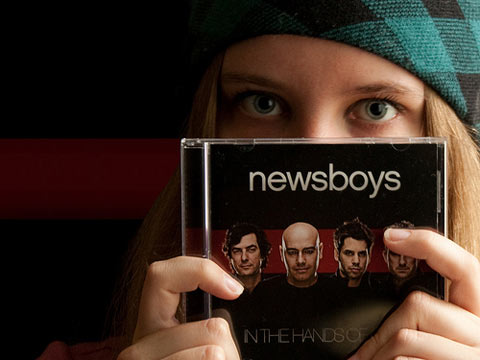 Jordan and "and one of the greatest albums ever!"

Favorite Band/Artist: Newsboys
Featured Fan: Jordan
Location: Virginia
When/Where Was The Above Photo Taken: Early May, 2009, when their amazing album In The Hands Of God released!
What About This Artist's Music Speaks To You: Since I was a kid, I've been amazed by the originality of their music and lyrics, but most of all, I've always loved their heart for preaching the Gospel. They're very genuine and really do what they do for the glory of God. There are countless great musicians in Christian music, but I truly believe that the Newsboys have ALWAYS been the best. When it comes to lyrics and live shows, they've always done things that so many other musicians are afraid to do. I mean, c'mon...has anyone else tried to sing a song about cereal, or perform an entire tour inside an inflatable air dome? ;-) There's really no other band like them!
Favorite Album by This Artist: GO
Favorite Song by This Artist: I've tried to pick; really, I have...but so far, I've been unsuccessful. I really, truly love all their songs!
Favorite Live Show Experience: The GO tour in Norfolk, VA on March 2nd, 2007...the night I got saved!
Number of Times Seen This Artist Live: 4
Favorite Piece Of Merch/Item You Own From This Artist: Down Under The Big Top (VHS)...you might say it's the best worst movie ever made, but it's incredibly fun and amusing for the diehard Newsboys fans!
Website: http://graceunmeasured.com
Submit your photo and reasons why YOU'RE a fan for a chance to be featured here!