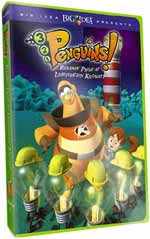 3-2-1 Penguins!: Runaway Pride At Lightstation Kilowatt

Company:
Big Idea Productions
Release Date:
September 21, 2002
Running Time:
30 minutes
Buy It:
Jesusfreakhideout Store
Official Site
Plot Summary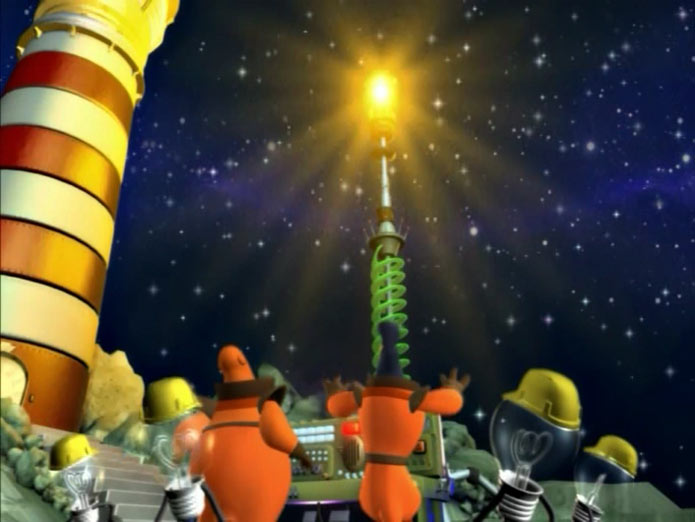 Michelle joins the Penguins on a mission to restore the beacon at Lightstation Kilowatt. But will she be able to accomplish her mission before the F.S.S Emperor's Pride crashes into a giant cosmic reef? Kids will find out while they learn that sometimes in order to help others, you need to let them help you -- even if it means swallowing a little foolish pride.
Film Review
Big Idea Productions are the geniuses behind the ever fun and ever popular VeggieTales series and have, in recent years, expanded their horizons to include new series, specifically 3-2-1 Penguins. Penguins centers around two children, Michelle and Jason who learn vital Biblical life lessons with the help of 4 zany penguins from space. In this episode, Michelle is taught a valuable lesson about pride via a simple session of color-by-numbers with Jason as she boasts of her abilities to only find out she got a little too carried away. At the same time, the penguin Zidgel learns a similar lesson as the crew ventures to Lightstation Kilowatt to get the station operational again.
The story was really cute and the lesson an undoubtedly crucial one. This is my first experience of the penguins series and although it can't top the veggies, the Penguins offer a new dimension and spin on the genre. As I watched their humorous antics, certain moments reminded me of Darkwing Duck, DuckTales, and other classic well-crafted cartoons. Penguins is a quality series. Most of the jokes were well-placed and at moments I felt like I was watching a Pixar film instead of Big Idea. A very impressive animated feature.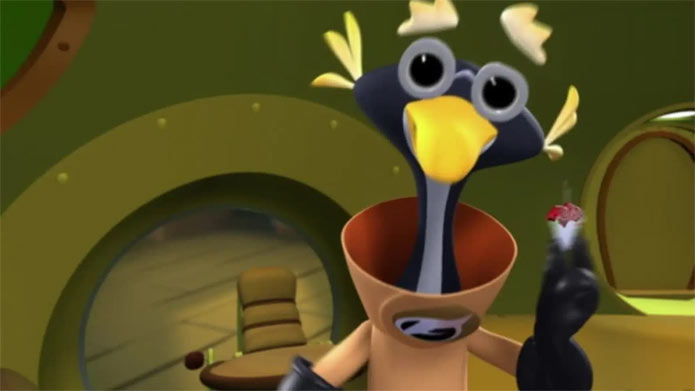 The animations were smooth and top-notch, making it fun to watch.
The only mild problem I did find with Runaway Pride At Lightstation Kilowatt, was it seemed a little hard to follow in the beginning. As soon as Michelle was whisked away by the penguins and they began describing their mission, I found it a little confusing and too fast-paced to instantly digest. As the story progressed, it was more clear what was occuring, but the mission description was loaded with many technological terms that felt lifted straight from an episode of Star Trek. It's liable to dizzy the mind of any youngster that tries to figure it out. Aside from that, Runaway Pride At Lightstation Kilowatt is a fun ride that is bound to keep your young one's attention and entertain the older folk at the same time (something VeggieTales has always excelled at).
For the DVD owners, the disc for Runaway Pride At Lightstation Kilowatt is a must-have as it includes such fun features as hilarious character bios (as read to you by Fidgel and Midgel), intriguing storyboard and conceptual art, as well as many other cool features (adding up to 2 hours of bonus material). Another highlight is the "How to Draw the Characters" bonus that shows a Big Idea artist demonstrating how to illustrate such characters as Kevin and Michelle.
If you're new to the 3-2-1 Penguins! universe as I was, you'll definitely want to check out these crazy little birds and their amusing antics as an alternative to the often pointless children entertainment dominant in the market today. What can be better than to be able to teach your children a valuable lesson while they have fun at the same time?
-
John DiBiase
,
(reviewed: 11/3/02)
DVD Features
Storyboard and Concept Art
Penguin Progression Reel
How to Draw the Characters (Michelle and Kevin)
Space Academy School (Course #401)
Recipes from Grandmum's Kitchen: Jellied Eel Doughnuts
Penguin Karaoke: "Pride of Blast-Off Beach"
Family Fun Activity (Toxic Waste)
Space Maze game
3-2-1 Trivia
3-2-1 Bios
Hidden Easter Egg Features
DVD-ROM Features: Exclusive Fun & Activities
Episode 4: Runaway Pride at Lightstation Kilowatt Storybook
Trailers, Sneak Previews and Other Cool Stuff
5.1 Dolby Digital Surround

Disclaimer: All reviews are based solely on the opinions of the reviewer. Most reviews are rated on how the reviewer enjoyed the film overall, not exclusively on content. However, if the content really affects the reviewer's opinion and experience of the film, it will definitely affect the reviewer's overall rating.

To find out why we don't typically review R-rated movies, click here