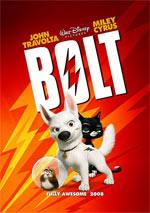 Bolt


- for some mild action and peril.
Director:
Chris Williams, Byron Howard
Starring:
voices of John Travolta, Miley Cyrus, Susie Essman, Mark Walton
Running Time:
1 hour, 36 minutes
Theatrical Release Date:
November 21, 2008
Official Site
Plot Summary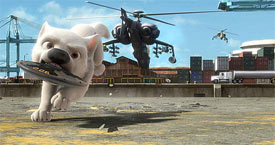 From Walt Disney Pictures comes an animated comedy adventure featuring a super-dog named BOLT (voice of JOHN TRAVOLTA), whose days are filled with danger and intrigue-at least until the cameras stop rolling. When the star of a hit TV show is accidentally shipped from his Hollywood soundstage to New York City, he begins his biggest adventure yet-a cross-country journey through the real world to get back to his owner and co-star, Penny (voice of MILEY CYRUS). Armed only with the delusions that all his amazing feats and powers are real, and the help of two unlikely traveling companions-a jaded, abandoned housecat named Mittens (voice of SUSIE ESSMAN) and a TV-obsessed hamster named Rhino (voice of MARK WALTON)-Bolt discovers he doesn't need superpowers to be a hero. (from MovieWeb.com)
Film Review
I have to admit I wasn't especially impressed by the trailer for the latest Disney Animation Studios feature, Bolt, when I first saw it in the theater. Being seemingly just another animated Disney movie that would ultimately pale in comparison to a Pixar effort, Bolt had "cheesy" written all over it (at least, in my eyes). From the hammy voice over announcer in the trailer down to the lead character being voiced by Mr. Saturday Night Fever himself, John Travolta, there just didn't seem much appealing about this one. In the end, however, not only was I wrong, but Bolt ended up actually being more enjoyable for me than Pixar's latest.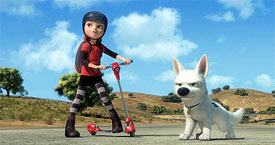 It's nice to realize that not everything about Bolt was spoiled in its promos. The film, which clocks in at just over an hour and a half, is a well thought-out, well directed and voice-acted animated feature. Offering some fantastic and even amusing action sequences, coupled with breathtaking animation, Bolt is anything but low budget or second rate. The directors, Chris Williams and Byron Howard, are surprisingly both entirely new when it comes to direction, with Bolt being each's first outing. While Howard has a background in animation, Williams has previously co-written two other Disney films - 2000's The Emperor's New Groove (a personal favorite), and 1998's Mulan. And it's most likely partly Williams' credit that Bolt ends up being an especially fun and frequently funny feature.
The story is a unique one, borrowing the thematic "you are not a toy" Buzz Lightyear complex for Bolt's struggle with coming to grips with the fact he isn't really a "super dog." While that dynamic is familiar, the rest feels mostly fresh as Bolt's quest to "rescue" Penny turns into a road trip to try to return to her. Bolt offers plenty of heart and comedy all along the journey. And while funny, Bolt doesn't truly start churning out the laughs until the introduction of the TV-crazed hamster Rhino, who not only believes in Bolt's abilities (even when the dog himself begins to question them), but to an exaggerated and delightfully over-the-top degree. Travolta does quite well in voicing the heroic dog who serves as the film's title character, while teen superstar Miley Cyrus is a good choice as his sweet, young owner, Penny.
Content is rather mild, with the PG rating being warranted by the film's action sequences (although it really isn't much rougher than most G-rated family films). There is thankfully no language (they even use "oh my gosh" instead of the alternative), and the humor is kept very clean but not over simplified for a strictly juvenile audience. The film definitely has an accessible audience, so parents and kids should be equally entertained. It's great to see Disney making the leap to producing more animated features that are not only just as good as many live action films for families, but in many cases better. Bolt is fun and touching without feeling too cheesy or overly sentimental.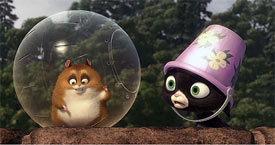 There are also very few drawbacks that come to mind when it comes to Bolt. If anything, we probably could have done without the song from Jenny Lewis featured during a montage (I originally thought it was Miley Cyrus before writing this review) - although the montage it's used during is great - or the unnecessary duet between Travolta and Cyrus that appears over the credits. Both songs seem a little out of place and a little too 'pop radio' for their own good (Really? We needed a duet between the voices for Bolt and Penny over the credits? That's like putting Will Smith rap songs in the credits for films he stars in... exactly, it's unnecessary). However, these are very minor gripes (nitpicks, even) seeing as the film is otherwise a rather strong one. While it wasn't nearly as starved for laughs as Madagascar 2 seen earlier this month, it really doesn't become uproarious until Rhino enters the mix. Still, Bolt never feels bored or tiresome and is otherwise a really enjoyable film.
All in all, Bolt is a fun and pleasant Disney surprise. This is one for the whole family to watch, and you won't have to feel like you're getting a heavy-handed message disguised as entertainment like in Happy Feet - or even WALL•E to a degree. If you can catch it in 3D on the big screen, it's certainly a fun feature that isn't a necessary means for experiencing the film, but it does add to the fun a little bit. 3D films are getting stronger in their presentation and Bolt looked gorgeous in the process. Here's to hoping Disney will continue making more quality pictures like this one.
-
John DiBiase
,
(reviewed: 11/23/08)
Parental Guide: Content Summary

Sex/Nudity
: None.

Vulgarity/Language
: None.

Alcohol/Drugs
: None.

Blood/Gore
: Bolt asks what "this red liquid" is coming from his paw is - meaning blood - but we don't actually see any.

Violence
: Mostly played for comedy: Lots of animated action or comedic violence. The entire opening sequence shows Bolt and Penny being chased with vehicles being blown up and thrown and villain henchman crashing in vehicles or being thrown -- we soon realize none of it was real and no one actually died. Bolt ties up Mittens and forces her to help him out, Rhino supports Bolt even to the point of being willing to give up his life, POSSIBLE SPOILER: A fire breaks out on a studio and it begins to collapse, trapping some people inside (who manage to escape). Rhino rolls his ball under a fallen beam but Mitten pulls him out of the ball before the beam collapses. The film also features some other minor, non-lethal violence
Disclaimer: All reviews are based solely on the opinions of the reviewer. Most reviews are rated on how the reviewer enjoyed the film overall, not exclusively on content. However, if the content really affects the reviewer's opinion and experience of the film, it will definitely affect the reviewer's overall rating.
To find out why we don't typically review R-rated movies,
click here