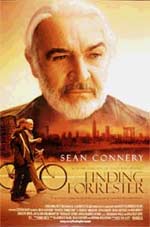 Finding Forrester


- for brief strong language and some sexual references.
Director:
Gus Van Sant
Starring:
Sean Connery, Rob Brown, Anna Paquin
Running Time:
2 hours, 16 minutes
Plot Summary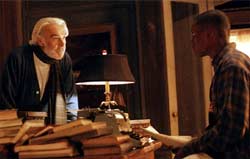 A smart inner city boy finds an old man who's disconnected himself from society only to learn he's really a long-lost famous author. The man soon becomes the boy's writing mentor and it is soon that the boy faces the hardships of developing his talents and discovering which direction his future should go as his friendship with the author grows.
Film Review
Finding Forrester is a movie that, after watching it, you want to rave about how good the story and acting was. It was a well-done picture that remained interesting from beginning to end. But the thing that stops me from really liking this movie, was how I felt they nearly ruined it with profanity. For a PG-13 'feel good' movie, this movie just disappointed me with its content. Two scenes involve Jamal sitting in his room as he writes and we hear rather obvious sexual encounters going on next door. Although some may argue that to be a realistic scenario, with that excluded and the language toned down, there's no valid reason why this couldn't have been a PG family film. I don't see what the language and sexual references add to the film. Maybe it's more realistic for that of the Bronx, New York, but again, I didn't feel it added anything to the film. For me, it just detracted from it. With 2 "f" words and 20 "s" words, along with many other colorful words, I found it distracting.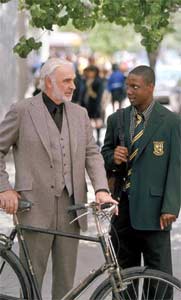 I found the story compelling and interesting with solid performances from Sean Connery and Rob Brown (who makes his film debut here). Although the story leads you to believe, at different times, that it'll be a tear-jerker playing at the heart strings with really inspired moments, it tends to be let down by less than compelling music and slightly apathetic moments. But this is good in the sense that it's not overplayed or melodramatic at any given point. The story is done more in a realistic sense. The music tends to detract at times, however, the jazzy, blues-flavored orchestral music would have been better replaced by something sounding more theatrical or modern to enhance moments instead of hurting them.
In summary, I really liked this movie, but was turned off by the swearing and occasional sexual references. It was adequately PG-13 for these reasons, but could have been easily made a family film if it was even more toned down (as it seemed toned down as it is language-wise to fit the PG-13 tag instead of being made R). Due to its good story and strong acting, I want to give it more than just 3 stars, but the content leaves me no choice but to give the film a least a 3 out of 5. On that note, if you have any questions or comments about the film before you see it (if you decide to try to Find Forrester), feel free to contact me.
-
John DiBiase
,
(reviewed: 1/20/01)
Parental Guide: Content Summary

Sex/Nudity
: We see a student couple kissing heavily in a school locker room. While Jamal is writing in his room and we hear faint but evident sexual sounds and rhythmic pounding coming from next door (as well as pleasured screaming). At Forrester's, Jamal describes the distracting sexual encounters next door in a comical way. While we see Jamal writing in his room again, we hear more sexual sounds like before. In conversation, Forrester tells Jamal that men who write books just do it to "get laid."

Vulgarity/Language
: 2 "f" words, 20 "s" words, 3 "g*dd*mn," 3 "a-h*le," 5 "a" words, 8 d*mns, 6 h*lls, 1 "laid", "J-sus," 2 "Chr-st," 1 "G-d," 3 "Oh my G-d," 2 "For G-d's sake,"

Alcohol/Drugs
: Forrester has many drinks throughout the film.

Blood/Gore
: None.

Violence
: A basketball player pushes Jamal and he pushes back, but their coach breaks it up; Forrester throws a glass at the wall.
Disclaimer: All reviews are based solely on the opinions of the reviewer. Most reviews are rated on how the reviewer enjoyed the film overall, not exclusively on content. However, if the content really affects the reviewer's opinion and experience of the film, it will definitely affect the reviewer's overall rating.
To find out why we don't typically review R-rated movies,
click here