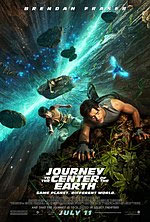 Journey To The Center Of The Earth 3D


- for intense adventure action and some scary moments.
Director:
Eric Brevig
Starring:
Brendan Fraser, Josh Hutcherson, Anita Briem
Running Time:
1 hour, 32 minutes
Theatrical Release Date:
July 11, 2008
Official Site
Plot Summary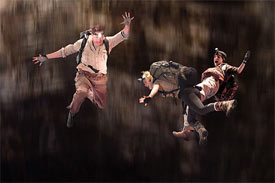 During a scientific expedition in Iceland, visionary scientist Trevor Anderson (Brendan Fraser), his nephew Sean (Josh Hutcherson) and their beautiful local guide, Hannah (Anita Briem), are unexpectedly trapped in a cave from which their only escape is to go deeper and deeper into the depths of the Earth. Traveling through never-before-seen worlds, the trio comes face-to-face with surreal and unimaginable creatures--including man-eating plants, giant flying piranha, glow birds and terrifying dinosaurs from days past. The explorers soon realize that as volcanic activity increases around them, they must find a way back to the earth's surface before it is too late. (from MovieWeb.com)
Film Review
It's difficult to review a movie like Journey To The Center Of The Earth 3D, mainly because it's like trying to review a theme park ride that was based on a movie - as if it were a real movie. The latest take on the Jules Verne novel feels very much like you're experiencing a theme park attraction based on the book. In a way, the film sort of acknowledges this approach by making the film's story about the idea that maybe Verne's book was, afterall, based on a real life account of a trek into the center of our planet. So from the get-go, there's a distinct vibe that this update is more of a tribute than an altogether updated retelling.
This angle for telling the story works in its favor actually. For one thing, this film is not only considered the first ever full-length film shot in digital 3D, but it's also visual effects supervisor Eric Brevig's first spin in the director's chair. The story involves very few characters and often very simple set pieces where most of the backdrops - once our main trio gets to hiking - are completely fabricated digitally. In that sense, it's more like a 3D approach to the kind of all-digital photography stylings that Sky Captain and the World Of Tomorrow used. This Journey is mostly just a means to provide a 3D viewing experience for a family audience. With that, the outcome can really only be so strong.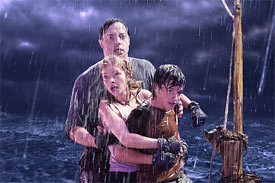 I have enjoyed Brendan Fraser most as a wise-cracking action hero in The Mummy series. It seems, oftentimes, that Fraser will turn in performances that are a bit too corny or over-the-top (Looney Tunes: Back In Action, Dudley Do-Right, and George Of The Jungle all come to mind). While he has scored successful comedic outings before (Blast From The Past), he has also been able to pull off some more dramatic roles over the years (The Quiet American, Crash, Gods and Monsters). But whether it's the film's direction or just the genre or nature of the film, Fraser's performances tend to be all over the place. Brendan actually does just fine in Journey (despite a cringe-worthy moment or two), working well with the young Josh Hutcherson (Zathura) as his nephew and newcomer Anita Briem. However, Brevig's direction or mostly-digital method to filmmaking doesn't quite help the actors bring to life such a synthetically produced imaginary world (although they do a pretty good job with what little they had to work with). While I was expecting some kind of wow-factor at some point in time for some wonder to behold within the Earth's center, there just was never anything that graced the screen that looked real enough or incredible enough. A movie like last Summer's Transformers offered immensely more breathtaking visuals as Michael Bay brought alien robots to life right before our eyes. There wasn't a moment in Eric Brevig's Journey where I felt like the bizarre world he created on screen was real or believable. Digital scenery has never been much of a substitute for physical sets - something that has been proven the hard way from the original Star Wars trilogy to its newer effects-heavy prequels. In Journey, it's all too obvious that the ocean in the middle of the Earth is computer generated for as far as the eye can see - including its inhabitants. And when we see the main characters fleeing from a cartoonish, digital dinosaur, it never feels life threatening much less tangible (not to mention that it looks a lot like they're just running in place). This Journey could have at least benefited from the kind of realistic approach that the Jurassic Park films went for to draw us in. Instead, it's more like something you'd experience at Universal Studios Theme Park.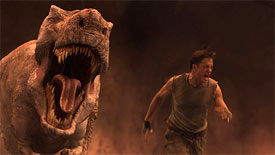 Of course, knowing this going into seeing a film like Journey To The Center Of The Earth 3D makes it a lot more enjoyable and fun (although I did expect it and still felt a little indifferent despite still kind of enjoying it). While the story does offer some endearing or surprisingly heartfelt moments, it also isn't afraid to poke fun at itself or wink at the audience with an unashamedly embellished moment of using the 3D feature to tease our senses. But without its 3D storytelling gimmick, this particular Journey To The Center Of The Earth probably wouldn't be half as enjoyable. If you're looking for a fun summer distraction without having to worry much about content, this is the film to take the family to. For once, parents don't have to worry about gruesome violence, sexual content, or even profanity -- although a brief joke about the word "schists" (a metamorphic rock) is a little off-color and unnecessary, especially when Trevor's nephew Sean uses it once as a substitute profanity.
It'd be interesting to see how this movie translates for home video - and if it'd make it into some sort of 3D form when it does - but in the theaters, Journey To The Center Of The Earth 3D is a fun little ride through an imaginary world inspired by the creative mind of Jules Verne. Presented more as homage to the writer's story than as a complete retelling, Journey To The Center Of The Earth 3D isn't all that it could be, but as a summer popcorn movie, you could certainly do a lot worse. Should the cast decide to explore other stories for future adaptations like this one, it wouldn't be a bad idea... I'd just love to see a little more emphasis placed on the tangible rather than the digital.
-
John DiBiase
,
(reviewed: 7/10/08)
Parental Guide: Content Summary

Sex/Nudity
: None. Hannah does show a little cleavage with the tank top she wears during the movie, though

Vulgarity/Language
: None. Trevor says the word "schists" which obviously sounds like the "s" word (played as a joke cause Sean is confused by Trevor's use of it). Later, Sean says "oh schists" (once) as a play on the "s" word.

Alcohol/Drugs
: None.

Blood/Gore
: Hannah appears to have a little blood on her fingertips from a rope burn

Violence
: Some adventure violence - from large vicious fish to a tyrannosaurus that lunges at the characters.
Disclaimer: All reviews are based solely on the opinions of the reviewer. Most reviews are rated on how the reviewer enjoyed the film overall, not exclusively on content. However, if the content really affects the reviewer's opinion and experience of the film, it will definitely affect the reviewer's overall rating.
To find out why we don't typically review R-rated movies,
click here