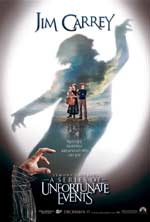 Lemony Snicket's A Series of Unfortunate Events


- for thematic elements, scary situations and brief language.
Director:
Brad Silberling
Starring:
Jim Carrey, Meryl Streep, Liam Aiken, Emily Browning
Running Time:
1 hour, 53 minutes
Theatrical Release Date:
December 17, 2004
Official Site
Plot Summary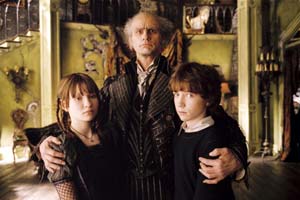 Based on the bestselling book series by Daniel Handler, the "Snicket" saga revolves around a pint-sized trio of orphans named Sunny, Klaus and Violet who find themselves fobbed off on a series of odd people, including Lemony Snicket, who narrates each of what has grown to a series of eleven books since Handler debuted the first title in 1999. The recurring bad guy is a distant family relative named Count Olaf, who initially takes in the kids but clearly is trying to separate them from a family inheritance. (from MovieWeb.com)
Film Review
Lemony Snicket's A Series of Unfortunate Events is a film based on the first three of eleven children's books about a trio of orphans trying to find out how their parents died in a horrible fire that devoured their home. I have to admit that I've never read any of these stories, but am intrigued by them following seeing this new movie. The Baudelaire children - Violet, Klaus, and Sunny - are wonderfully cast in the film. Liam Aiken and Emily Browning, who play the central characters Violet and Klaus, have enough charm and strength to carry the film along quite well. Naturally, Count Olaf is given the most attention throughout the promotion of the film as he's played by the eccentric Jim Carrey. The character of Olaf seems perfect for Carrey. While Olaf is essentially a truly dark and intimidating character, Carrey adds a much-needed and appropriate comedic edge.
In an age where computer effects are dominating the special effects world, one of the strongest elements to the world of Lemony Snicket's are the sets. From the ruins of the Baudelaire mansion to the incredible homes of Aunt Josephine and Count Olaf, the live (non-computer generated) sets help make the world these characters exist in more tangible. I just couldn't help but marvel at the visuals. The gloomy and dark cinematography only enhanced the film's mood and aided in giving it an overall Tim Burton (Beetlejuice, Sleepy Hollow, Big Fish) look.
While Carrey often displays an unbridled energy in his theatrical performances, he only held back somewhat slightly for this role. Typical Carreyisms slipped out from time-to-time, reminding me of his stint as the Grinch in 2000 or his more zany characters like Ace Ventura. But, to be fair, when you compare the sheer zaniness of Carrey's film's some ten years ago to those he creates today, his incredible acting talent has become unmistakable. His ability to embody Olaf as well as the characters Olaf impersonates is just perfect. Carrey is simply a brilliant character actor and his contributions to Lemony Snicket's A Series of Unfortunate Events are no exception.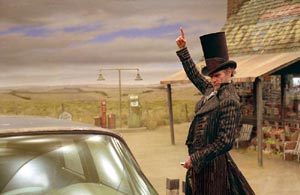 I found myself enjoying much of what Lemony Snicket's had to offer. While the ending of the film was somewhat anti-climactic, the movie had plenty of eye candy, terrific acting, interesting characters and funny moments to keep it a worthwhile endeavor. While Carrey elicits quite a few laughs through Olaf, it's the littlest Baudelaire, Sunny, who steals nearly every scene she's featured in. A two year old who can only speak baby talk, Sunny's adorable incomprehensible mumbles were often given subtitled translations on screen with quite hysterical results.
Language is very mild in the film, however, the biggest concern for the younger audience is how creepy and utterly dark the movie really is. Despite being goofy or somewhat likable, Count Olaf is ultimately a ruthless and murderous character. He tries to kill the children several times and eliminates any competition he feels he might have along the way. While no murders are actually seen, they're often eerily and sometimes disturbingly implied (at least for what is expected of a "family film"). While dark, the film still has plenty of redemptive qualities -- almost all brought out through the Baudelaire children and their camaraderie. One of the more intense sequences, however, involves Olaf giving the children a hard time about preparing him a dinner he wants. When he sinisterly reprimands them, he slaps Klaus across the face (and pretty hard, too). The moment is heavy due to the sensitive 'child abuse' nature of the moment. The film quickly looks past the moment, but it was a pretty shocking moment for those not expecting it.
Overall, I thoroughly enjoyed Lemony Snicket's A Series of Unfortunate Events. While not perfect, the film has plenty to like about it. While certain elements, like the ending, could have been a little stronger, the film as a whole is a unique and fun story. As the ads insist, be warned -- but just because the movie may be a bit too dark or eerie for the younger ones.
-
John DiBiase
,
(reviewed: 11/28/04)
Parental Guide: Content Summary

Sex/Nudity
: None.

Vulgarity/Language
: 2 "d*mn"

Alcohol/Drugs
: None.

Blood/Gore
: None.

Violence
: All comical, but a lot of it is dark but implied. It is mentioned several times that a character was eaten by leeches. Many murders happen in the film -- although none are actually seen, making the film rather dark or creepy at times. It's assumed that Baudelaire parents died in a large fire. Olaf tries several times to kill the Baudelaire children, etc. We see a house collapse in a storm with debris flying all around the children as they struggle to get out.
Disclaimer: All reviews are based solely on the opinions of the reviewer. Most reviews are rated on how the reviewer enjoyed the film overall, not exclusively on content. However, if the content really affects the reviewer's opinion and experience of the film, it will definitely affect the reviewer's overall rating.
To find out why we don't typically review R-rated movies,
click here