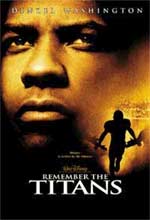 Remember the Titans


- for thematic elements and some language.
Director:
Boaz Yarkin
Starring:
Denzel Washington, Will Patton
Running Time:
1 hour, 53 minutes
Plot Summary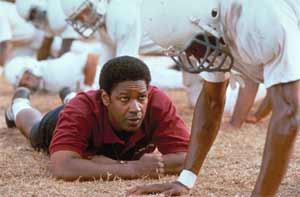 Based on a true story - In 1971, in Virginia, racial integration has arrived and a local high school's first effect from it is felt by the Titans football team. Herman Boone (Washington), a black coach, is brought in to replace Bill Yoast (Patton), the veteran, successful and well-respected white coach. When this happens, it's up to Boone to turn the team into a unified group of intergrated races and win each game the coming season or he'd lose his job.
Film Review
I was extremely impressed with this movie. Great acting all-around, great story, relatively clean content. I found it to be a pretty film for most families. However, I've found that the racism subject matter may be hard to swallow for some. Although the previews make the movie seem a lot like a light-hearted film about a team of players wanting to win, it's mainly about a team of high school students trying to deal with a newly integrated school and the idea of their beloved coach being replaced by and unwanted black man. For me being born in 1980, it's harder to understand why white people could be so judgmental over the color of somebody's skin. Although it was obvious the movie was anti-racism and made a lot of white look evil (practically), I have a good feeling that's how it was back then. And there's no good reason to hate every person because their skin's darker than yours. I find it mind boggling. But the film included great moments that showed whites finally coming around and becoming best friends with their black partners eventually. And all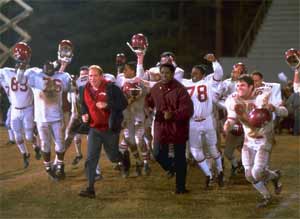 this is based on a true story.
One really pleasing part about the film, was the inclusion of God in several scenes. We see them finishing a prayer as a team at one point, some of the boys start singing a praise song, and even one of the respected players is nicknamed "The Rev" because of his Christianity and desires to be a minister. The film had little to complain about and many redeemable qualities. And when it came time to "care about the characters' well-beings," you do. The characters were well-rounded and well-developed in the 2 hour length the movie had. The story sucks you in and it isn't long before you forget where you are and you're involved, yourself.
In summary, I thought the movie was excellent (and I don't even really like football!). Although the tense situations could be a turn off or hurt the level of this being a family film, Remember the Titans still scores a 4 out of 5 in my book for its compelling story and overall entertainment and moral value.
-
John DiBiase
,
(reviewed: 10/29/00)
Parental Guide: Content Summary

Sex/Nudity
: Gerry calls Ronnie a fruitcake, and then in a later scene, Ronnie plants a kiss on Gerry in the locker room, but we don't find out if it's serious or just trying to antagonize him (assumption placed on the latter).

Vulgarity/Language
: 1 "a" word, 2 "d*mn," 1 "cr*p," 1 "h*ll," 1 S.O.B. (unfinished), 2 "Swear to G-d."

Alcohol/Drugs
: Some drinks at a rally, some wine at a reception.

Blood/Gore
: A player briefly vomits on the field, we also hear Herman vomit before a game once. In an accident, a truck hits a car at an intersection, leaving the driver of the car paralyzed from the waist down. Later we see the driver in the hospital with some bloody cuts and bruises on his face.

Violence
: Players fighting, a brick is thrown through a window in Herman's home, a car crashes into another in an accident.
Disclaimer: All reviews are based solely on the opinions of the reviewer. Most reviews are rated on how the reviewer enjoyed the film overall, not exclusively on content. However, if the content really affects the reviewer's opinion and experience of the film, it will definitely affect the reviewer's overall rating.
To find out why we don't typically review R-rated movies,
click here