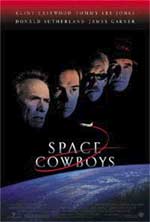 Space Cowboys


- for some language.
Director:
Clint Eastwood
Starring:
Clint Eastwood, Tommy Lee Jones, James Garner, Donald Sutherland
Running Time:
2 hours, 10 minutes
Plot Summary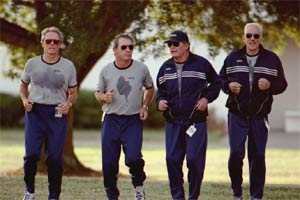 Four young pilots being trained to be astronauts are replaced by a monkey when they accidentally crash yet another highly expensive aircraft during their days in the airforce. Many many years later as the Four gents are retired and living up their ripe old ages doing what they want to do, they become called upon to go into space to fix a piece of equipment as out of date and rusty as them. Although their boss who tossed them out then doesn't want them to do the job now, word leaks out of the mission to the press, and our boys are guaranteed a one-way trip, complete with complications, into space.
Film Review
I have mixed feelings about this movie. 1st off, I've been looking forward to this film since it was a rumor. Why? Well, because Tommy Lee Jones is easily one of my favorite actors. And since his last PG-13 movie was 1998's U.S. Marshals (his voice in Small Soldiers doesn't count), it's nice to see him make another watchable film.
But is it? I have to say... yes and no. Although there's zero blood and gore, there is however approximately 23 "s" words, as well as a slew of others. And Clint Eastwood's character mouths "mother f..." mildly after a pick-up truck cuts him off while driving. There is some innuendo and you do see they guys' bare butts during a physical. On the other hand, the story was great, the acting was top-notch, and the laughs were good.
The audience? Well, I'd have to say older folk and fans of anyone in the cast. And although it is slower-moving than most flicks like it these days, I found it to be very good with some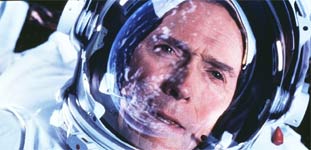 awesome special effects and an overall well-done job by director Clint Eastwood himself.
Again, I'm torn. I want to much to love this movie and recommend it, but the language was a let-down. For such material, I must stress it's no kids' movie, not to mention the very fact that it's flooded with "old" jokes (which work). I recommend you read the content below thoughfully before deciding who can see the film.
One interesting character in the film is played by that of James Garner, in which he plays a Baptist minister. He is shown in a pretty good light throughout the film with the exception that he swears a little and drinks some. It was nice to see that his beliefs were not belittled and God was not made light of.
In summary, the movie was really good. The language and other adult content put somewhat of a damper on what otherwise could have been an excellent family film. But being entertaining and a good story, Space Cowboys scores a 3 and a half out of 5.
-
John DiBiase
(reviewed: 8/6/00)
Parental Guide: Content Summary

Sex/Nudity
: In a 1958 flashback, we see Jerry looking through a Playboy magazine where we briefly see one of these women who is topless, facing off to the side and covering her chest with her arm. No real explicit nudity is seen. We seen the guys' bare butts during a physical, and when a woman doctor walks in, they all over up their crotches except for Jerry who stands proud. The nurse then looks at him and smiles. Also, one comment Jerry makes on the Tonight Show with Jay Leno is pretty inappropriate.

Vulgarity/Language
: Frank mouths the "f" word (used with "mother"); 23 "s" words, 5 "g*dd*mn," 27 "h*ll," 16 ""d*mn," 11 "a" words, 3 "a-h*le," 1 "d*ck", 3 S.O.B.s, 1 "J-sus," 1 "Oh L-rd"

Alcohol/Drugs
: Beers are mentioned and we see people drinking them at different times during the film, including at a bar.

Blood/Gore
: Although neither bloody nor gory, we see a boy vomit quite a bit on a thrill-seeking plane ride. We see the vomit as it comes out of his mouth and it's remains on the plane and around his mouth (all played for laughs).

Violence
: A plane crash, 2 large "structures" collide, some brief punches/fighting
Disclaimer: All reviews are based solely on the opinions of the reviewer. Most reviews are rated on how the reviewer enjoyed the film overall, not exclusively on content. However, if the content really affects the reviewer's opinion and experience of the film, it will definitely affect the reviewer's overall rating.
To find out why we don't typically review R-rated movies,
click here