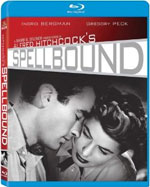 Spellbound

Director:
Alfred Hitchcock
Starring:
Gregory Peck, Ingrid Bergman, Rhonda Fleming, Michael Chekhov
Running Time:
1 hour, 58 minutes
Theatrical Release Date:
December 28, 1945
Blu-Ray Release Date:
January 24, 2012 (
Amazon.com
)
Plot Summary
A female psychiatrist protects the identity of an amnesia patient accused of murder while attempting to recover his memory. (from IMDB.com)
Film Review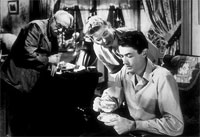 While I couldn't tell you if Alfred Hithcock enthusiasts would label this one as one of his best, Spellbound is certainly among some of his most unique thrillers. Mystery and murder often surround the stories the iconic filmmaker has told and 1945's Spellbound is no different. Starring Gregory Peck as a mysterious doctor who comes to an insane asylum to aid some patients, only to have one of the top doctors at the facility, played by Ingrid Bergman, fall madly in love with him. Of course, since it's a Hitchcock film, Peck's character isn't all that he appears to be, and for Bergman's Dr. Constance Petersen, he just may be too good to be true.
When it comes to Hitchcock films, I've learned--as with all directors--some are better than others. I found Rope to be more disturbing than entertaining, but it's films like North By Northwest where Hitchcock really shines. Spellbound falls somewhere in between, siding more so among his better works, but there were moments where the acting was a bit too over-the-top, especially to force the mood and emotion of a scene. I like Peck, even if he can be a bit dry at times (he was kind of a more charming and emotive Kevin Costner of his time), but for a film like Spellbound, it makes his character a little more difficult to figure out. The plot is very centered around psychology, memory, and the psychosis of a murderer. But as the film progresses, you feel almost as if you're being given a distinct lesson in pyschology, as you follow Dr. Petersen around with her patient whom she desperately is trying to cure. There's even a famous scene in the film where surrealist painter Salvador Dali had designed a dream sequence as Peck's character Ballantine relates a dream he had. It's creepy and distorted, but it was completely groundbreaking in its day. I'm familiar with Dali's work as an artist, so it surprised me to learn of his work in designing a scene for a movie--not surprisingly a Hithcock film either.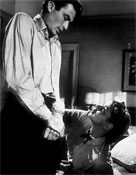 The content for Spellbound is a little rough at times, mostly from the psychological side, but it's never graphic. Most of the violence is either spoken of or shown in more of an implied state (a flashback shows a person falling onto a fence with spikes on it. We don't see it impale them, but we're told the person didn't survive the accident). There is also an implied suicide when we see a hand and gun from the first-person perspective slowly turn the gun toward the camera and fire (which may be jarring to some viewers). Incidentally, it's also the only time in the black-and-white film when we see a flash of color as Hitchcock had spliced a couple frames of red into it when the gun fires. There is no profanity, aside from one character who calls himself an "*ss" at one point, otherwise there is no other offensive language. Sexual content is mild, only appearing in the form of some flirting and a passionate kiss shared between John and Constance.
Overall, I wouldn't say Spellbound was one of the best thrillers, nor would I call it Hitchcock's best, but if you're a fan of old movies and the genre (as well as the director's other work), it should be worth checking out. However, if you're reluctant due to not enjoying some of the melodramatic acting of the time period, you wouldn't miss much if you passed on Spellbound.
-
John DiBiase
(reviewed: 2/1/12)
Blu-Ray Special Features Review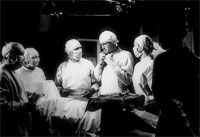 Spellbound is presented in a decent high definition transfer, but to the casual movie watcher--and even some movie buffs--you probably won't feel like the picture is all that great. However, compared to normal DVDs, there is more sharpness to the picture, as well as a lack of dust and dirt in the actual film, but the picture is grainy enough that it really doesn't make a whole lot of difference. In addition to the film, there are several bonus features.
Dreaming with Scissors: Hitchcock, Surrealism and Salvador Dali (20:21) is a documentary (in standard definition) that is dedicated to the dream sequence in Spellbound that was designed by surrealist Salvador Dali. It focuses on Dali's craft as well as his background in art and how he got started. It then covers how Dali influenced the iconic dream sequence in the film.
Guilty By Association: Pyscoanalyzing Spellbound (19:39) -- This mini documentary delves into the inspirations behind the psychology in Spellbound. Psychology in war time--like from shellshocked soldiers--is covered at length. This is ideal for anyone interested in the psychological angle of the film, but can be skipped for anyone who is just a more casual viewer. (Note: We see a clip from the 1970 film Patton where Patton curses out a shellshocked solider, and it includes several uses of "g*dd*mn" and "S.O.B")
A Cinderella Story: Rhonda Fleming (10:10) -- Rhonda Fleming herself tells her unique story of how she became an actress. It's great to hear it straight from Fleming herself, too. The mini-autobiography is a lovely addition to the Blu-Ray. Fleming recalls Spellbound being her first film and what it was like to work with everyone on the production. It's also charming to hear Fleming credit God with her "Cinderella story" success.
1948 Radio Play (59:47) -- In addition to the feature film, fans can tune in to an original radio broadcast of the story Spellbound from March 8, 1948. Peck and Bergman do not appear in this, however. Instead, Joseph Cotten and Valli fill in the main roles.
Hitchcock Audio Interview (15:22) - Peter Bogdanovich interviews Hitchcock about the film, as well as other things. It's great to hear straight from the director himself, but Bogdanovich isn't the best or most engaging interviewer.
A "Commentary with Author and Film Professor Thomas Schantz and Film Professor Charles Ramirez Berg" audio track as well as the original trailer round out the extras on this Blu-Ray disc, offering some decent extras for a film classic.
-
John DiBiase
,
(reviewed: 1/27/12)
Parental Guide: Content Summary

Sex/Nudity
: Mary flirts with a few men; A doctor flirts with Constance and she asks, "Are you making love to me?" and he says "In a moment..." but they continue talking before he kisses her (and nothing else happens); Edwards and Constance kiss passionately.

Vulgarity/Language
: 1 "a" word

Alcohol/Drugs
: A doctor drugs a drink to knock out a patient.

Blood/Gore
: We briefly see a skin grafted hand that was recoverng from a burn injury.

Violence
: Mary drags her nails across the back of a man's hand; Mary tells a violent story about biting the mustache off a man's face, she then flips out and throws a book across the room at Constance; A man comes walking down a staircase menacingly, holding a razor; We see a flashback of a boy sliding down a ledge, hitting another little boy, accidentally throwing him onto the points of a fence, killing him (not gory); A man holds a gun on a person with the intentions to murder them. We then see the hand and gun turn toward the screen and fire (inferring suicide).
Disclaimer: All reviews are based solely on the opinions of the reviewer. Most reviews are rated on how the reviewer enjoyed the film overall, not exclusively on content. However, if the content really affects the reviewer's opinion and experience of the film, it will definitely affect the reviewer's overall rating.
To find out why we don't typically review R-rated movies,
click here