Film Review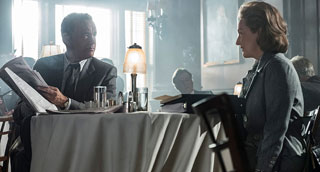 When one thinks of Steven Spielberg, usually his big summer sci-fi / adventure films come to mind -- like Jurassic Park, Jaws, E.T. or Indiana Jones. However, in recent years, Spielberg has consistently turned his attention to more historical and dramatic material -- from Munich to Lincoln and Bridge of Spies, and now The Post. His most recent effort takes us back to the days of the Vietnam War when an American military analyst stole government secrets about the brutality of the war and tried to leak them to the press. The story revolves mostly around how the smaller, more local-based "Washington Post" played a role in the infamous info leak.
It's tough to watch a film like The Post and imagine you're seeing a film by the same guy who gave you a terrifying shark attack experience or made dinosaurs roam the Earth again, but Spielberg has proven himself capable of slipping on all kinds of different hats. War Horse was a nice blend of action, drama, and historical events, while The Post, however, is strictly an acting vehicle. This is the kind of movie that is tailor-made to win awards. And who better to do it than Steven Spielberg and a cast that's lead by Meryl Streep and Tom Hanks?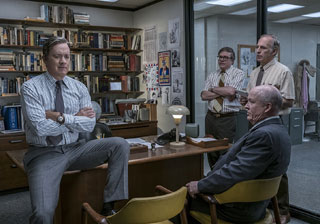 The Post is also not for the casual movie-going audience. Because of its dramatic leanings, much of the film is a slow boil. So much of it is presented without music and with very unassuming direction. Spielberg lets scenes breathe, letting the camera linger and letting the audience feel like they're getting a voyeuristic peek behind closed doors during such a tense time in U.S. history. But there's also something about this kind of technique that made some scenes feel rather awkward. For example, a few moments where characters are gathering in a room or meeting in a restaurant actually feel very staged or scripted. Perhaps it's just the way Spielberg directed the encounters or it could be chalked up to the lack of music in some scenes, but there are certainly moments that feel much more like you're watching a live play than watching an actual snapshot in time. Thankfully, this only happens in a couple scenes, and it's mostly due to the background or side characters, but it's not something I typically notice in films these days (and it shocks me that I'd get this feeling from a Spielberg film!).
Otherwise, the main players are fantastic. Meryl Streep never feels like she's acting at all, actually. She is Kay Graham. She makes you believe in her performance from the start. Hanks is excellent as Ben Bradlee, but he does, however, feel like he's more so playing a part. Bob Odenkirk also stands out as a powerful player in the mix, representing Ben Bagdikian at The Washington Post. Spielberg has assembled a more than capable cast here, and they deliver.
The film's story poses some intriguing ethical questions and dilemmas, especially when it comes to revealing the truth of a matter, taking risks to do so, and weighing the cost. When American military analyst Daniel Ellsberg decides he can't stand by and watch the government spin lies about how devastating and costly the war actually is while the public is misinformed that the country is winning, he risks his life to expose the truth. And when the information lands in the hands of the press, it becomes an ethical discussion of what the responsibility of the press is and what should someone risk in such a situation. Granted, press can be pretty scoop-hungry and not necessarily ethical in how they choose what to report -- and some of the internal struggle is about who will get to break the juicy story first -- but here they show the behind-the-scenes struggle with the responsibility--and the fact it could land them in jail.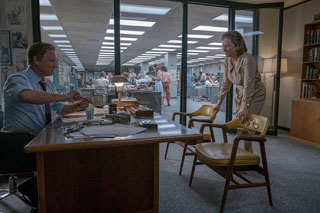 The content of the film is mild aside from language. The members of The Post especially frequently use profanity, with Hanks' character being one of the biggest offenders. And in one scene, while he's on a conference call, you can hear his character shouting the "F" word through the phone while several people are arguing. Along with quite a few uses of the "S" word and other colorful words, there's quite a lot of blasphemy which definitely hampers the enjoyment of the film. There's also a written use of the "F" word on a protest sign in one scene, but it isn't focused on much. The movie opens with some war violence, but it isn't graphic. (To be honest, I got stuck in line at the theater for a while and got inside late during the opening war scene, but sources I've read online said the violence wasn't at all graphic or even bloody.)

The Post is not for everyone, but it's a well written, directed and shot drama that does well to represent an intriguing portion of, not only our nation's history, but a time of war and the media's role in it. If you're a fan of such films, or any of the cast, The Post is worth checking out.

- John DiBiase (reviewed: 2/9/18)

Parental Guide: Brief Summary of Content

Sex/Nudity: None.


Vulgarity/Language: At least 1 "F" word spoken; 1 "F" word written on a sign; 14 "S" words; 4 "d*mn"; 9 "g*dd*mn"; 6 "G*d"; 7 "J-sus Chr-st"; 3 "J-sus"; 2 "S.O.B."; 4 "h*ll"; 6 "a" words; 1 "pr*ck"


Alcohol/Drugs: There is some drinking in the movie, but nothing substantial.


Blood/Gore: None.


Violence: We see some war violence in the beginning of the film, but it's not graphic; A man is a bit paranoid and fears for his life.

** Disclaimer: All reviews are based solely on the opinions of the reviewer. Most reviews are rated on how the reviewer enjoyed the film overall, not on content. However, if the content really affects the reviewer's opinion of the film, it will definitely affect the reviewer's rating.