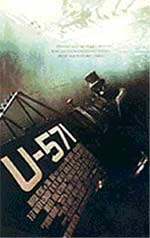 U-571


- for war violence.
Director:
Jonathan Mostow
Starring:
Matthew McConaughey, Bill Paxton, Jon Bon Jovi
Running Time:
1 hour, 56 minutes
Plot Summary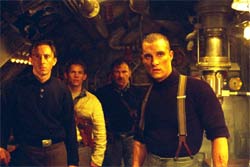 Set in 1942, this fictional story is about a team of heroic Americans who embark on a top-secret mission to get on board a German U-boat and capture their communication device so they may learn of their secret coding system. In the process, they gain the usage of the U-boat, U-571, and must carry out their mission while having to steer cleer of their German enemies lurking in hostile waters.
Film Review
U-571 is a unique war film that puts you, the viewer, inside the ship with the crew as they face the dangers of depth chargers, torpedoes, in a foreign vehicle they must learn to pilot.
But of course, unless it's Toy Story 2, it has to be picked apart. U-571 is so good, I want to give it 3 and a half stars, but it's too violent and has too much cursing to get such a rating as 3 and a half. However, it'd be wrong to give it less than 3. With solid acting, a gripping plot driven by suspense, and tense action sequences, U-571 sucks you in for a fast hour and 45 minutes.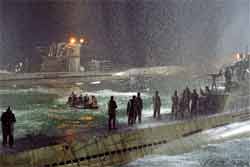 The film's violence is very high. The most violence occurs when they take the German U-boat. Machine guns blare from both sides and although the results are not very graphic, it's a heck of a lot of shooting. Only once or twice do we see briefly bloody wounds on the enemy. For more details on the blood/gore, see below. It was pretty toned down, but could have been toned down even more. Sexual content is limited to 2 or 3 extremely minor references. And cursing could be worse, but the extent is 14 each of "G-d*mn" and the "s" word, with several other cusses used. Although I found most of the above material annoying, it didn't totally hurt the film. However, I'd have much preferred it without the cursing and excessive violence.
Anyone looking for a truly accurate historical war flick or a movie that will get your mental juices flowing, you're guaranteed to be disappointed. But if you want to feel like you just stepped off "The Laser" roller coaster, don't hesitate shelling out the $7 bucks to see this one.
In summary, the movie was excellent. I was on the edge of my seat from beginning to end. It's not at all for everyone, however. The violent content makes it definitely not a kids movie. If it was less violent and had less cursing, I'd give it a higher rating, but I still have to give the nail-biting U-571 a 4 out of 5.
-
John DiBiase
(reviewed: 4/22/00)
Parental Guide: Content Summary

Sex/Nudity
: Limited to merely 3 minor references.

Vulgarity/Language
: 14 "s" words, 14 "g*dd*mn," 12 "h*ll," 4 "d*mn," 4 S.O.B.s, 1 "t*t," 2 "a" words (1 in subtitles), 2 cr*ps (1 "cr*pping" in subtitles), 1 "b*stard," "J-sus," "J-sus H. Chr-st," 1 "For Chr-st's sake," 1 "Mary, mother of G-d"

Alcohol/Drugs
: Some people have drinks at a party.

Blood/Gore
: There are several non-bloody dead people in a submarine. Some dead sailors have some blood on their clothes. We see some blood on a man's mouth after he's been shot (not in the mouth). We see that a man's face is burned/melted. A man has blood on his face after being kicked in the face. Two men struggle, one of their shirts is pretty bloody after being shot while the other man has some blood on him as well as in his mouth. We see a non-graphic dead body floating to the water's surface. Through the course of the film, some of the men aboard the sub garner cuts and bruises.

Violence
: Many explosions, shootings, people being punched, kicked, and shot up
Disclaimer: All reviews are based solely on the opinions of the reviewer. Most reviews are rated on how the reviewer enjoyed the film overall, not exclusively on content. However, if the content really affects the reviewer's opinion and experience of the film, it will definitely affect the reviewer's overall rating.
To find out why we don't typically review R-rated movies,
click here