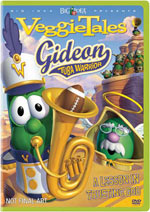 VeggieTales: Gideon Tuba Warrior

Company:
Big Idea Productions
Release Date:
November 4, 2006
Running Time:
45 minutes
Buy It:
Jesusfreakhideout Store
Official Site
Plot Summary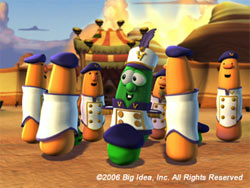 Gideon is the amazing story based on one of the greatest biblical heroes of all time – a cucumber chosen to defend his people against an army of 30,000 excessively hairy pickles! But the reluctant, tuba-playing Gideon (Larry the Cucumber) is better trained at marching in formation than he is at marching into battle. Will he be able to trust the message from God delivered to him by the angel (Pa Grape) and protect his people? (from BigIdea.com)
Film Review
VeggieTales has been a reliable source for family entertainment for well over a decade now. With each straight-to-video release Big Idea puts out, families can expect fun, Biblical stories made with quality and pride. Gideon Tuba Warrior is no different. In fact, many may be surprised that Gideon just might be the most openly spiritual and at the same time laugh-out-loud funny VeggieTales story yet.
The latest Veggie episode opens with a coup d'état of sorts as Larry and Bob are interrupted from their usual introduction to be joined by 'The Pirates Who Don't Do Anything' after they get a sudden urge to do something of worth. We're then introduced to the touching true story of George Mueller, a man who started orphanages and relied on God to provide for every one of his needs. From the get-go, this episode has an unashamed Biblical message. And while VeggieTales have been accused since early on of hiding behind the ambiguity of using the name "God" instead of specifically "Jesus," this episode clearly refers to the Lord by name via scripture. What is also most noticeable about the way VeggieTales brings its stories to life is, while they may appear cutesy or even a little corny, it's never cheesy or worthy of even a single eyeroll. There's such a charm about the way Big Idea carries out these stories, and this installment is no different.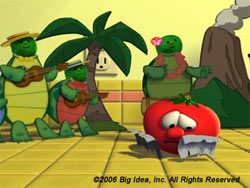 With its strong start, it should come as no surprise at just how wonderfully the episode progresses. As the pirates continue to host (which caused an annoyed Bob the Tomato to leave), they carry on to the "Silly Song" interlude of the show. When Larry and the pirates are without an idea for a song, the French peas rush to the rescue and hilarity ensues as Bob is elected (unwillingly) for his debut Silly Song, "Ukulele Karaoke With Bob." The random, silly tune is one of the best yet, as the peas aid Bob in singing about "Lance The Turtle." I won't spoil any further details, but it's worth picking up this DVD just for this alone.
The title cartoon, "Gideon Tuba Warrior," follows, continuing the episode's theme of trusting in God. The feature story follows Gideon (played by Larry The Cucumber) and his experience with being asked of God to lead Israel's army to victory. Of course, Gideon is reluctant at first, asking an angel (played by Pa Grape) for a couple signs before believing that he's chosen (which cues a song or two), but Gideon eventually steps out in faith to turn out victorious. What unfolds is a wonderfully executed Veggie retelling of this Biblical story that is just as touching as it is hilarious.
Gideon Tuba Warrior is among the best Big Idea has put out yet. Fun, witty, inspiring, innovative, visually beautiful, and just as thematically relevant to an adult as it is to a child, Gideon Tuba Warrior is magnificent family entertainment!
-
John DiBiase
(reviewed: 11/3/06)
Disclaimer: All reviews are based solely on the opinions of the reviewer. Most reviews are rated on how the reviewer enjoyed the film overall, not exclusively on content. However, if the content really affects the reviewer's opinion and experience of the film, it will definitely affect the reviewer's overall rating.
To find out why we don't typically review R-rated movies,
click here