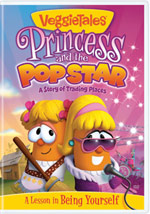 VeggieTales: Princess and the Pop Star

Company:
Big Idea Entertainment
Release Date:
August 13, 2011 / August 16, 2011
Running Time:
49 minutes
Buy It:
Amazon.com
Official Site
Christian Film Database Page
Plot Summary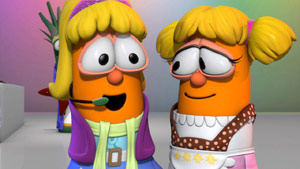 Princess Poppyseed's life on her family's farm is far from the glamorous but lonely world of her favorite pop singer Vanna Banana. On a chance meeting at a playground, Vanna and Princess cross paths and realize that they look almost exactly alike—which leads to the crazy secret plan where they decide to switch lives! As each girl realizes that the life they longed for doesn't fulfill all of their dreams, they learn that the life God gave them is the one for which they were uniquely and lovingly designed.
Film Review
Taking familiar stories and giving them a fresh and fun new spin is something the Big Idea Entertainment folks have been doing for years now with VeggieTales. The latest story to be given a modern twist is The Prince and the Pauper, but this time, it's Princess and the Pop Star: A Story of Trading Places. For this tale, a young carrot named Princess who lives on a farm with her family is tired of her lifestyle and dreams to be just like pop star phenomenon Vanna Banana (get it?). Little does Princess know, Vanna actually wishes she had a life just like the family from the classic television show Little Peas on the Prarie. When the two happen to find each other on the playground one day, they decide to switch places. In the process, they discover that the life they wished they had instead of their own isn't necessarily best for them.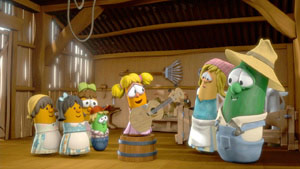 While the main characters of Princess and the Pop Star are girls, don't jump to assume this story is for the little ladies only. The idea of coveting someone else's lifestyle isn't foreign to most people; whether it's a job, location, or possession, most of us have found ourselves looking on the outside of another's life and wishing to be them. Big Idea deserves kudos for putting such an important topic into a children-friendly message, which also can reach adults simultaneously. Of course, God's will and call on our lives comes into play as well, as Princess's mother encourages Vanna - while she's posing as Princess - to be who God made her to be. It's quite a clever and heartwarming spin on the story and lesson.
As a VeggieTales episode, however, it doesn't always feel like you're watching VeggieTales. The young, female carrots take center stage, as well as other new characters who surround them, having Larry, Lunt, and the rest of the gang taking a backseat. In fact, except for the opening and closing, Bob the Tomato isn't in the video much at all. This alone makes it feel less like your usual VeggieTales story. Larry The Cucumber does get some good moments as Princess's father at least, but he's not the center of this tale. Madame Blueberry makes a great appearance as Vanna's manager and there's a fantastic "silly song" where Archibald takes the reigns on "The History of Fashion" to present the song "Astonishing Wigs." It allows for a fantastic inside joke as Larry shows up at the end to offer a little rebuke to the usually serious asparagus for singing a song as silly as some of Larry's own (to which Archibald has always given Larry a hard time about). It's this kind of fun and humor (including a subtle "Stuffmart" reference during the "Pop Star" story) that remind you that the same geniuses that launched this show are still making quality lesson-filled entertainment.
For anyone who has seen the grass as greener elsewhere than the blades under their own feet, Princess and the Pop Star is a cute and relevant story for their lives. While its core story doesn't leave as much room for fun, boisterous and comical song numbers, kids should dig the pop tunes that Vanna and Princess sing in their stead. And although I did miss seeing some of the staple characters in this episode's spotlight, it's still a great entry into the VeggieTales library that teaches us to be thankful for what God has done in our lives and where - and who - He has called us to be.
- Review date: 8/14/11; Written by John DiBiase of Jesusfreakhideout.com
VeggieTales:Princess and the Pop Star Media Links
Princess and the Pop Star Trailer:
http://www.youtube.com/watch?v=21TrzfihD3E&list=UU7pGOfbnFFEg

Disclaimer: All reviews are based solely on the opinions of the reviewer. Most reviews are rated on how the reviewer enjoyed the film overall, not exclusively on content. However, if the content really affects the reviewer's opinion and experience of the film, it will definitely affect the reviewer's overall rating.
To find out why we don't typically review R-rated movies,
click here