WORSHIP ARTIST VICKY BEECHING HONORED IN UK FOR LATEST ALBUM "PAINTING THE INVISIBLE"
LASTEST U.S. SINGLE "GREAT IS THE GLORY" RISES ON INSPO CHARTS
NEWS SOURCE: Morning Star PR
January 10, 2008

(Nashville, Tennessee)--January 10, 2008 EMI/Sparrow worship artist Vicky Beeching was recently honored in the UK's Christian Broadcasting Council Media Awards, in the 'Best Worship Album 2007" category for the success of her latest album release, Painting The Invisible.
Presenting the award to her in London over the holidays was Les Moir of U.K. based Survivor Records.
Now living in the U.S., the British born artist's current radio single, Great Is the Glory, from her award winning album, is now rising on the Inspo charts nationally.
Notes Vicky about the single:
"Some songs have a special place in the heart of the singer, and for me "Great Is the Glory" is one of those. I look forward to it in my concert set list, and find myself asking God each night I sing it for a fresh glimpse of His glory. The verses of "Great Is the Glory" simply tell the gospel story – God coming to earth, dying, rising again. The basic truths that our whole lives are built upon. It's my prayer that as we hear and sing those verses, we would remember the wonder of the gospel again. That God would shine thorough those simple lyrics, revealing Himself and leaving us responding "great is your glory Lord!"
Resource Vicky Beeching online: www.myspace.com/vickybeechingmusic
###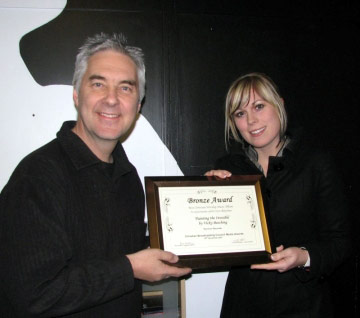 [2019]
Jan. | Feb. | March | April | May | June | July | Aug. | Sept. | Oct. | Nov. | Dec.
[2018]
Jan. | Feb. | March | April | May | June | July | Aug. | Sept. | Oct. | Nov. | Dec.
[2001 - 2017]
Visit our complete MUSIC NEWS ARCHIVE