Ruach Music Conference Coming in 2009
Music Community Comes Together For Music Conference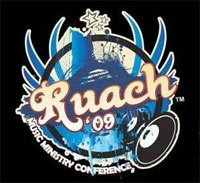 NEWS SOURCE: Brimstone Services
December 9, 2008
Nashville, TN – December 8, 2008 –Many experts in the music industry will join together on January 7-9, 2009 at Fellowship Bible Church in Brentwood, TN for the Ruach Music Conference. This event will feature artists, speakers, radio and business professionals that have worked together in the music community believing that God's Spirit is in Christian music. The conference will provide the opportunity for those who are called to music to gain knowledge and practical information to help guide their ministry.
"I got a vision for this conference about five years ago when I noticed that some industry conferences didn't seem to be God focused while God focused conferences didn't seem to have the credibility of the industry. I'm hoping that Ruach Music Ministry Conference is an opportunity for both spiritual accountability and business application," says Monte Silva, founder of Ruach Music Conference. "I named it Ruach because that is the Hebrew word used when God breathed His Spirit into Adam. So often, we try to do things without God's Spirit and anointing. This is about Him. I am praying that after we do the work as the steward of this event, that God will take over and have His way."
The three day conference will feature nightly concerts with bands such as Rush of Fools, Decemberadio, and House of Thomas and workshop speakers such as Mitch White (Blanton, Harrell, Cooke and Corzine), Jeremy Holley (Word Label Group), and Mike Snider (Third Coast Artist Agency).
The conference is open to bands, managers, worship leaders, song writers, industry professionals and others with the desire of connecting strategic partners working together to make this music industry the best.
For more information on the Ruach Music Conference or find out more about the sponsors below, visit www.ruachmusic.net.
###

[2019]
Jan. | Feb. | March | April | May | June | July | Aug. | Sept. | Oct. | Nov. | Dec.
[2018]
Jan. | Feb. | March | April | May | June | July | Aug. | Sept. | Oct. | Nov. | Dec.
[2001 - 2017]
Visit our complete MUSIC NEWS ARCHIVE