P.O.D. ISSUES NEW YEAR BAND UPDATE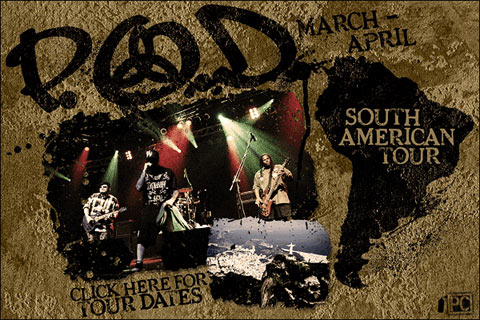 NEWS SOURCE: P.O.D., a Jesusfreakhideout.com report
January 8, 2010
Despite seeming mostly inactive in 2009, aside from a couple shows here and there, things are warming up in the P.O.D. camp for some possible new music on the horizon. Check out the band's update - sent out today - below for the latest band news!
"HAPPY NEW YEAR WARRIORS!!! 2009 was a quiet year for Payable On Death, but 2010 is looking to be a busy and full year. Here's what's going on:
CHI CHENG BENEFIT
Each of us will be doing our part for the Benefit for Chi from Deftones on January 16th in Fullerton, California at the Slide Bar.
TRIAD ENTERTAINMENT ALONG WITH ONELOVEFORCHI.COM PRESENTS:
AN ALL STAR JAM TO BENEFIT CHI CHENG OF DEFTONES
SATURDAY, JANUARY 16, 2010
THE SLIDEBAR CAFE
122 EAST COMMONWEALTH AVENUE
FULLERTON, CALIFORNIA
714-871-2233
This event is getting bigger, so Slidebar is blocking off the parking lot and bringing in a big stage to increase capacity. This more than doubles capacity, but you will still want to be sure to be there early, and it is still a FREE event.
Bands start at 6pm sharp, this is an event you won't want to come late for! You can check the flyer out here Chi Benefit 1/16
Members of Deftones, members of Korn, P.O.D., Suicide Silence, The Letter Black featuring Traa from P.O.D. on bass, Lit, Bobo of Cypress Hill with DJ Rhettmatic of the Beat Junkies with several surprise vocalists, Dave "The Snake" Sabo of Skid Row, an all star jam with Hail! and friends featuring Mike Portnoy of Dream Theatre on drums, legendary bassist Dave Ellefson, Phil Demmel of Machine Head on guitar, Mark Anthony of The Letter Black on guitar & Ripper Owens on vocals, the new project featuring Dave Buckner of Papa Roach on drums, Joe Loeffler from Chevelle on bass & Marcos Curiel of P.O.D. on guitar, Jason Boyed of Audiovent, the Southtown Generals featuring Wuv of P.O.D., Stars Go Dim, Inhale Exhale, The Psycho Realm, members of Pennywise, several UFC champions, X-Games champions and comedians from the world famous Comedy Store on sunset blvd and many more to be announced so stay tuned to OneLoveForChi.com
This venue is small so plan to line up early or you will miss out on a once in a lifetime event! Special V.I.P. seating with the artists is available by emailing: chibenefit@triadmusic.net
P.O.D. SOUTH AMERICAN TOUR
We are finally getting to come and visit our South American brothers and sisters with some exciting live shows already booked:
Mar 19 2010 7:00P ARGENTINAS MALVIDAS Ciudad Autónoma, Buenos Aires (provincia) Mar 20 2010 7:00P FACULDADE SUL- AMERICANA Goiania, Goiás Mar 21 2010 7:00P UNB Brasilia, Distrito Federal Mar 24 2010 7:00P MUSIC HALL Belo Horizonte, Minas Gerais Mar 25 2010 7:00P VIA FUNCHAL São Paulo, São Paulo Mar 26 2010 7:00P Clube Maua Rio De Janeiro, Rio de Janeiro Mar 27 2010 7:00P CLUBE PORTUGUES Recife Mar 28 2010 7:00P ILHA CUSTICA (T.B.A.) Vitória, Espírito Santo Apr 16 2010 7:00P ESTADIO DEL EJERCITO Guatemala City, Guatemala Apr 17 2010 7:00P TAKERS AUDITORIUM San Jose, San José Apr 18 2010 7:00P METROPOL Bogota, Bogotá (Distrito Capital)
p.s. For those of you in the states feeling neglected, we hope to see you in the summer!
IN THE STUDIO
Marcos and Wuv have been in the studio recording some new material. For now, nothing is confirmed, but Marcos has said, "we are writing to get the blood flowing."
Each of the guys has various projects going on right now:
SONNY has been spending a lot of time up in Diamond Bar, CA working with The Whosoevers. The Whosoevers spent some time on the East Coast a few weeks back speaking and encouraging many young people. They are planning on hitting up Austin,TX next. Sonny's been doing some solo speaking engagements as well, He's always ready to share his heart when the door is open. Amidst all of this he has also been writing for his own solo album!
MARCOS has started a band with Joe Loeffler (Chevelle) & Dave Buckner (Papa Roach). They are auditioning vocalists as we speak. Several A-listers and amazing unknowns are in their studios polishing off what they feel they can bring to the family. Though we'd love to list all who have come forward wanting the position because it's very exciting, we cannot. Since many of you have been keeping an eye on the band, we welcome your suggestions as well. So, if you know someone you feel might fit the bill, the stage is open. Hit up their Myspace: MySpace.com/mjd2010
TRAA has formed Ryot Entertainment Group to help new artists achieve their goals in the music industry. Traa also recently released his book "Pack It In: Kill or Be Killed in the Music Industry", which talks about his building years with P.O.D. and gives some direction for musicians trying to become successful. The book can be purchased at RyotEntertainment.com. Ryot Entertainment has signed The Wrecking and Mahoney and Astra Kelly to their roster. You can check them out at: MySpace.com/RyotPhoenix. Ryot Entertainment will be a part of Cornerstone 2010 just like last year. Follow Traa on Twitter @TraaPOD
WUV has been very busy with two new bands and a new shoe from Tribal. One of the bands is the Southtown Generals which also features Tim Pacheco: MySpace.com/SouthTownGenerals And the other equally important band is Stillwell with his longtime friend Fieldy from Korn: Myspace.com/StillwellStreetMetal Wuv's Tribal Shoe will be coming out soon, be on the lookout: TribalGear.com
Also, our good friend JASON TRUBY has a new band called TRUBY. He says this band is by no means just a whim. It is just as serious as any and all of the bands he has had the pleasure to be associated with in the past. On the new album entitled "Entropy," Truby has worked hard to write the songs that he felt God has wanted him to write. These songs come from a broken place, but in the end have lead to healing and restoration and given us a truly beautiful ROCK album. He would like to share his experiences with you through song. Hit him up on his social networks and let him know how these songs have affected you. Click Here to check out the new TRUBY album ENTROPY: TRUBY E-Card
WARRIOR BANDANA
In honor of the new South American Tour Dates, Soul Massive has just released the new WARRIOR Bandana, you can get one just click here: SoulMassive - Warrior Bandana. Show your Warrior Pride and make this part of your P.O.D. collection at a very reasonable price.
STAY IN CONTACT
Warrior, stay in contact through our social networking sites:
Facebook
Myspace
Make sure to keep checking our site for updates: PayableOnDeath.com
We love you and we will see you soon!
P.O.D. – Sonny, Marcos, Traa, Wuv"
# # #
For more info on P.O.D., visit the JFH Artists Database.


[2023]
Jan. | Feb. | March | April | May | June | July | Aug. | Sept. | Oct. | Nov. | Dec.
[2022]
Jan. | Feb. | March | April | May | June | July | Aug. | Sept. | Oct. | Nov. | Dec.
[2001 - 2022]
Visit our complete MUSIC NEWS ARCHIVE