Radio Disney's Season 2 Next Big Thing Winner Jasmine Sagginario Releases New Radio Single Titled "Knock, Knock!" Tonight on Radio Disney
Jasmine Currently in Studio Recording New EP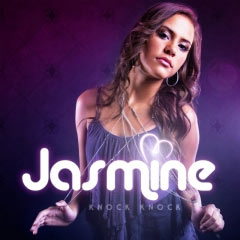 NEWS SOURCE: The M Collective
November 1, 2010
Nashville, Tenn. Nov. 1, 2010… The reigning winner of Radio Disney's Next Big Thing, Jasmine Sagginario, is set to release a new single titled "Knock, Knock!" to radio and iTunes ® on Nov. 11. Radio Disney will be premiering the new single tonight, Nov. 1.
"Writing 'Knock, Knock' was a lot of fun," explains Jasmine. "I think it's the next step I'm taking to mature as an artist and songwriter. I wanted to write a song that I think a lot of girls my age can relate to." Jasmine co-wrote the song, and is releasing it under her newly formed entertainment company. The track, mixed by Kevin KD Davis (Rihanna/Neyo), is about a girl who is hoping her interest gets the courage to say he feels the same way about her, and plays off the concept of a boy knocking on the door to the girl's heart.
Since winning the Radio Disney fan-generated contest, Jasmine has been traveling the country doing shows with Radio Disney and even opening for Justin Bieber. Jasmine's song "Make A Movie" appeared on the StarStruck soundtrack as well as the Disney Channel movie. In addition, her original song "Boy Crazy" was released on Radio Disney Jams 12 with the likes of Justin Bieber, Jordan Sparks and The Jonas Brothers. Both songs peaked on the Top 30 Countdown this year, with "Make A Movie" landing at No. 6 and "Boy Crazy" peaking at No. 9.
While in the studio recording her new EP to premiere in 2011, Jasmine is also taking time to pursue her acting career and has been busy auditioning and pursuing acting roles in Los Angeles. She has recently caught the attention of seasoned industry acting agent Mitchell Gossett (Miley Cyrus), who is now representing Jasmine as her agent. "Jasmine has the natural ability to deliver a concept, and pull you into what she is saying," explains Gossett. "I look forward to being a part of her future success in this industry." Jasmine has also been working with acclaimed vocal coach Jan Smith (Justin Bieber, Usher) who also resonated praise for the teen singer saying "Jazz is a delightful young woman to work with. As an artist, she 'gets it' and understands that success doesn't just happen, but takes hard work and perseverance. Not only does Jazz do her homework, but she does it with a smile on her face!"


[2019]
Jan. | Feb. | March | April | May | June | July | Aug. | Sept. | Oct. | Nov. | Dec.
[2018]
Jan. | Feb. | March | April | May | June | July | Aug. | Sept. | Oct. | Nov. | Dec.
[2001 - 2017]
Visit our complete MUSIC NEWS ARCHIVE