Casting Crowns' Frontman Mark Hall to Release
The Well: Why Are So Many Still Thirsty? with Zondervan this September
Platinum Selling Lead Singer Tackles Struggles of Entitlement, Control and More in New Book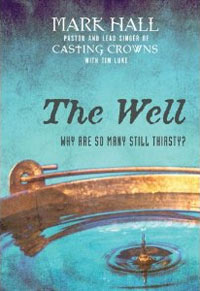 NEWS SOURCE: The M Collective
June 23, 2011
Nashville, Tenn. June 23, 2011... Mark Hall, frontman of the GRAMMY ® award-winning mega group Casting Crowns, will publish The Well: Why Are So Many Still Thirsty? with Zondervan. The newest book from the platinum selling lead singer will hit retailers this September.
In addition to his music, Hall has been the student minister at Eagle's Landing Baptist Church outside of Atlanta for the past 18 years. With co-writer and fellow pastor Tim Luke (author of books such as Your Own Jesus), Hall uses the powerful story of the Woman at the Well and her encounter with Jesus to help readers understand why life often seems so unsatisfying. What many believers consider wells that sustain them—like success, talent, control, and favor—are really just holes that keep them from relying upon Jesus and the abundant, refreshing life He offers.
"I'm confident you will see yourself many times over in this book," remarks actress Candace Cameron Bure ("Full House," ABC Family's "Make It or Break It") who wrote the foreword for the book. "As I pray through this latest challenge before me, I'm thankful that the Lord used His Word and Mark Hall's keen insights to give me this crucial reminder."
Fellow GRAMMY ® winner Steven Curtis Chapman also supports Hall's latest book saying, "I love Mark Hall's heart. When he writes, whether it's a song or a book, it's always from the heart of a gifted teacher and an earnest friend. This book is another rich example of that, and I've been ministered to deeply as I've read it."
The Well ties into the release of Casting Crowns' newest album releasing this fall, Come To The Well. Additionally, the "Come To The Well" tour will launch this September, and hit 40 markets nationwide.
When The Well hits retailers this September, it will be featured for $14.99, ISBN 0310293332, 5.5 x 8.5.
# # #
About Casting Crowns:
All of Atlanta-based Casting Crowns' projects are RIAA certified, with a tally of three RIAA Platinum Albums, two RIAA Platinum DVDs, two RIAA Gold Albums and a Gold DVD, holding position as Billboard's top-selling act in Christian music since 2007. Despite an unprecedented six-year career with Casting Crowns, the seven band members remain active in student ministry in the Atlanta area and tour part-time around their local church duties. Serving his 18th year in youth ministry, lead singer/songwriter Mark Hall is the student pastor at Eagle's Landing First Baptist Church in Atlanta. As a testament to the band's impact, Casting Crowns performed for a second time in North Korea in April 2009, in partnership with Global Resource Services, as the band continues to forge invaluable relationships with the people in the D.P.R.K.
For more info on Casting Crowns, visit the JFH Artists Database.