MXPX BASHING AWAY IN STUDIO FOR NINTH ALBUM
Record Due Out Later This Year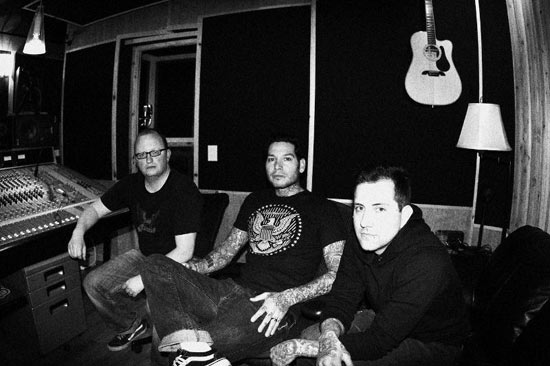 NEWS SOURCE: kelleemack pr
July 7, 2011
Los Angeles, CA, July 7, 2011 - Punk rock stalwarts, MxPx, are currently in the studio laying down tracks for their forthcoming ninth full-length album. The Washington trio of Mike Herrera [vocals, bass], Tom Wisniewski [guitars], and Yuri Ruley [drums] stand set to transform pop-punk once again with the new effort, due out later this year.
Fans can check out an exclusive behind-the-scenes video of the recording process on www.mxpx.com now!
The yet to be named album is the formal follow-up to 2007's Secret Weapon (Tooth & Nail Records), and it's something of a triumphant return to form for the band. Self-produced by Herrera at his Monkey Trench Studios in Bremerton, WA, the new material channels the fire and fervor of their classic album Life In General as well as Weapon's scope and sense of refinement for a combustible new combination. Despite retiring from the band in 2010, Ruley returned to the fold, and he's finished tracking drums already. The band remains in the midst of wrapping up guitars, bass, and vocals now.
After writing over 20 songs for the offering, MxPx are in the process of whittling down the selection to 12-14. Herrera is self-producing the album and said, "I've put an immense amount of thought into the bass lines this time around. I've expanded the fills and changed them up here and there, which has been fun." They demoed a few songs during the Left Coast Punk EP recording sessions, and the time between albums has allowed them to evolve and change. Adhering to their own schedule, each and every detail is being perfected for the best MxPx album yet.
Since the release of Secret Weapon, MxPx dropped a covers album On The Cover II (Tooth & Nail Records) in 2009 and Left Coast Punk EP in 2009 and a holiday album entitled Punk Rock Christmas both through their label, Rock City Recording Company. However, everything simply served as a prelude to the new album.
MxPx are roaring back to life. Stay tuned for more from the studio...
# # #
For more info on MxPx, visit the JFH Artists Database.