NASHVILLE'S 4TH ANNUAL "BELLA BASH"
OCTOBER 20TH
MULTI-PLATINUM ARTIST AMY GRANT TO HEADLINE AN EVENING OF 'MUSIC THAT MATTERS' FOR A WORLD OF SPECIAL NEEDS CHILDREN
ANGEL WINGS FOUNDATION BRINGS AWARENESS AND HOPE THROUGH SUPPORT & EDUCATION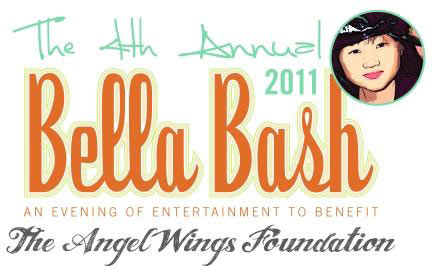 NEWS SOURCE: MorningStar PR
August 18, 2011
(Nashville, Tennessee) –August 18, 2011 –Award-winning Nashville singer/songwriter/producer Regie Hamm has a dream. A dream of a world where special needs children and the families that love them have an "Angel Center" in Middle Tennessee where comprehensive therapy, diagnosis, and support is available for those children most profoundly challenged with mental disabilities.
To help turn that dream into reality, on Thursday, October 20th, a stellar list of Regie Hamm's celebrity friends will join forces for Nashville's 4th Annual Bella Bash.
Artists set to perform include multi-platinum artist Grammy and Dove Award winner Amy Grant, Grammy Award winning Christian recording artist Bob Carlisle ("Butterfly Kisses") multi-Dove Award winning top southern gospel group, The Martins, and legendary nationally-known comedian Gary Mule Deer. Tim Akers & The Smoking Section will perform live and provide back-up for the evening's event being held at the Loveless Barn on Highway 100.
Celebrity red carpet is scheduled for 6:30 P.M with doors at 7:00 P.M.
The story behind the "Bella Bash" is a very personal one. In 2003, Regie Hamm and his wife Yolanda flew to China to adopt their first child, Isabella Xin Meng Hamm. Unknown to them at the time, baby "Bella" suffered from a rare genetic disorder, Angelman Syndrome--a neuro-genetic disorder that occurs in approximately 1 in 15,000 live births and is often mis-diagnosed as cerebral palsy or autism. Characteristics of AS include: developmental delays, lack of speech, seizures, and walking and balance disorders. "Angels" are missing a tiny piece of maternal chromosome that renders them in need of constant care throughout life.
In honor of Bella, the "Bella Bash" was established in 2008 as a evening of music dedicated to raising much needed funds and awareness of Angelman Syndrome and the myriad of rare mental disorders still in the shadows and often mis-diagnosed.
As a further step in his personal quest to raise national awareness of AS, Hamm, a multi-Grammy nominee and four time SESAC "Songrwiter of the Year," founded the The Angel Wings Foundation in 2010. The vision is to not only assist in providing diagnoses for those suffering from rare mental disabilities, but to be a complete resource for the families, providing physical, speech/communication and occupational therapies, nutritional, emotional, and logistical 'real world' support for those facing the challenge and their caregivers. Registered as a 501(c)(3) non profit, The Angel Wings Foundation is dedicated to a quality of life and care for a segment of children too often under-served.
The long-term goal of the newly formed Angel Wings Foundation is to ultimately establish an "Angel Center" here in Middle Tennessee. Partnering with Vanderbilt Kennedy Center, plans are currently on the drawing board for a center that would offer a full array of medical services and comprehensive therapy for children and adults battling the most severe forms of mental disabilities. It would be the first center of its kind in the U.S.
Proceeds of this year's "Bella Bash" will be earmarked specifically towards the production and distribution of an Angelman Syndrome educational DVD targeted to reach every pediatrician's office in the U.S.
Notes Hamm: "I meet Angelman families all over the country whose story is similar to that of our family's. We went through several years without a definitive diagnosis for Bella. The goal of the foundation and my work personally through the "Bella Bash" is to raise funds that will allow us to increase awareness and help the quality of life for these amazing families and their children."
Tickets go on sale tomorrow-- Friday August 19th ---with general admission scaled at $50.00 in advance. VIP ticket packages with a fully loaded celebrity gift bag are $75.00.
Tickets can be ordered online now through October 19th at www.bellabash.org. The event is expected to be a repeat of last year's sell-out, so early ticketing is encouraged.
Many Angelman families will be traveling to Nashville to attend the event, and special room rates have been negotiated for these families.
Financial sponsors, donations and bag sponsors, and volunteers for the event are being actively sought. Sponsorship levels and full information on how to become a sponsor can be resourced at the event site online.
As in the three previous presentations of the "Bella Bash," a full evening of world-class music, family friendly comedy, delicious food, and fun await all attendees! More than that, it's an evening of music that matters.
Resource full information on the "Bella Bash" online at: www.bellabash.org
# # #
For more info on Amy Grant, visit the JFH Artists Database.