FOUR-TIME GMA DOVE AWARD FEMALE VOCALIST OF THE YEAR
NATALIE GRANT MAKES HER ACTING DEBUT
IN DECISION, A gmc WORLD PREMIERE MOVIE
PREMIERES SUNDAY, OCTOBER 16 7 PM AND 9 PM EST ON gmc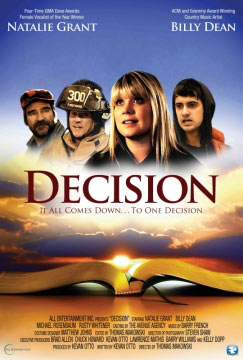 NEWS SOURCE: Merge PR
October 10, 2011
Atlanta, Ga –October 10, 2011 –Dedicated to providing uplifting music and family entertainment, gmc announces the acting debut of four-time GMA Dove Award Female Vocalist of the Year Natalie Grant this Sunday in the gmc world premiere movie, Decision. Sharing the story of a family in despair rediscovering their faith, Decision debuts October 16 at 7 PM and 9 PM EST as well as re-airing Sunday, October 23 at 11 AM EST.
Grant stars in this touching and dramatic movie dealing with family, loss, love and faith. Decision also features award-winning country music star Billy Dean as well as the theme song by American Idol contestant Ricky Braddy (Season 8).
"I'm so excited that my debut acting role was in a film that offers so much hope and stresses the importance of faith and family," shares Grant. "I was also honored to work along side some wonderful people who were patient with me and helped this 'rookie' every step of the way!"
In this uplifting drama, Grant stars as Ilene, a mother struggling to make ends meet after the tragic death of her firefighter husband (Billy Dean). When she begins to lose control of her heartbroken teenage son Jackson (Michael Rosenbaum), she reaches out to her estranged father Wyatt (Rusty Whitener) to take in the troubled boy. Gradually, they form a bond that will require Jackson to find an inner strength he never knew he had to avert yet another family tragedy.
For a sneak peak of the movie, check out the trailer on watchgmctv.com.
- ### -
About gmc: gmc ( www.watchgmctv.com) is America's favorite channel for uplifting music and family entertainment. In 2010, The Parents Television Council™ awarded its Entertainment Seal of Approval™ to gmc for being "an authentic family-friendly cable network." gmc was the only television network to receive the highly coveted honor last year. gmc can be seen in nearly 48 million homes on various cable systems around the country, on DIRECTV on channel 338, DISH TV on channel 188 and on Verizon FiOS on channel 224.
About Natalie Grant: As GMA Female Vocalist of the Year for four consecutive years (2006-2009) and the top-selling Adult Contemporary female solo artist in 2005, 2006 and 2008, Grant is among a select number of artists to have achieved a formidable foothold at mainstream media and radio. Her 2005 breakthrough album, Awaken, received RIAA Gold certification and its follow-ups, Relentless (2008) and Love Revolution (2010), have taken Grant's career sales to well over 1 million albums. Despite these accomplishments, it is the message of the Gospel, and the revolutionary power of love it carries, that she waves as her banner and her hope.
Beyond her artistry, she declares this message as an outspoken advocate for victims of human trafficking. Abolition International, formerly known as The Home Foundation, which Grant created in 2005, has raised awareness and significant funds to fight the trafficking of women and children for the purpose of sexual exploitation. She works to balance these endeavors with her greatest calling—as a wife, and mother of three.
For more info on Natalie Grant visit the JFH Artists Database.