TOOTH & NAIL RECORDS' BAND, I AM EMPIRE, SET TO HIT THE ROAD
ON FIRST HEADLINING TOUR; HOSTS ROCK BAND™ CONTEST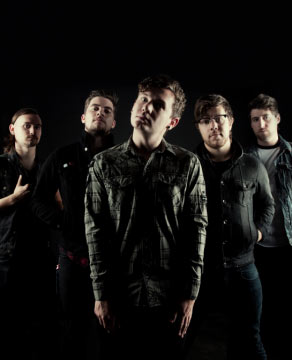 NEWS SOURCE: Merge PR
October 12, 2011
SEATTLE, WA...October 12, 2011...Tooth & Nail Records' I Am Empire has had an eventful year with the release of their label debut, Kings, and now the band will be hitting the road for their first headlining tour this week in California on the "Kings and Queens" tour with Nine Lashes and Blood and Water concluding on November 20 in Oregon (dates and cities below).
"We've been on the road for what seems like two years straight, supporting and opening, but now we are finally heading out on our very first headlining tour," states Eric Martin. "We are super excited to hit the road with our friends Nine Lashes and Blood and Water, but we are even more excited because we have around 33 concerts in 40 days. It is going to be a blast."
This San Jose-bred fivesome also currently has their song, "The Elevator," on the video game Rock Band™. The band has invited their fans to participate in a Rock Band™ challenge contest performing their song to have a chance to win a Fender Squier Guitar. Fans must film themselves playing I Am Empire's song and submit it to the band for the contest. Submissions must be sent by November 20 in order to be judged. The video with the highest score will be selected to win the autographed guitar from the band. For more information and details on the Rock Band™ contest watch this video.
"We are really looking forward to seeing the videos of people competing and playing our song," shares Andrew Stanton. "The coolest thing about Rock Band™ is that you have the chance to play not only the guitar, but also the bass, drums, and you can sing. Good luck everyone."
Between the band's artistic ambitions, unceasing work ethic, tireless time on tour and thematic reliability, I Am Empire is a perfect match with Tooth & Nail. For more information on I Am Empire, visit: http://www.facebook.com/iamempire and follow the band on Twitter @iamempire.
- ### -
October 13- Roseville, California @ Club Retro
October 14- Fresno, California @ Kuppajoe
October 16- Glendale, Arizona @ Central Valley Church
October 19- El Paso, Texas @ Open Gate Community Church
October 20- Artesia, New Mexico @ The Jahva House
October 21 - Woodward, Oklahoma @ First Assembly of God
October 22- Shawnee, Oklahoma @ The Ritz Theatre
October 23- Overland Park, Kansas @ Grace Church
October 24- Topeka, Kansas @ Northern Hills Church
October 25 - Owasso, Oklahoma @ Enerje Events center
October 27- Rockwall, Texas @ The Remedy Club
October 28- Vidor, Texas @ The Warehouse
October 29- Bedford, Texas @ The Worship Lounge
October 30- Little Rock, Arkansas @ Vino's
October 31- Alcoa, Tennessee @ The 25:40
November 1- Chattanooga, Tennessee @ The Warehouse
November 3- Radcliff, Kentucky @ Lifeline Assembly of God
November 5- Bellefontaine, Ohio @ Vineyard Church
November 6- Pittsfield, Massachusetts @ 5th Floor Productions
November 7- Allenstown, New Hampshire @ Ground Zero
November 8- East Syracuse, New York @ Church of the Resurrection
November 9- Columbus, Ohio @ TBA
November 10- Terre Haute, Indiana @ The Music Venue
November 11- Valparaiso, Indiana @ Arc Arena
November 12- Franklin, Indiana @ The Gear
November 13 - La Crosse, Wisconsin @ Warehouse
November 14- Bloomington, Minnesota @ The Garage
November 15- Fargo, North Dakota @ Shanley High School
November 16- Great Falls, Montana @ Northwest Center
November 17- Moscow, Idaho @ Nuart Theatre
November 18- Burien, Washington @ The Evergreen Church
November 19- Salem, Oregon Northgate Church
November 20- Newport, Oregon @ Foursquare Church
# # #
For more info on I Am Empire visit the JFH Artists Database.