Family Force 5 Announce 2012 Summer Festival
Appearances, Tease Upcoming Spring Tour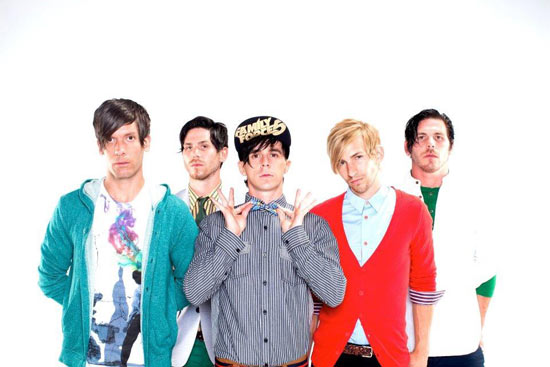 NEWS SOURCE: Family Force 5 / Jesusfreakhideout.com
February 9, 2012
Family Force 5 have just announced their upcoming 2012 Summer Festival season appearances. Check it out below...


We just finished up the Christmas Pageant (with our friends Hawk Nelson & Manafest), and it was amazing. Huge thanks to all of you peeps who SHOWED UP (especially those of you who wore Christmas sweaters with kittens on them). Celebrating the birth of the baby Jesus + rockin' it out with you=legit.
You are the first to know about this, but there is a very special FF5 spring tour that is currently being crafted, and it will absolutely rule. Unfortunately, we can't spill all the beans yet, but stay tuned to our tweets and facebook posts for the cold, hard facts (we'll post dates as soon as they're confirmed).
And, for those of you who are too impatient to wait for the spring tour dates...we made another big announcement: The time is coming for the SUMMER FESTIVALS! This means that we will be rolling across America in the Soul Globe to see your smiling faces: rain or shine; in the dirt or in the mud; at a park; or riding a rollercoastaa. Click the 'Info' button to find tix HERE. Here's the current tour line-up:
Mar 31 Pella, IA
Apr 6 Arlington, TX
Apr 21 Lebanon, PA
May 26 Del Mar, CA
Jun 21 Wilmore, KY
Jun 23 Mineral City, OH
Jun 29 Shirleysburg, PA
Jun 30 Mason, OH
Jul 12 Wilmar, MN
Jul 13 Oshkosh, WI
Jul 19 Enumclaw, WA
Jul 21 Schaumburg, IL
Aug 3 Gilford, NH
Aug 8 Darien Center, NY
Sept 1 Worthing, SD
Sept 2 Worthing, SD
Sept 29 Middleburg, VA
Be on the lookout for new tour dates as they are announced as well. There may be some surprises as the festival dates get even closer!
Family Force 5 also just released a new B-Sides EP called Junk In The Trunk, which seems to already have become a hard item to find. Check out www.FamilyForce5.com for more details!
For more info on Family Force 5 visit the JFH Artists Database.